The pandemic has forced people to find inventive ways to connect with friends and family, from virtual parties to creative care packages. But when a mac and cheese brand's promotion tried to get cheeky with the concept, they were meant with some unexpected backlash.
In early October, Kraft launched a #SendNoods promotion, which allowed fans to send a free box of mac and cheese (or a coupon to redeem a free box) to a loved one.
"In these strange times, people are in need of extra comfort. That's why it's always a nice gesture to send noods so they know you're thinking of them," Saturday Night Live's Vanessa Bayer said in the video promoting the new campaign, which launched just in time for National Noodle Day on Oct 6. "Noods, I mean. Not nudes."
Bordering on risqué, perhaps, but "Send Noods" is a common noodle pun, appearing on many a T-shirt in the past few years. However, Kraft's mac and cheese promotion was not as well-received as expected, with social media users saying the "family company" had "sexualized" the classic dish, according to BuzzFeed News. (They probably hadn't heard the "macaroni in a pot" lyric in Cardi B's hit "WAP.")
"This is not okay. Don't you realize that a huge portion of the people who actually eat your mac n' cheese are children?!" one commenter wrote on a now-deleted Kraft Instagram post. "Please delete this!! Unacceptable! Switching over to Annie's organics."
"Stop stop stop!!!!!!! Listen to all of these moms!! We are your customers!!!" a commenter wrote on another deleted post.
But there were also those who loved the campaign. What's not to love about free mac and cheese in the name of friendship?
"For National Noodle Day last Tuesday, Kraft Mac and Cheese encouraged adults to send free noodles to loved ones to provide comfort and make them smile," a representative for Kraft Heinz said in a statement emailed to TODAY Food. The social promotion resulted in over 20,000 consumers across the country receiving boxes of America's favorite Kraft Mac and Cheese. We're always listening to our consumers and appreciate the feedback."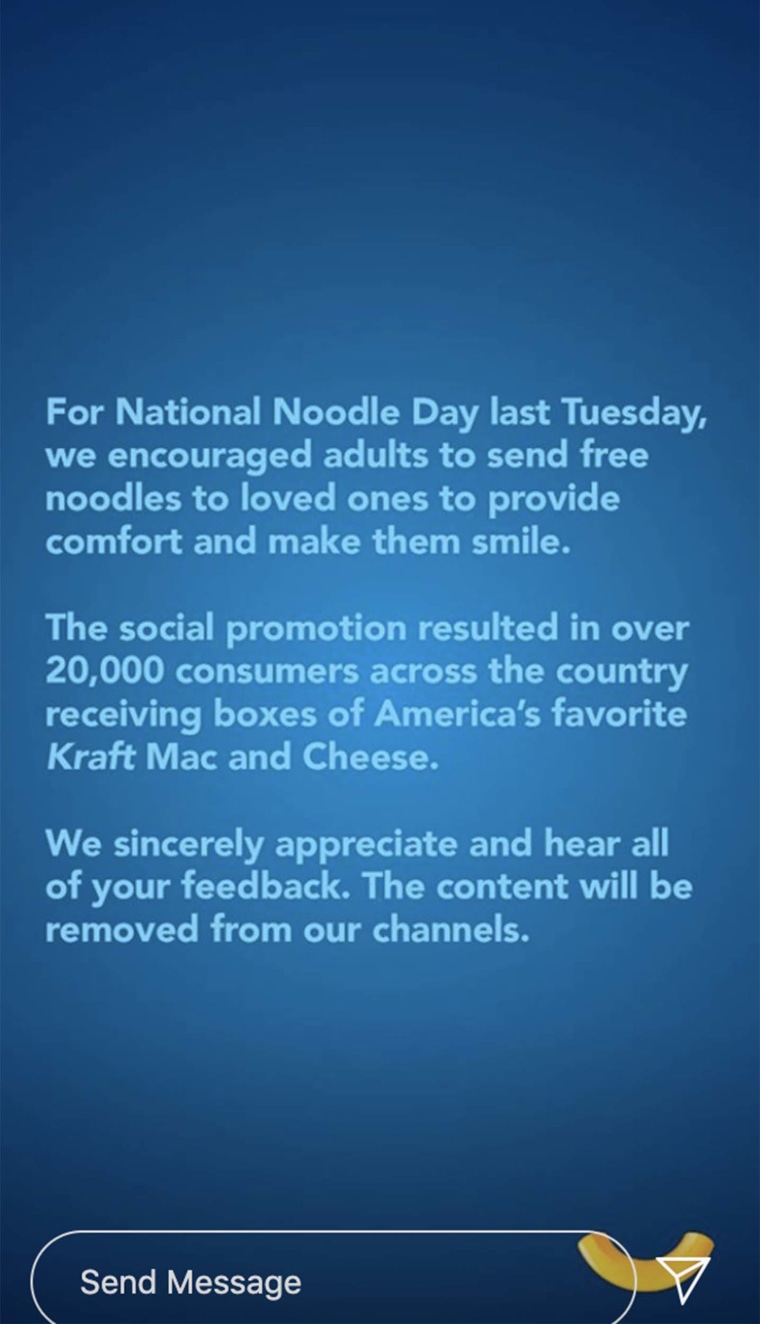 The uproar was significant enough that Kraft ended up removing the promotion, posting on its Instagram Stories, "We sincerely appreciate and hear all of your feedback. The content will be removed from our channels."
And here we thought Kraft's pumpkin spice mac and cheese was controversial!