Here's another reason to get excited for the holidays: Kinder egg chocolates are finally coming to America!
Kinder eggs aren't exactly a new candy — billions are sold in over 170 countries each year. But until now, the popular candy from Ferrero International (Nutella's parent company) has not been available stateside due to Federal Drug Administration (FDA) regulations regarding non-edible items hidden within foodstuffs.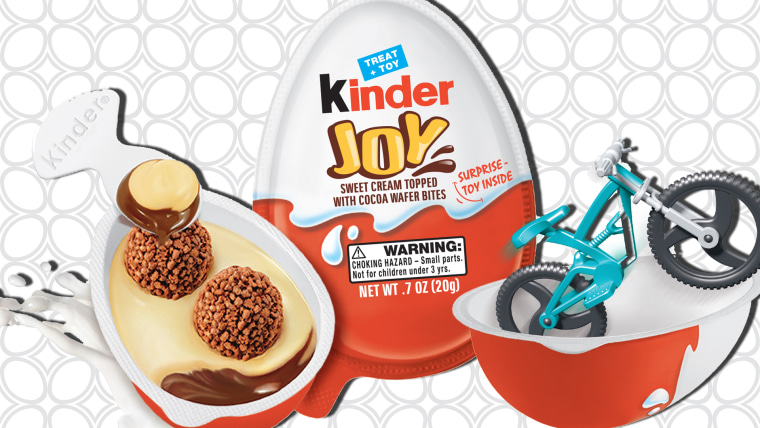 The Kinder Joy, the version that will soon be available in the U.S., comes in a plastic egg-shaped package comprised of two separately sealed halves. One half contains an edible treat made of two soft cream layers: one is sweet milk cream-flavored and one is cocoa-flavored. Nestled into the creamy layers are two round, chocolate-covered wafer bites that are filled with a sweet cocoa cream that's soft enough to be eaten with the included spoon.
The other half of the egg contains a surprise: a non-edible toy. The traditional version of the candy called Kinder Surprise — which hides the plastic toy inside the actual chocolate shell — has long been banned in the U.S. due to the potential health risk of kids biting into non-edible items, which stems back to a 1938 FDA regulation.
However, the new release is fully compliant with all standards because it fully separates the toy from the candy in the distinct egg halves.
So what can kids — and adult candy lovers — expect in the new Kinder Joy treats? "There are over 40 different toys focused on play, learning, and skill development so there are too many to mention them all!" Paul Chibe, CEO of Ferrero North America, told TODAY Food. "Kinder Joy has toys that are designed to please any child including unique crayons, balls, racing cars, plus holiday and special licensed toys."
He added that the "collection is updated regularly so kids can be surprised and learn with different toys."
As part of the U.S. rollout, the brand has partnered with Swedish actress Malin Akerman, who told TODAY Food she has fond memories of the candy from growing up abroad.
"I remember my grandfather giving me my first Kinder treat," Akerman said via email. "It's such a delicious, distinct taste every time I eat Kinder chocolate now, it takes me back to my childhood.
"And now, I get to share that moment with my son and watch his face light up when he opens his first Kinder Joy."
Fans of Kinder eggs will be happy to know that Ferrero plans for the Joy to become a permanent treat in U.S. candy aisles.
Said Chibe, "Kinder Joy will start appearing in stores this month and will be in most stores in time for Christmas."
Kinder Joy eggs are available at Walmart starting Friday, where they'll be sold exclusively for 30 days. Each egg will retail for $1.34 at Walmart.
This article was originally published on Nov. 13, 2017 on TODAY.com.