Independence Day may have long passed, but July 13 is a holiday that's just as American – it's National French Fry Day (that's right, France, we said it)! And lately, you can find them loaded with so much more than chili, cheese or even bacon (yawn). Here are six not-to-miss, innovative combos from restaurants and food trucks across the country.

Tex-Mex Kimchi

Chi'lantro, Austin, Texas
Austin's Korean-Mexican fusion food truck, Chi'lantro, lays claim to inventing the Kimchi Fry—by accident. Owner Jae Kim used to sell plain fries, until he started experimenting with the loads of kimchi he had leftover at the end of the day. Instead of tossing it away, he started selling it like mad—by caramelizing it and tossing it on fries with a mound of sizzling Korean barbecue, chopped grilled onions, cheddar and Monterey Jack cheeses, Sriracha, cilantro, sesame seeds and a spicy mayo magic sauce. The loaded fry is now their most famous dish. "People eat a lot of chili cheese fries here, but we made it our own by incorporating Tex-Mex and Asian flavors," catering director Ann Lee told TODAY.com.
Rajas Fries
Frysmith, Los Angeles
Steak frites are nothing new, but Los Angeles food truck Frysmith turns the French classic combo on its head with its top-selling Rajas Fries: hand-cut, twice-fried Kennebec potatoes topped with fire-roasted poblano chiles, caramelized onion and shawarma-marinated steak and Jack cheese. "We try to pair up fries with stuff people haven't put on fries before," said chef Erik Cho, who also offers combos like sweet potato with free-range chicken and tomatillo-tamarind sauce, or a vegan fry made with soy chorizo, beans and tomato.
Fois Grasfries
BIG & little's, Chicago
Don't be deceived by the bright-yellow walls and plastic blue fish on the wall—BIG & little's is offering a fairly fancy take on fries for such a scrappy young joint. In addition to truffle fries, the Chicago eatery is also doing Foie Gras and Fries: crispy, hand-cut fries topped with seared foie gras—and smothered with the foie pan drippings. Food Network's Guy Fieri crowned them his favorite item when he visited for a taping of "Diners, Drive-ins and Dives."
50/50 Sweet Potato Mix

The Bayou, Salt Lake City, Utah
Sweet potatoes are showing up on more and more menus, but if your heart is always torn between these (slightly) healthier potatoes and starchier taters, this fry basket is for you. The Bayou in Salt Lake City sells a 50/50 mix of white and sweet potato fries, so there are no hard decisions to make. And if you've ever eaten fries in Utah, you know how seriously this state takes its dipping sauce, a.k.a. Fry Sauce—here, you get the house's signature garlic-chipotle aioli.
Avocado fries
Toloache, New York City
One of the last fries on our list aren't even made of potato—but take one bite of the Avocado Fries at New York City's Mexican bistro Toloache, and you won't be missing the spuds. Chef Julian Medina batters slices of avocado in a mixture of flour, buttermilk and panko, fries them in hot oil so that the avocado stays creamy inside the crispy crust, and serves them with a chipotle barbecue sauce for a dip with a little heat.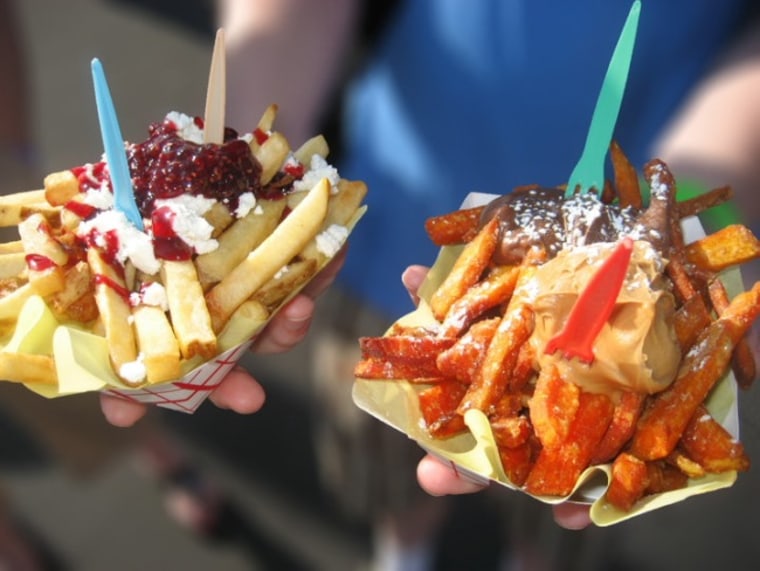 Peanut Buttercup
Fresh Fries, Los Angeles
And for dessert, we have the Peanut Buttercup fries—topped with peanut butter and Nutella—from the Fresh Fries truck in Los Angeles. Though you can order the combo on curly or regular fries, sweet potato is the way to go—and if the combo sounds strange, remember how good those marshmallows taste on sweet potato at Thanksgiving. Make no mistake, though, this one is rich. "It's a dessert fry. We sell a lot of them late at night, usually," said co-owner Nikole Markarian. "We definitely recommend sharing it." (Also pictured: the truck's goat cheese and raspberry fries.)