High school football and college football games are kicking off around the country this weekend, which means it's time to tailgate. Picking and serving the right food is key to having a fun and filling tailgate party. 
Luckily, Kimberly Schlegel Whitman of Southern Living magazine is sharing easy recipes that you can make-ahead so you can enjoy the big game this weekend.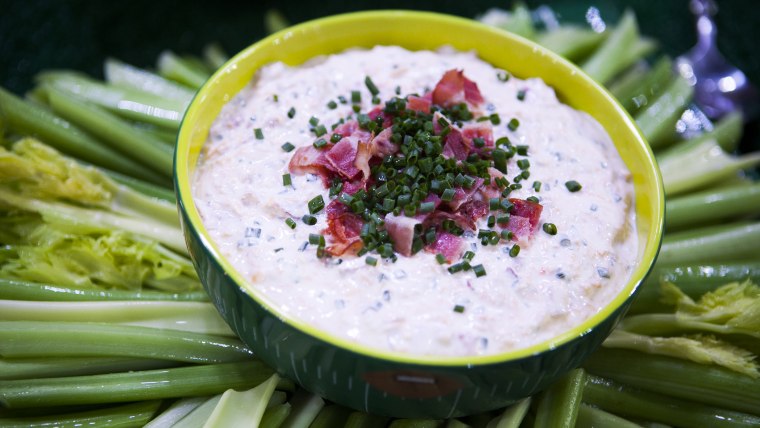 Baked potato dip

Makes about 4 cups

1 (2.1-oz.) package fully cooked bacon slices
1 (16-oz.) container sour cream 
2 cups (8 oz.) freshly shredded sharp Cheddar cheese
1/3 cup sliced fresh chives 
2 teaspoons hot sauce 
Garnishes: cooked, crumbled bacon; sliced fresh chives; freshly cracked pepper 

1. Microwave bacon according to package directions until crisp; drain on paper towels. 
2. Cool 10 minutes; crumble. Stir together bacon and next 4 ingredients. 
3. Cover and chill 1 to 24 hours before serving. Garnish, if desired. Serve with crispy, warm waffle fries. Store leftovers in refrigerator up to 7 days.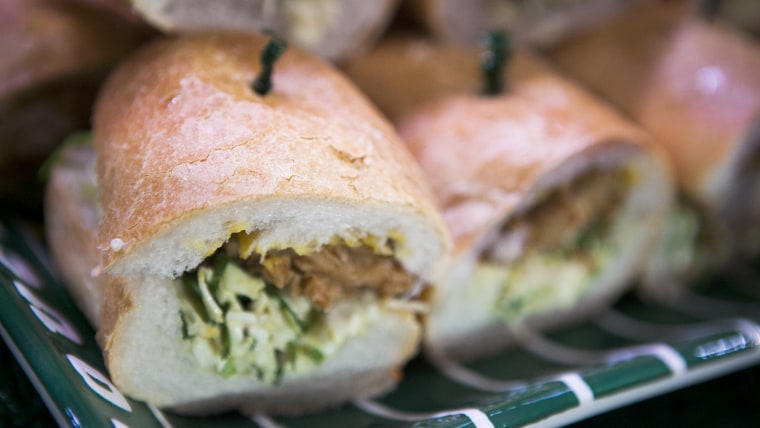 Chicken and honey sandwich
Makes 4 to 6 servings

1 (12-oz.) French bread loaf 
1 (10-oz.) package angel hair coleslaw 
1/4 cup honey-mustard dressing 
15 to 20 pre-made or cooked fried chicken tenders

1. Cut French bread loaf in half horizontally; scoop out soft bread from center of each half, leaving a 1/2-inch-thick shell to make filling the sandwich easier. (Reserve soft bread for another use.)
2. Toss together coleslaw and honey-mustard dressing until coated. Layer bottom shell with coleslaw and fried chicken tenders. Top with remaining bread shell. Cut into sandwiches.
Homemade cherry soda
Makes 16 servings

2 (12-oz.) packages frozen dark, sweet pitted cherries
1 1/2 cups Demerara sugar 
1 cup water 
1/2 cup fresh lime juice 
1/4 cup liquid from jarred maraschino cherries
Club soda

1. Bring cherries, Demerara sugar, and water to a boil in a large saucepan over medium-high heat. Reduce heat to low; simmer, stirring occasionally, 15 to 20 minutes or until cherries are tender. Let stand 30 minutes.
2. Press mixture through a fine wire-mesh strainer into a pitcher, using back of a spoon to squeeze out juices; discard pulp. Stir in lime juice and liquid from jarred maraschino cherries. Chill 2 to 24 hours. 
3. Stir together 3 Tbsp. cherry mixture and 1 cup club soda for each serving. Serve over ice in 16-oz. glasses.
Spicy-sweet deviled eggs
Makes 10-12 servings

1 dozen hard-cooked eggs, peeled 
1/2 cup mayonnaise 
3 tablespoons mango chutney
1/8 teaspoon ground red pepper
Kosher salt to taste
Garnish: sliced fresh chives

1. Cut eggs in half lengthwise; carefully remove yolks. 
2. Mash yolks; stir in mayonnaise, chutney, and red pepper until blended. 
3. Spoon yolk mixture evenly into egg white halves. Sprinkle evenly with desired amount of salt. 
4. Garnish, if desired. Chill until ready to serve.