Celebrities donning white-haired wigs and crisp, white suits have been playing KFC's famous founder Colonel Sanders for years. But the latest man to star in the chicken chain's ads doesn't have a lot in common with his predecessors ... because not that many people really know who he is.
Christopher Boyer is a relatively unknown actor who just scored the role of "Value Colonel" in KFC's new commercials. By hiring an unknown actor, KFC says it's saving a lot of advertising money, so instead of forking over a large paycheck to a big name, the chain can pass the savings on to customers.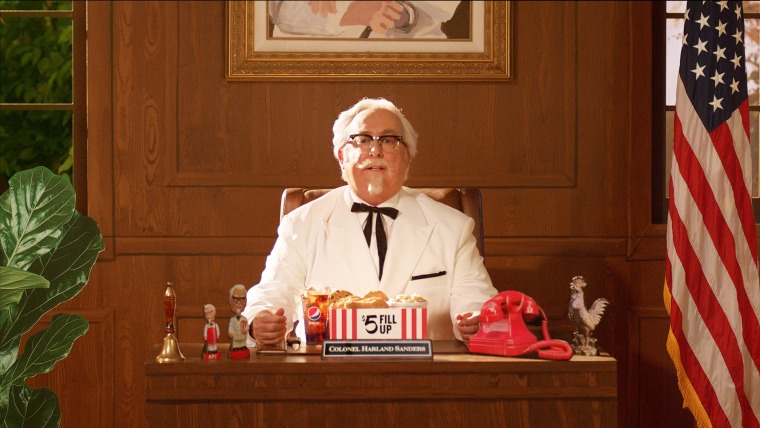 In the past, KFC has gone for big names (with bigger paychecks) like Ray Liotta or Rob Lowe.
This value-minded casting is tied into ads that will launch nationwide Dec. 28, featuring items like a potpie for $3.99 and a different options for the $5 Fill Up container deal.
"After casting a wide net to find our next Colonel — everywhere from big shot Hollywood agents to postings on job boards and even Craigslist — we were pleasantly surprised when we found Boyer," KFC's director of advertising George Felix said in a statement. "Much like the Colonel, he's held a lot of forgettable roles before becoming the world's most famous chicken salesman. Heck, he even auditioned for the role of the Colonel several years ago, and we didn't remember him."
According to KFC, Boyer's previous roles have included "man in mattress store," "professor" and "old seasoned farmer."
Boyer's resume isn't entirely devoid of a few meaty roles, however. The actor, who lives in Hagerstown, Maryland, once owned a restaurant known for fried chicken ... but he says it wasn't as good as KFC (as the new colonel, maybe he has to say that now). Boyer even auditioned for this coveted role once before, in 2015, but didn't get the part, and apparently the team didn't even remember he had auditioned.
"When I was preparing to audition for the Colonel role in 2015, I dug out my string tie from the back of my closet and looked up Harland Sanders on the internet," Boyer said in a statement. "That's when I first found out about the Colonel's incredible life story, so I donned an accent for the audition and gave it my best shot.
"Now two years later, I am very grateful to be playing the role as the common man's Colonel."
Plenty of fast food chains are currently vying to capture budget-minded consumers with promotions like the return of the $5Subway footlong or McDonald's relaunching its dollar value menu, so we're not surprised that KFC is trying to get in on the discount dining action.
Let's just hope Boyer earned more than a bucket of chicken for his latest role.