We thought we'd hit peak pickle when pickle juice soda came out. Then when Sonic came out with a Pickle Slush. But no, there's yet another pickle product for our palates: KFC is coming out with Pickle Fried Chicken. And honestly, once the TODAY staff tried it, we weren't mad about it.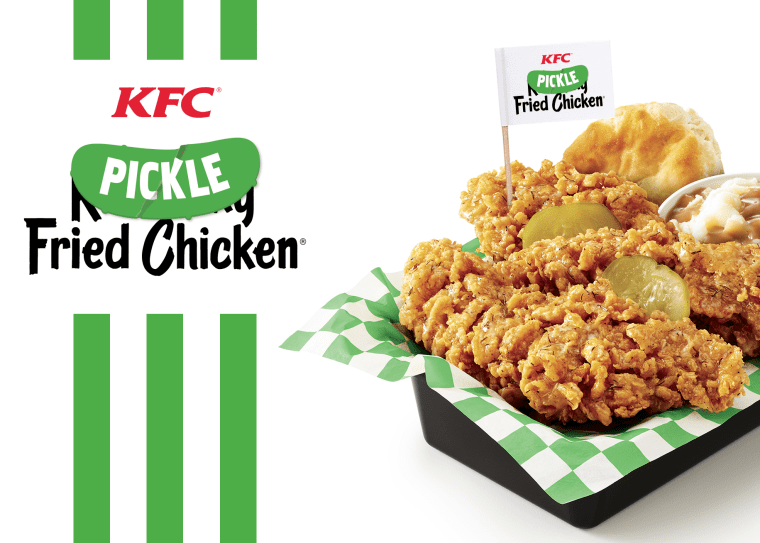 The first thing to know about the new menu item is that it is a tangy twist on the chain's Extra Crispy Chicken. This time the seasoned and breaded fried chicken is topped with a couple of pickle slices and smothered in a pickle sauce. And we mean really drenched. The sauce, which is thankfully thicker than just pickle juice, is made with dill, vinegar, onion, garlic, buttermilk, and white and black pepper. It's potent — but not overwhelmingly so.
Starting on June 25, for a limited time, you can get the sour sauce drizzled all over your Extra Crispy Chicken, Extra Crispy Tenders, a Crispy Colonel Sandwich or Chicken Littles. A point that should be noted is that it is not made with pickle-brined chicken, like Chick-fil-A.
"Although I'm not hungover at the moment, I imagine that this tangy, salty amazingness is the perfect hangover food," said one TODAY staffer.
And she doesn't even like pickles that much: "I'm not the biggest pickle fan … my friends had to drag me to a pickle festival last year. While I enjoy pickles and always request them with a sandwich, I frankly didn't understand the hysteria about an entire festival devoted to them. BUT, this pickle chicken is delightful. It might deserve some hysteria. Even I'd wait in line for it."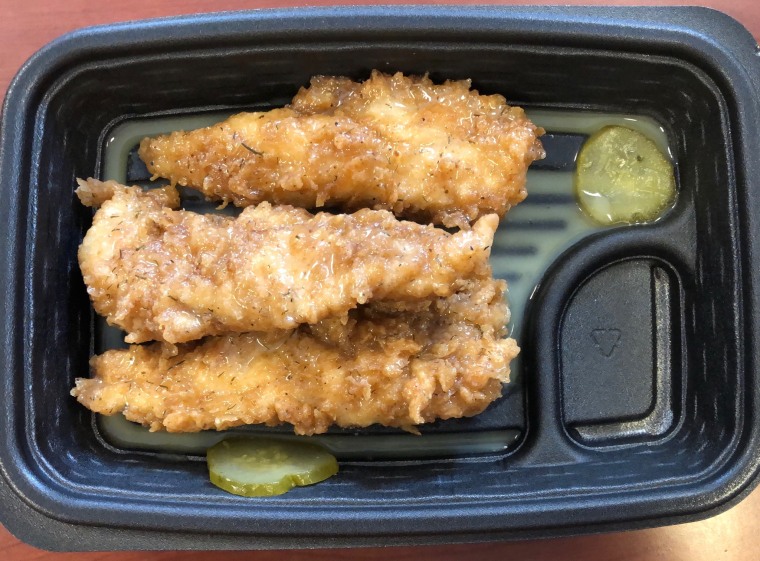 Another staffer said that while she found the tenders to be a "perfect combination of sour and buttery and savory," she doesn't think her kids would like it. "Too sour. But mama like!"
One downside, however, was that once the Extra Crispy Tenders were sauced, they were no longer actually extra crispy. In fact, if not immediately consumed (not hard to do, by the way), they got a bit soggy. A workaround we suggest: Keep the sauce on the side for dipping.
And there was one staffer whose stomach, to put it lightly, completely rejected the tenders (though he did down all three in a matter of seconds).
The new tenders are joining Nashville Hot, Georgia Gold honey mustard BBQ and Smoky Mountain BBQ in KFC's lineup of signature southern-inspired flavors for a very limited time. On June 25, each restaurant will only receive enough pickle-saucing ingredients for a few weeks and, as the company writes in its press release, "once it's gone, it's gone for good." But if it follows in the consumer-friendly footsteps of its saucy southern predecessors, it'll land permanent real estate on the menu.
Next up, may we suggest chicken-fried pickles?! Now THAT would be a big dill.