Jason Alexander's latest foray into comedy involves a white beard and a crisp performance — make than an extra crispy performance.
The "Seinfeld" alum is the latest incarnation of Colonel Harland Sanders, following in the footsteps of celebrities like Rob Lowe and Reba McEntire. Starting Monday, ads featuring Alexander as the beloved colonel will start airing nationwide to promote the chicken chain's $20 Fill Ups, value meals that are now available in four different varieties.
A longtime fan of comfort food, Alexander didn't have any problem identifying with the colonel's love of chicken. "Have you noticed my waistline over the years? When I'm out and about it is no lie, you will see me at a KFC!" Alexander told TODAY Food.
He even admitted to a pretty wacky fast-food habit: Since he loves peanut butter, the actor often enjoys pairing it with fried chicken! "Don't think I'm crazy [but] peanut butter with fried chicken is very, very interesting," he said
Alexander's background as a sitcom star was fitting for the latest KFC commercials, which are all centered around the family dinner conundrum. "As the son of two working parents, there were plenty of dinnertimes when a bucket of chicken and all the fix-ins saved the day," said Alexander. "It's been fun to combine my personal love for KFC with my sitcom experience into a new take on the role of Colonel Sanders."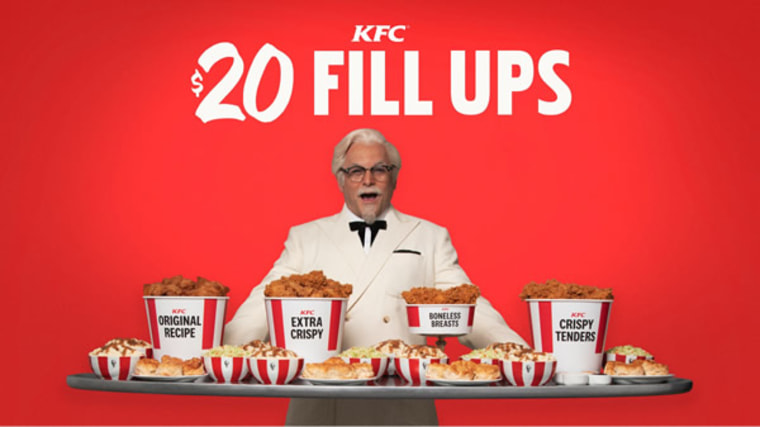 As for his favorite past celebrity Sanders?
Alexander said that he was blown away by Reba McEntire, the brand's first female lead to take on the role. "You know, all the other guys, you sit there and you go 'Who is that?' Sometimes the voice just gives them away," Alexander said. "I was looking at Reba ... and I know it's a woman and that's really interesting, and I'm thinking 'Who is that woman?' It took me about almost five, six, seven viewings to get it!"
He added, "I just thought it was inspired thinking to go that far out of the box for someone to play the colonel — just to have a woman do it. That is what I thought was brilliant."
As for how he prepared for his turn as the famous KFC frontman, Alexander said a lot of it had to do with the props and clothing. "What I wanted to do was break into the Kentucky accent and the whole thing," he said. "More than even the hair ... when you put that suit on, you do feel like you have stepped back into another time, in another era [and] that kindof felt really passionate and fun to me."
KFC's new $20 Fill Ups are now available in four varieties: boneless breast filets, Original Recipe chicken-on-the bone, Extra Crispy chicken-on-the bone and Extra Crispy tenders. All four types of chicken come with sides and biscuits.
So what's Alexander's go-to when it comes to chicken? "I'm a bit of a purist," he admitted. "I know people do all kinds of fantastic things with it [fried chicken]. They slice and dice it. They put it in salads, they put it in sandwiches." But he just likes to enjoy chicken in its purest form: right off the bone.