Before there were unicorn drinks from Starbucks, rainbow bagels and all manner of Lisa Frank-inspired multi-hued foods (even ramen!), there was Kellogg's Froot Loops cereal. Indeed, Kellogg's was ahead of its time with the bright rainbow rings.
Now, the company is capitalizing on the popularity of Instagram-worthy, colorful "unicorn" foods by bringing Kellogg's Unicorn Cereal to the U.S.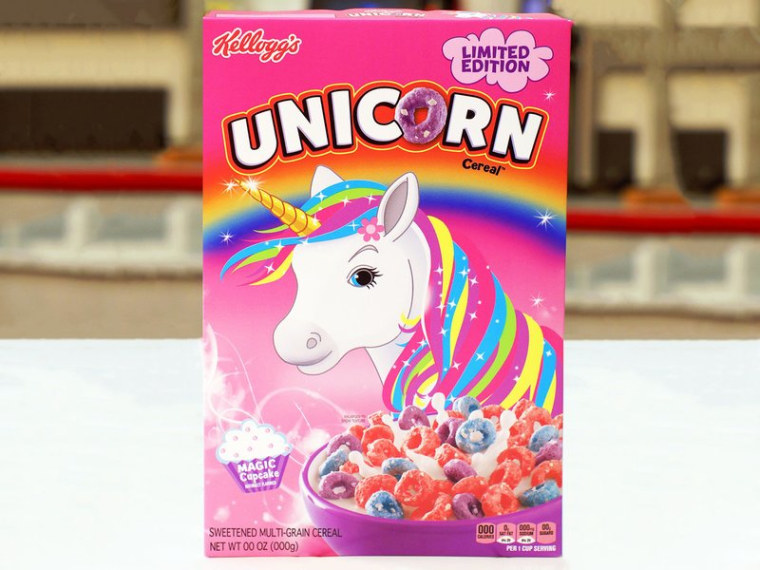 The cereal is essentially a re-vamped version of Froot Loops that features red, blue and purple cereal pieces as well as "white crunchlets" that are purported to be "magic cupcake"-flavored...but isn't every cupcake magical, unless it's done wrong?
A different version of the cereal first appeared in the U.K. earlier this year in a limited-edition run, under the moniker "Kellogg's Unicorn Froot Loops" and featured yellow, purple and red cereal pieces.
Kellogg's has dropped the "Froot Loops" in the name and swapped out the yellow loops for blue ones in the American version, which will be available for a limited time beginning in March 2018. The promotional box (which will not be the same as the one on store shelves) also jokingly claims there are "000" calories and "00" grams of sugar. Now that's some magical thinking!
If you're a true cereal lover who wants to know how the Unicorn Cereal stacks up to Froot Loops — one of the OGs of the rainbow food game — it's currently available at the recently opened Kellogg's NYC Café, a cereal-centric café in Manhattan where you can get a taste of your favorite cereals old and new.
Pull up a seat, grab your bowl, and pace yourself, because unlike those mythical beasts, that sugar rush is definitely real.