There are few absolutes in life, but one thing is certain: there will be a new pumpkin spice-flavored food — or drink or even deodorant — every autumn season.
The latest food to jump on the pumpkin spice bandwagon is Kellogg's Frosted Flakes. That's right, Tony the Tiger is the latest to succumb to being basic.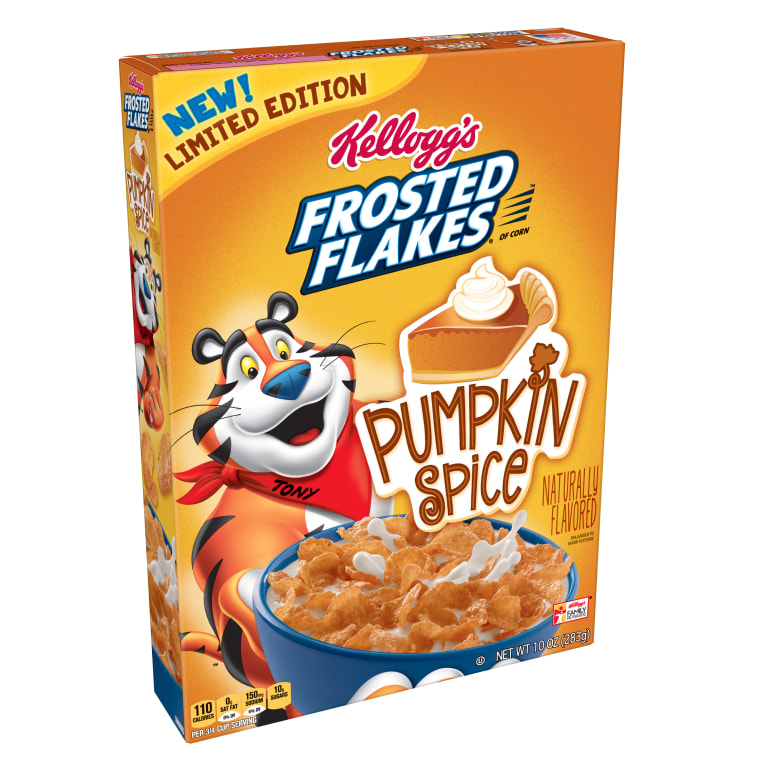 Pumpkin spice-flavored Frosted Flakes actually do sound kind of amazing. Out of all of the oddball pumpkin spice-related stuff that's come out in the past few years — looking at you pizza and cough drops — this one actually makes sense.
"New Kellogg's Pumpkin Spice Frosted Flakes has a warm pumpkin spice frosting that coats golden, crunchy toasted flakes," a representative from Kellogg's told TODAY Food by email. "This tasty cereal has caramelized pumpkin aromatics delivering brown sweet cinnamon and a touch of allspice and ginger."
The cereal was first leaked on Instagram by the enthusiastic owner of a Met Food supermarket in Brooklyn, New York, who posted a photo of the sample they received in May.
Instagram food blogger Markie Devo contacted the store to taste the cereal and shared his first impressions. He noted that the scent had a "strong pumpkin spice essence," and that without milk the cereal is "very sweet with a hint of a pumpkin puree/cinnamon vibe" and "leaves your mouth sizzling a bit."
With milk, it was a different story and he gave it a "10/10" rating.
Then, Instagrammer JunkFoodMom sampled the cereal, too, and raved that the Pumpkin Spice Frosted Flakes "rekindled my interest in pumpkin flavored Everything." That's high praise from the Michigan-based mother who is very frank in her posts.
The rest of us will have to wait until September when the limited-edition Pumpkin Spice Frosted Flakes will become available nationally and retail for about $4.29.
But that's fine because it's still summer, people!