If last week's frighteningly false mobile alert about a ballistic missile threat in Hawaii (it turned out there was no missile at all) taught us anything, it's that we can't always believe everything we read.
That includes, it seems, the food preferences of members of the royal family. Many previous reports have stated that Catherine, Duchess of Cambridge, drinks almond milk instead of traditional dairy, but a café worker in the U.K. says the former Kate Middleton told her otherwise during a recent royal visit.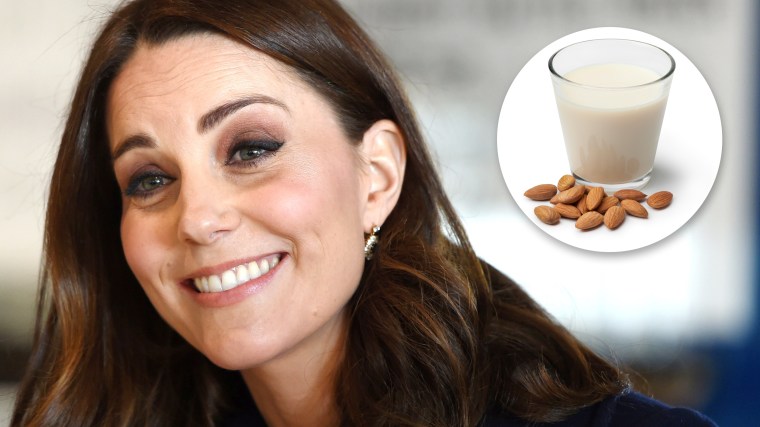 On Tuesday, the duchess and Prince William visited a café operated by a charity that helps employ homeless individuals and recovering addicts. The royal couple's hosts presented a tray of cakes and tea — and the servers made sure to set aside some almond milk for the duchess, based on her rumored preference for the non-dairy beverage.
"We put almond milk on the table because we had read that she had it," Kim Gardener, who runs Betel U.K.'s women's houses, told People.
But upon seeing the nut milk, the duchess reportedly told Gardener, "Don't believe everything you read — I don't even like almond milk."
A simple Google search reveals several articles claiming the duchess drinks almond milk — but, not so curiously, the duchess isn't quoted directly.
In the event that any of us do end up dining with the duchess — hey, we can dream! — we do know that she loves her grandmother's chutney and has actually served it to Queen Elizabeth. She's also been seen enjoying vegetarian dishes on state visits, and has been photographed eating popcorn at sporting events ... just like Prince Harry!
Of course, the Duchess of Cambridge isn't the only Middleton known for her healthy eating habits. Her sister Pippa says she never skips breakfast — but you won't find her chowing down on pancakes and bacon.