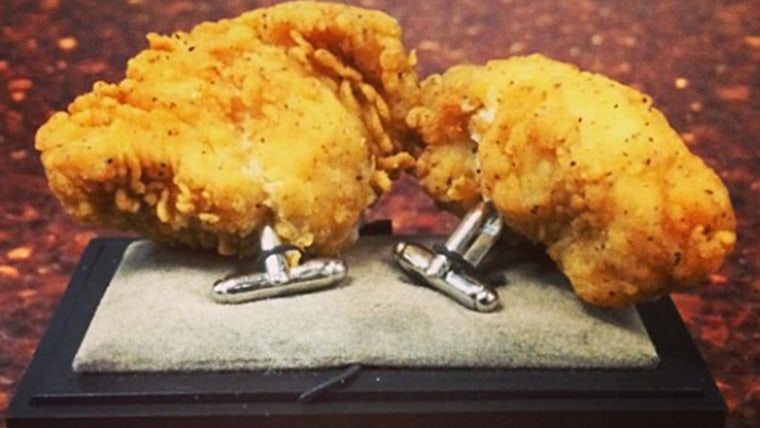 Ask, and you shall receive. 
After Carson Daly reported the news that KFC had debuted a new fried chicken "corsage" over the weekend, he suggested that the chain should make some edible cuff links for the guys as well.
And KFC heard him, loud and clear.
On Wednesday on TODAY, Daly showed off his "chicken links," a pair of cuff links with pieces of edible chicken stuck on them. He posted a picture of the unique fashion accessory, writing, "Thanks @KFC for the male equivalent to your prom date chicken corsage. @savannahguthrie almost took a nibble! #winginIt #chickenLinks." 
The drumstick corsage was born when KFC teamed up with a florist in Kentucky to develop a prom accessory, and the unusual wrist adornment features baby's breath flowers and a drumstick. The corsage costs $20, and comes with a $5 coupon for a drumstick in any flavor, including extra crispy, grilled or original recipe.
"And right now I'm told no sides, they're just doing the chicken," TODAY's Jenna Wolfe reported on Saturday.
That's when Daly jumped in with his suggestion.
"What about cuff links that are just little McNuggets or something like that?" he asked, and demonstrated gnawing on his shirt sleeve.
Jenna called Carson's idea "brilliant,'' and apparently KFC agreed.
Check out the ad below.