I love slow cooker recipes because they are so easy to put together: You just toss all ingredients in the magic pot, go about your business and — poof! — a few hours later, you have a home-cooked feast that's ready to be devoured. Plus, the kitchen smells absolutely amazing with minimal effort required. Slow-cooked meals deliver wholesome and cozy feels, and these two recipes do just that. Get ready to enjoy a delicious stop-and-drop dinner that's stuffed with classic Mediterranean flavors and irresistibly tempting chocolate fudge cakes.
This slow-cooker dish is the bell (pepper) of the ball! Stuffed with whole grains (leftover brown or wild rice works!), protein-packed ground turkey, savory feta and colorful veggies and herbs, these peppers hit the mark. They're loaded with nutrition and are so easy to make. This recipe purposely makes six peppers, as six medium-to-large peppers will fit seamlessly in a 6-quart slow cooker. For an extra special finish, I love to drizzle creamy, dreamy tahini sauce over the peppers.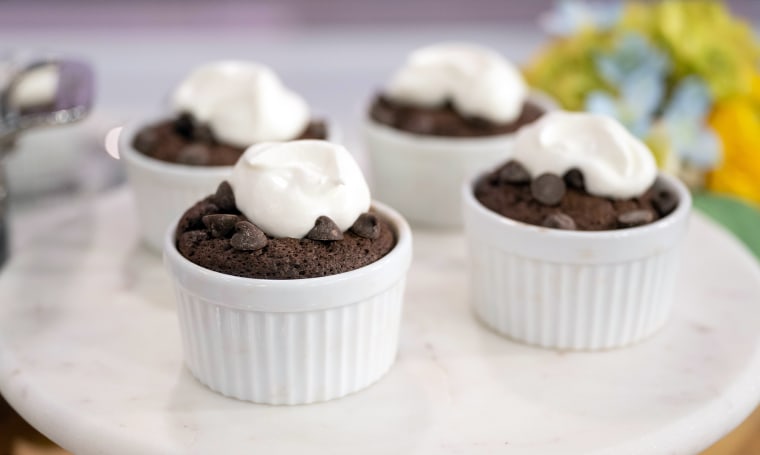 The slow cooker is not solely for soups, stew, and savory suppers — it can also be used to make decadent desserts, too! This indulgent, chocolaty recipe is an easy DIY treat that looks and tastes like an elegant dessert from a fancy restaurant. While you can also cook these single-serve sweets in the oven (bake at 350 F for 25 to 28 minutes), the slow cooker gives them an extra fudgy consistency. Bonus: Both the slow-cooker and oven cooking methods create a mouthwatering bakeshop aroma in your kitchen. And you gotta love that bananas add creaminess, natural sweetness fiber and potassium to this delicious dessert — which also happens to be gluten-free, wheat-free and dairy-free (if you use dairy-free chocolate chips).
Get the recipe here.
More satisfying slow-cooker recipes from Joy:
For even more tasty recipes, check out Joy's cookbook "Joy Bauer's Superfood!" and follow her on Instagram, Facebook and Twitter.
TODAY has affiliate relationships, so we may get a small share of the revenue from your purchases. Items are sold by the retailer, not by TODAY.