How do you like them apples: Sweet, savory, scrumptious? You'll satisfy all your cravings with these three winning "Too Good to Be Healthy" recipes sent in by TODAY viewers.
Carolyn Sims' cranberry-apple pork chops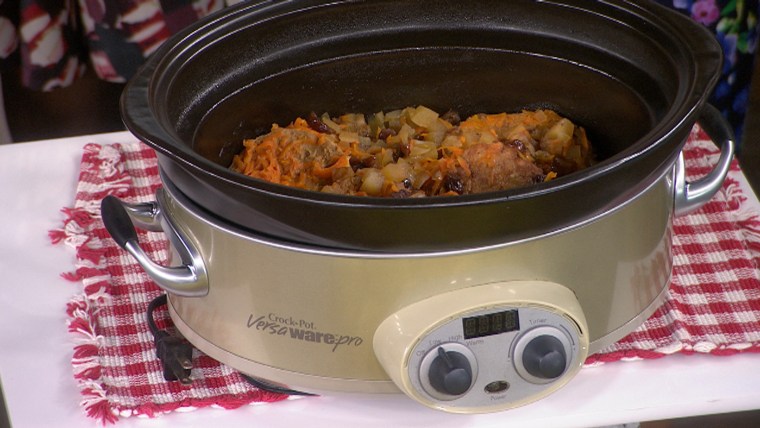 Ingredients:
6 lean pork chops (4 ounces each), slightly browned
1 can whole berry cranberry sauce
1 medium onion, chopped
2 honey crisp apples, diced (or other slightly tart apple)
1 ounce dried cranberries
1 cup shredded carrots
1/4 cup orange juice

Directions: 
Place pork chops in slow cooker. Combine other ingredients and pour on top of pork chops. Set to low heat and cook 6-8 hours.  

Nutrition: 
Makes 6 servings; each serving contains 319 calories, 27 grams protein, and 3 grams fiber
Get Joy Bauer's recipe for apple 'n oat cobbler
Jennifer Valdenegro's chicken apple meatballs in onion and apple gravy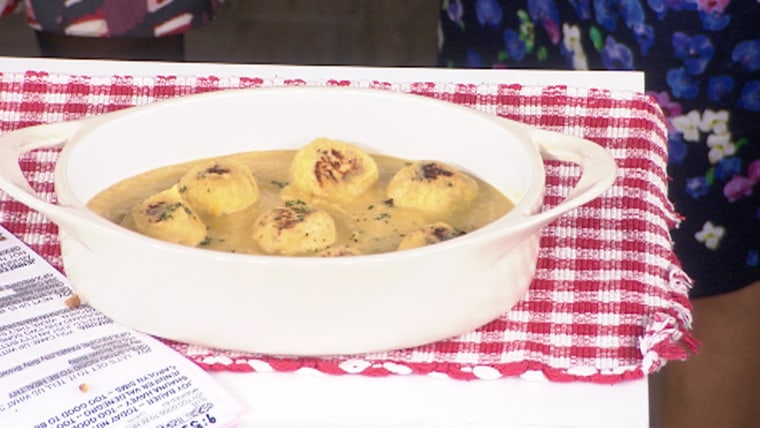 For the meatballs:
1 package ground chicken (13.2 ounces)
2 (heaping) tablespoons Dijon mustard
1 teaspoon onion powder
1 teaspoon garlic powder
1 teaspoon dried parsley
1/2 teaspoon ground cumin
1 apple (any variety), peeled and grated with excess juice squeezed out
1 tablespoon + 1 teaspoon of grated Parmesan cheese
Pinch of salt
Pinch of ground black pepper 

For the gravy:
1 tablespoon grape seed oil
1 onion, sliced
1 large shallot, sliced
3 cloves garlic, chopped
2 apples (any variety), peeled and chopped
2 tablespoons Dijon mustard
Several sprigs fresh thyme
2.5 cups low-sodium chicken stock
Couple dashes of low-sodium soy sauce
Kosher salt, to taste
Ground black pepper, to taste

Directions:
For the meatballs: Preheat oven (convection, if available) to 475 degrees.

Mix all ingredients together using your hands until well combined. Form into balls and with a food scale, weigh out 2-ounce portions. (You'll get about 8 meatballs.)
Place on cookie sheet lined with parchment paper. Cook in oven for 10 to 15 minutes, just until browned on the outside. (They will finish cooking in the gravy.)
For the gravy: Using a heavy-bottomed pan or Dutch oven, over medium-high heat, place oil in pan.
Add onion, shallot, garlic and apples. Sauté until soft, about 10 minutes. Add chicken stock, mustard and soy sauce. Stir and let cook for 5 to 7 more minutes. Taste and add salt and pepper, as needed.  
With an immersion blender (off hot burner), puree the mixture to desired consistency. 
Add thyme leaves and meatballs and turn heat back to low. Let gravy simmer, cooking down to desired thickness.
Nutrition: Makes 6 servings; each serving contains 334 calories, 27 grams protein, and 4 grams fiber.
Get Joy Bauer's recipe: Apple pie smoothie
Shauna Havey's itty bitty brown Betty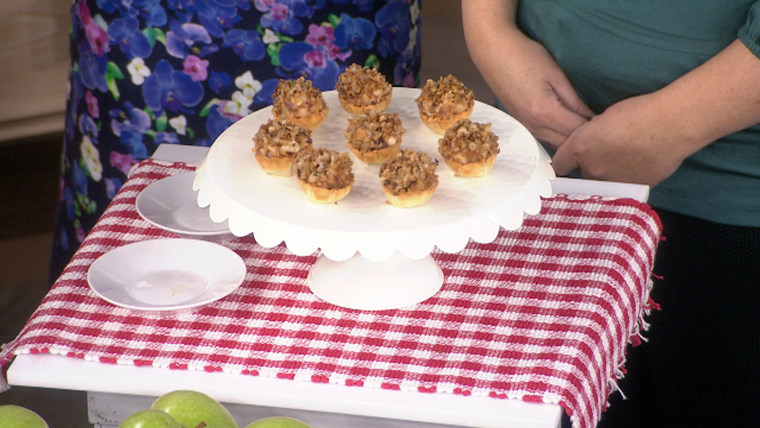 Ingredients:
8 mini "Fillo" shells (freezer section of any grocery store)

For the filling:
2 large Granny Smith apples, diced small
1 tablespoon brown sugar
1 teaspoon crystallized ginger, chopped fine
2 tablespoon dried cranberries, chopped
1 tablespoon whole-wheat flour
2 teaspoons salted butter
Pinch of cinnamon
Pinch salt
Juice of a fresh orange (reserve 1 tablespoon for glaze)

For the topping:
1 slice dense whole-wheat bread
1 tablespoon salted butter, melted
2 teaspoons brown sugar
Pinch of cinnamon
Leaves from 2 sprigs fresh thyme, chopped

For the glaze:
1/4 cup powdered sugar
1/2 teaspoon orange zest
1 tablespoon orange juice
Directions:
To make the filling: Heat a skillet to medium and add all of the filling ingredients.

Mix well and bring to a simmer. Reduce heat to medium low and allow to cook for about 10 minutes (or until the fruit is tender and the filling is thick). 
To make the topping: Pulse the bread in a food processor to make crumbs. Then, toast the crumbs over medium heat in a dry skillet for 2-3 minutes until lightly toasted.
Slowly stir in the melted butter. And finally, add the brown sugar and cinnamon. Combine well, turn off the heat, and set aside.
To make the glaze: Combine the powdered sugar, reserved tablespoon of orange juice, and the zest. Mix until smooth.
To assemble: Evenly distribute the filling among the 8 pastry cups and divide the crumb topping over each as well.  
Place the cups onto a cookie sheet and set under the broiler for about 3 minutes to brown the topping. 
Remove from oven and finish off with a drizzle of the orange glaze. Garnish with some fresh thyme if desired. 
Nutrition:
Makes 8 servings; each serving contains 110 calories, 1 gram protein, and 1.5 grams fiber

WATCH: Willie and Tamron taste test chicken apple meatballs
For more delicious recipe ideas follow Joy Bauer on Twitter, Facebook and Pinterest.