Who doesn't love pizza? I sure do. Make it better by skipping the extra calories and trying my health-ified pizza recipes. They're delicious, healthy, diet-friendly and super easy to make.
Pizza crust made without flour? Yes, please! Use my clever trick of swapping in cauliflower to make a lower-carb pie your family will devour. Each slice contains just 155 calories while providing 16 grams of protein and three grams fiber. Nice deal! Watch the video above to see just how easy it is to make.
This pizza dish was inspired by Lorin Cook, of Alpine, New Jersey, winner of the TODAY show's "Grape Expectations" recipe contest. I love how she incorporated nutrient-packed sweet potato in the crust (so creative) and loaded up each slice with so many good-for-you veggies. It's a healthier alternative than dialing up delivery!
RELATED: Make it better with more healthy recipes from TODAY Food
It doesn't get any easier than this! Top a toasted whole grain English muffin with tomato sauce, shredded mozzarella cheese and your favorite veggies. For only 210 calories per two halves, enjoy your tasty mini pizzas with soup or salad for a satisfying and slimming meal. Bonus: This simple dish is fun to make with your kids.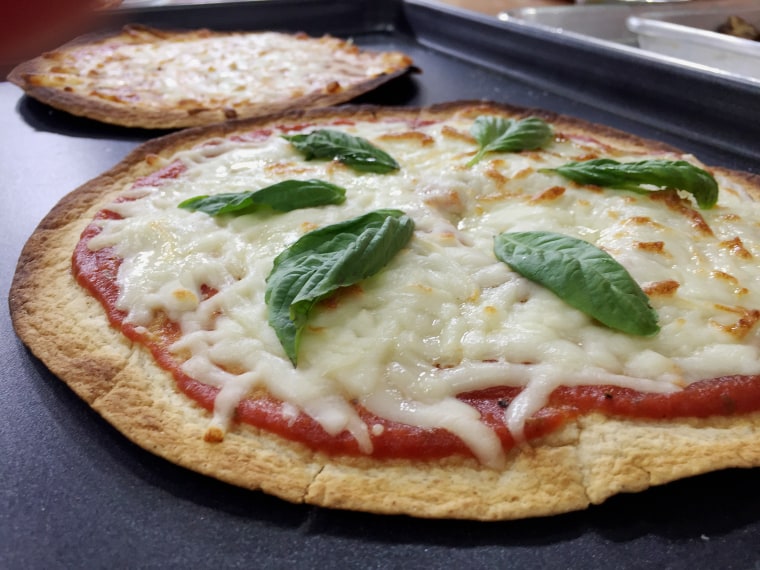 Ready for a pizza party? Each family member can make their own personal pie with customized toppings. It's the ultimate thin crust pizza — and for just 172 calories per pie, you can feel free to go back for seconds.
If you like those healthy recipes, check out more great recipe ideas from Joy Bauer:
For even more delicious recipes, follow Joy on Twitter, Facebook, Instagram and Pinterest.