Feeling a bit frazzled during the most wonderful time of the year? If you're stressed this holiday season (about back-to-back parties, chatting with your in-laws, or finding the perfect Secret Santa present), try this anxiety-easing trick: call on chamomile tea.
Loaded with antioxidant and anti-inflammatory properties, chamomile appears to act as a mild sedative and may help relieve muscle tension and ease anxiety and irritability. The herb has been around for centuries — it's actually one of the most commonly used and well-documented medicinal plants in the world. In fact, it's estimated that more than 1 million cups of chamomile tea are sipped every day.
So pour yourself a cup of tranquil tea when you begin to feel tense. Or, get creative and incorporate dried chamomile into your cooking. To get started, try these two delicious recipes: Orange-Glazed Salmon with Confetti Chickpeas and Chocolate Chip Chamomile Cookies. Keep calm and holiday on!
In addition to Chamomile, this recipe calls for three other all-star ingredients to help minimize stress: oranges, salmon, and chickpeas. Aside from the medicinal health perks, my three kids (and my husband, Ian!) devour this meal; and, as you can imagine, getting the entire family loving the same healthy dinner is no easy feat!
Chocolate Chip Chamomile Cookies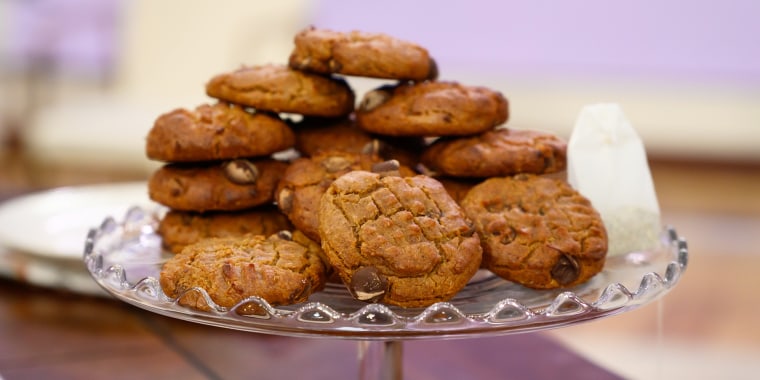 Not only are these feel-good (and flourless!) cookies tasty enough to serve at your holiday party, but they're loaded with calming and quality ingredients. Plus, each one contains 2g filling fiber and 4g of satiating protein (thanks to a few power add-ins!). (P.S. Word on the North Pole street is that Santa requested these cookies...)
Get the recipe here.
For healthy tips, follow Joy on Instagram, Facebook, Twitter, and check out her newest book "Joy's Simple Food Remedies."​​