Smoothies tend to be a big diet question mark — you never quite know the amount of calories, sugar and fat they contain, unless you're making them at home and are in control of what goes into the blender.
Here's the simplest formula you can use to make a tasty afternoon snack smoothie for less than 200 calories. After you memorize the basics, you can use the formula to create your own different flavor creations — use the fruit of your choice, whichever low-fat milk you prefer and the add-ins you like best, whether it's chia seeds, cocoa powder or even spinach (seriously! You can add a handful of baby spinach leaves to any smoothie without decreasing the deliciousness). And be sure to check out the four recipes below for slurping inspiration.
Joy's Slimming Smoothie Formula
Start with 1 to 1½ cups of fruit
Feel free to use fresh or frozen: Think sliced strawberries, raspberries, mango chunks, pineapple cubes, peach slices — whatever fruit you like best. When it comes to bananas, count 1/2 banana as 1/2 cup.
Add 1/2 to 3/4 cup milk.
User's choice when it comes to the type of milk. But if you're looking to keep calories low, the best bests include skim or one percent cow's milk, unsweetened almond milk (plain, vanilla or chocolate), unsweetened soy milk, or lite coconut milk. Start with 1/2 cup; depending on the fruit you choose and additional mix-ins, you may need to bump it up to 3/4 cup.
Be picky with add-ins.
Although fruit and milk blend up deliciously on their own, here's where you can elevate the flavor and nutrition. However, be mindful of amounts. In general, 1 teaspoon of nut butter or mini chocolate chips; or 1 to 2 teaspoons shredded coconut, chia seeds or cocoa powder work well. If you want to add low-fat Greek yogurt or canned pumpkin, stick to about 1/4 cup. Also, know that a handful of spinach will change the color but will go undetected when it comes to taste (I promise!), which is a nice nutritional bonus.
Here's a collection of delicious smoothies with varied flavors that follow this formula. Whip out your blender and get ready to slurp!
At only 190 calories, this smoothie is perfect for a satisfying snack.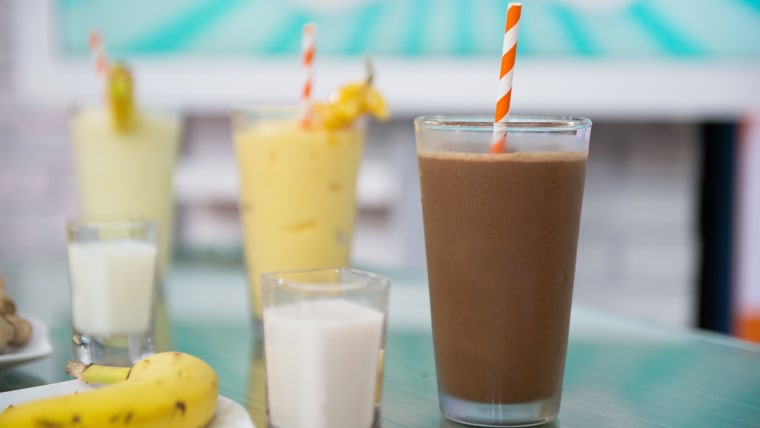 What's not to love about this simple smoothie? I mean, it's got chocolate and peanut butter, comes together in just five minutes and it's less than 200 calories. It's good to the last slurp!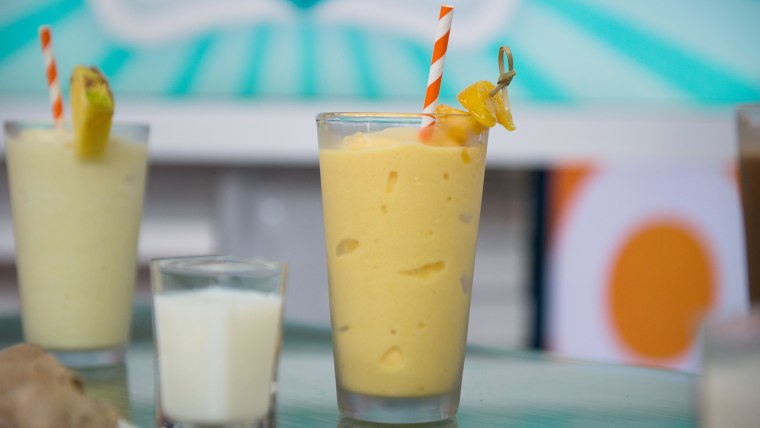 This smoothie is like a taste of summer — sweet, light and refreshing. Fortunately, thanks to frozen fruit, you can enjoy it year-round. Whip it up today.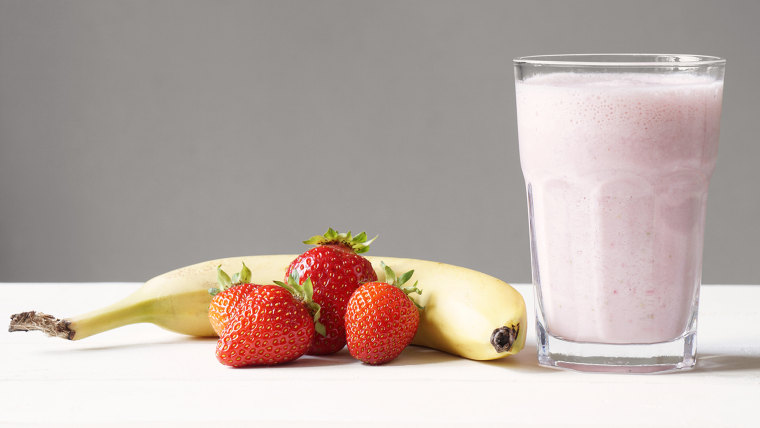 Strawberries and bananas are a standard smoothie pairing, and for good reason. They are absolutely delicious together. Give them a try in this satisfying sip.
RELATED:
For more delicious recipes, check out Joy's cookbook From Junk Food to Joy Food and follow her via Twitter, Facebook and Instagram.