As wildfires continue to devastate the southern California landscape, chef Jose Andres has enlisted the help of fellow celebrity chefs and a nonprofit organization to help feed victims as well as the firefighters working tirelessly to quell the flames.
Andres, who has helped provide millions of meals to victims of Hurricane Maria in Puerto Rico, is now focusing on feeding those displaced by the raging, wind-driven wildfires.
Andrés' nonprofit organization, World Central Kitchen, has teamed up with another nonprofit LA Kitchen, with plans to distribute 2,000 meals to those affected by the wildfires that have torn across Los Angeles and Ventura County this week.
Andres put out the call on Twitter for volunteers to come help prepare the meals.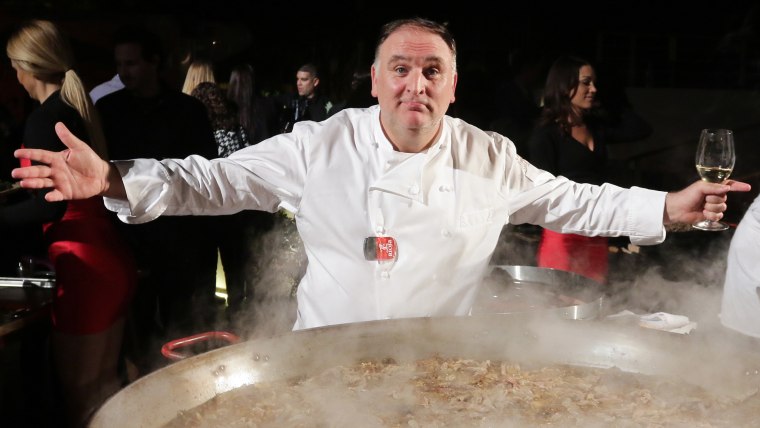 Students set to graduate from LA Kitchen got to work making lunches for the wildfire victims, according to founder Robert Egger. LA Kitchen, which gives culinary training to at-risk youth and the unemployed, delivered 600 meals and 50 servings of organic baby food to the Red Cross in Los Angeles on Thursday, Andres announced.
"Top Chef" stars Hugh Acheson and Tom Colicchio also heeded Andres' call to pitch in.
The Spanish-born Andres, who became a naturalized U.S. citizen in 2013, has consistently risen to the challenge of helping feed people in disaster zones.
He worked among first responders in Houston after Hurricane Harvey and provided aid to Haiti after its devastating earthquake in 2010.
You can support Andres' mission to help feed wildfire victims and firefighters by donating to the organization at World Central Kitchen's site.
Follow TODAY.com writer Scott Stump on Twitter.