This is what the true spirit of Thanksgiving is all about.
Celebrated chef José Andrés has already served over two million meals in Puerto Rico through his nonprofit World Central Kitchen following the devastating aftermath of Hurricane Maria. Now, the intrepid culinary team is planning to dish out 40,000 more meals this week.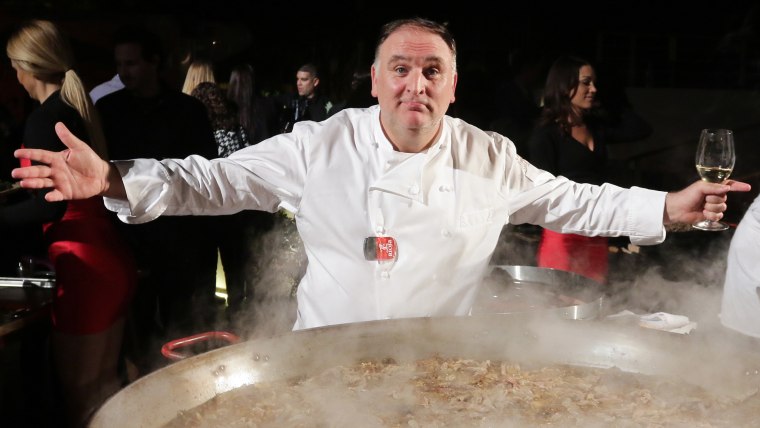 In honor of Thanksgiving, residents of the island as well as volunteers will be given a feast of roasted turkey, rich gravy, mashed root veggies, creamy sweet corn and more, according to Andrés's Twitter account.
"Thousands of hot Thanksgiving meals are packed up and out the door for the families who need it most," he posted, accompanying a picture of the food. Partnering with Marriott International, the chefs have spent days in the kitchen to make this large order happen during the holiday week.
On Instagram, Andrés shared a behind-the-scenes video from the kitchen of a Marriott in Dorado where he and his team were preparing caramelized onion with corn, one of the dishes featured on the special Thanksgiving dinner menu.
"I'm so excited," he said of the group's goal to serve 40,000.
Much of Puerto Rico is still without electricity and Andrés has become a local hero by feeding thousands who don't have access to food.
"We only came here to try to help a few thousand because nobody had a plan to feed Puerto Rico, and we opened the biggest restaurant in the world in a week," he told The New York Times in October. "That's how crazy this is."
He recently confirmed that the team is going to try to continue to feed people in Puerto Rico through Christmas and encouraged others to give to those who are not as fortunate this holiday.
Want to help support the chef's mission in Puerto Rico? You can donate online through the website of World Central Kitchen.