What was it about the Olive Garden that unleashed Jimmy Fallon's signature super power?
Maybe it was the red wine and warm ambiance. Or perhaps it was the excitement at the prospect of unlimited breadsticks that inspired "The Tonight Show" host to go from Clark Kent to Superman.
Or maybe it was because he just happened to be dining there for the first time with rapper Post Malone.
On Thursday, Fallon took his first trip to an Olive Garden restaurant with rapper Post Malone: the Italian-food enthusiast who once asked Twitter if a meatball was a fruit.
The experience was a memorable one for Fallon, who later called it the "oddest restaurant" he'd ever been to ... but he did enjoy the breadsticks!
But back to Fallon's mysterious super power.
Sitting at the table opposite Malone, Fallon put a mustard-yellow napkin on his head and revealed that his special ability had to do with that very condiment.
"Hey, you wanna know a little secret about me?" Fallon asked Malone. "I have a special power. I can guess if you like ketchup or if you like mustard." Malone laughed.
"You ready for this? You gotta look at me in the eye though. You think it's easy. Don't try to lie and try to — you're trying to fake me out. Look at me," Fallon said. "Hey, can I ask you a question? Uh, where did you go on vacation last year?
"Rome," Malone said.
"Oh, really? Uh, did you stop by to see the ketchup at the Vatican?! Am I right?" Fallon inquired.
Malone shouted in disbelief, "He's good! He's good, guys! Chris come here. Do it to Chris. Does he like ketchup or mustard more?"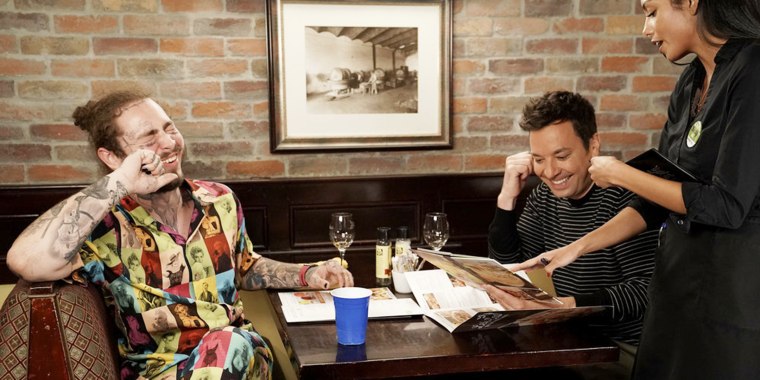 Fallon also tried to work his magic on Chris, a stoic gentleman at Olive Garden, who proved more difficult to read. And though Fallon admitted his powers were "drained," he prevailed like a real hero.
"Did you have a good birthday last year," Fallon asked Chris, who nodded. "You did? Oh, because what was at the party? You had, uh, cake and probably a hot dog with … mustard on it!"
Right again.
"Get outta here. I'm exhausted — exhausted," Fallon said.
While Fallon's psychic talent left Malone in disbelief, he wasn't the only one dumbfounded that evening.
First, Fallon discovered there were free wine samples at the Italian-American chain — he and Malone toasted and both had a few.
Fallon also enjoyed the chain's most legendary item: the unlimited, free breadsticks ... Malone-style with a nice-sized dollop of butter.
"The contrast ... it's garlicky, it's salty, it's butter, it's hot and it's cold," Fallon said. "What else do you want? Holy moly … and these are free?!"
Then came the salad, which Malone informed Fallon was also free and unlimited.
"Wait what?! Fallon said. "What do you pay for here?!"
Breaking into applause after his first forkful of chicken Parmesan (served extra crispy per the rapper's request) with rigatoni, Fallon discretely ordered Malone a birthday cake. The waitress told him it was complimentary.
"Do we pay for anything? How do you guys make money here?" Fallon asked.
It's safe to assume our new favorite superhero will be back for seconds — maybe next time with the rest of the Fallon family.