Jimmy Fallon has been dishing up late-night laughs on "The Tonight Show" for a full year now. And on Tuesday night, he even dished up a tasty treat to mark the occasion — his new Ben & Jerry's flavor, The Tonight Dough.
With the actual Ben Cohen and Jerry Greenfield on hand, the host unveiled a larger-than-life (and then some) tub. "Guys! This ice cream is the greatest," Fallon assured his audience. "It's the best tasting ice cream — I swear — you will ever, ever have in your life."
That may sound like one heck of a boast, but seriously, check out this flavor: It's caramel and chocolate ice cream with chocolate-chip cookie swirls, and as if that weren't enough, "gobs" of chocolate chip and peanut butter cookie dough.
Well, it certainly sounds good. But how does it really taste?
The TODAY gang gave it try Wednesday morning and everyone liked it — especially Savannah Guthrie, who declared it "really good!" no less than three times.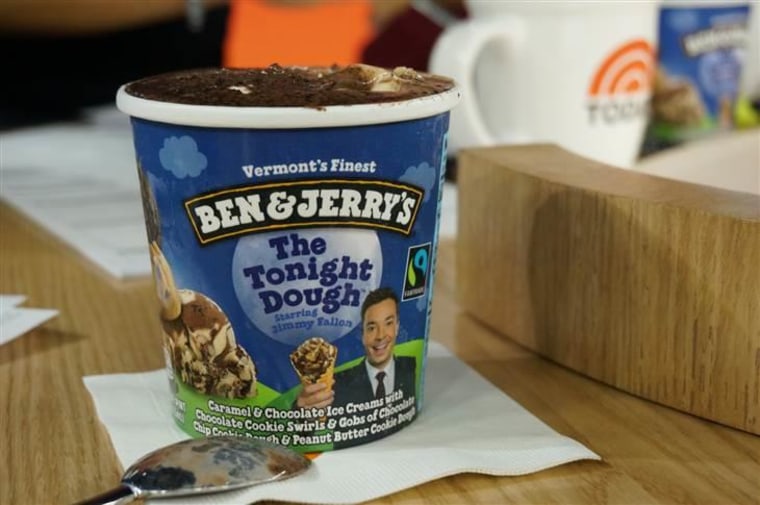 Sounds like a frosty hit for Fallon — and it's not his first one. In 2011, when he was still at the helm of "Late Night," Fallon was honored by Ben & Jerry's with Late Night Snack, a now retired treat that packed salty caramel and fudge covered potato chips.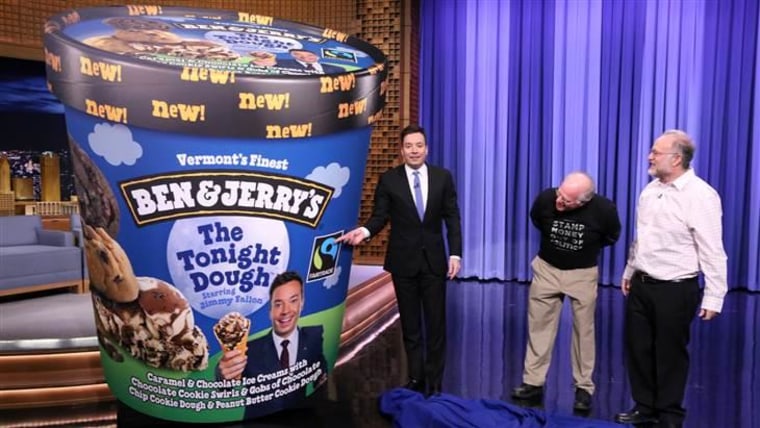 The Tonight Dough is out now, and in addition to tasting good, a purchase of the confection might leave buyers feeling good, too. Proceeds will benefit SeriousFun Children's Network, an organization devoted to helping seriously ill children and their families in a variety of ways.
Follow Ree Hines on Google+.