Jennifer Garner is quite possibly Ina Garten's biggest fan — and vice versa — so choosing a favorite recipe from the Barefoot Contessa's repertoire was very difficult her (she loves all of them!).
But it was something Garner had to do for her recent essay for Bon Appétit's "How Easy Is That?" series. The magazine, which brought on Garten as its first-ever guest editor for the week, asked Garner to honor her idol chef and friend by writing about her go-to recipe torn from the pages of Garten's many cookbooks.
"What is my favorite Ina Garten recipe? This is an unfair question, I may have to quit here. How could I possibly choose a favorite? Do you mean to ask me my favorite from each book? My favorite chicken, my favorite shrimp, my favorite muffin? Torture," Garner wrote in the essay.
Just as Garner prevails over challenges in her fake cooking show, she prevailed over indecisiveness. The result? One delicious, fall-flavored dish it's hard not to be obsessed with: Beef bourguignon, or "boeuf bourguignon," as Garten calls it in her ode to French fare, "Barefoot in Paris." The recipe is published in full following Garner's essay.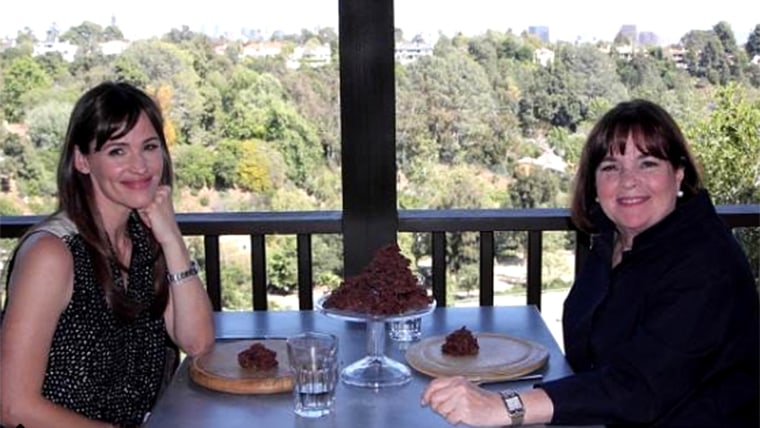 Garner said she's been making this warm classic (which translates to "beef stew with red wine") since her "spy days" in the early 2000s. She first tested the dish on her "Alias" costar, Victor Garber, and his now-husband, Rainer Andreesen.
"I remember being in my little house listening to music and drinking a glass of gorgeous red wine. (Always cook with a wine you'd like to have at the table, right, Ina?) The house smelled like winter when Victor and Rainer arrived, and the meal was done," Garner wrote. "I didn't have to get up to check anything or stir or sauté — everything had cooked in the oven, and we just sat and ate and talked and laughed."
A good dish that makes cooking during a dinner party effortless is certainly a Barefoot Contessa staple — and it's without a doubt one of the bazillion reasons we love Garten so. But, of course, that's not the only time Garner has pulled Ina's beef bourguignon from her back pocket.
Since that night, Garner has made it "countless times," including every Christmas for her family (she doubles the recipe for that celebration), and continues to learn tricks like how to cut the meet and to watch the bacon very carefully so it doesn't get too crispy. Garner wrote it's even a hit with a table half-filled with "actors on no-carb diets" (not that we run into that problem very often).
"I wonder what other gems Ina has hiding in plain sight. Sometimes I go through and read her earlier books over again to come up with fresh ideas. Ina's books, like her beef bourguignon, never ever disappoint," Garner wrote.
And now we, too, are poring through old Ina Garten cookbooks — a little tattered with a surprising amount of red wine stains.