Jennifer Garner is doing some interesting things with her free time lately.
Last week, she posted a picture of herself reading the newspaper to her pet chicken Regina (who we'd met before when they went out walking in November). Next, she posted a throwback photo of her with her sisters and revealed their mom made the dresses they were wearing in it.
So what has she cooked up for us this week?
She is, in fact, cooking. In a social media video she posted Wednesday, Garner takes us into her kitchen to whip up some dough, a la the "Barefoot Contessa" (Ina Garten)!
Garner's "Pretend Cooking Show" features her making Garten's honey white bread recipe, apparently a family favorite.
"I'm not an expert, but if you want to make your family happy over and over again this is one recipe that if you get it down, you can do anything with it," she says. "And it's by Ina. Love you, Ina!"
And then she kisses her copy of "Barefoot Contessa at Home," by the Food Network star.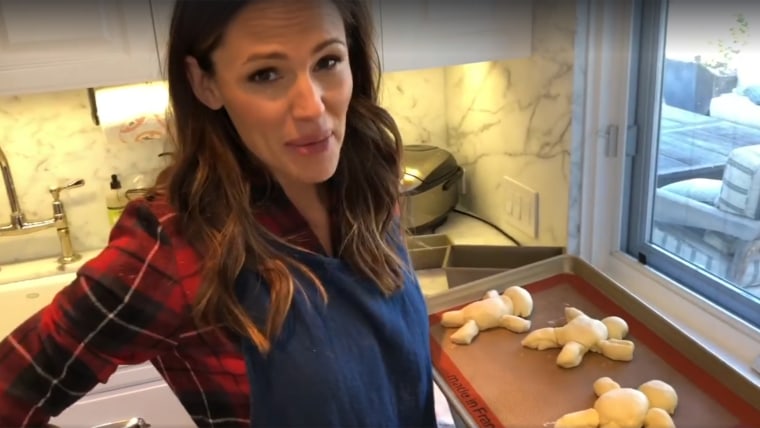 Apparently many things can be done with this dough; Garner recalls her mom making "bread men" for her and her sisters when they were little.
"They were our favorite things ever," she said.
We understand why: they are so cute!
"The thing I love about making bread men with half your dough is they are ready right away," explained Garner, who would use the other half to make cinnamon bread. "And they remind me of my mom. And it doesn't matter that you don't know what you're doing. These could not be less perfect, but my kids will love them!"
So, as Garner asks in her caption, hoping for advice from her idol: "What should I do next, Ina Garten?"
We can't wait to find out!
Follow Randee Dawn on Twitter.