Perfect your dinner party with these delicious comfort foods from Jamie Oliver. As cozy as Oliver's takes on quesadillas, meatballs and other favorites are, the star chef also wants you to challenge your taste buds a bit, so he's added global flavors to classic appetizers, main dishes and desserts. Not only are these recipes simple and delicious, they're also all less than 600 calories per serving!
Top quesadillas
Brussels sprouts, kale and more unusual brassicas seem to be quite trendy these days in cool restaurants all around the world, but hey, I could think of worse things to become fashionable. I really love the fact that people are finding great ways to make veggies taste even more amazing, so this recipe is all about celebrating the humble Brussels sprout. In this recipe I've also given you the method for making your own delicious, healthier tortillas with quinoa, but regular flour tortillas are fine, too, if you prefer.
Yields: 4 servings
Time: 50 minutes
Calories: 490 

2 red onions
8 ounces Brussels sprouts
1 small pat unsalted butter
1/2 teaspoon cumin seeds
1/4 teaspoon smoked paprika
A few sprigs of fresh thyme
1 lime
4 soft flour tortillas (or see recipe below)
5 ounces pecorino cheese
4 tablespoons plain yogurt or sour cream
Cholula Hot Sauce
Peel the onions and finely slice them with the sprouts (you can do this in a food processor). Place in a large frying pan on medium heat with butter, cumin seeds and paprika. Add thyme leaves, then pop the lid on and fry for 10 minutes, stirring occasionally. Remove the lid and fry for 10 minutes to get everything nicely golden and caramelized, then stir in a good squeeze of lime juice.
For me, this dish is about having something in the middle of the table to share, not having an individual plate. So, get your tortillas, or make your own quinoa tortillas, and lay them on a flat surface. Use half the cheese to add a good grating to just half of each tortilla. Sprinkle the sprout filling on top of the cheese, then grate the cheese over the rest of it. Fold the tortillas in half and press together. Cook 2 at a time in a large non-stick frying pan on medium heat until golden and crisp on both sides and the cheese has melted. Place on a cutting board, cool for 1 minute (otherwise they just ooze everywhere), then slice up and serve with a little yogurt or sour cream spiked with hot sauce, plus wedges of lime for a tangy citrus kick. Yum.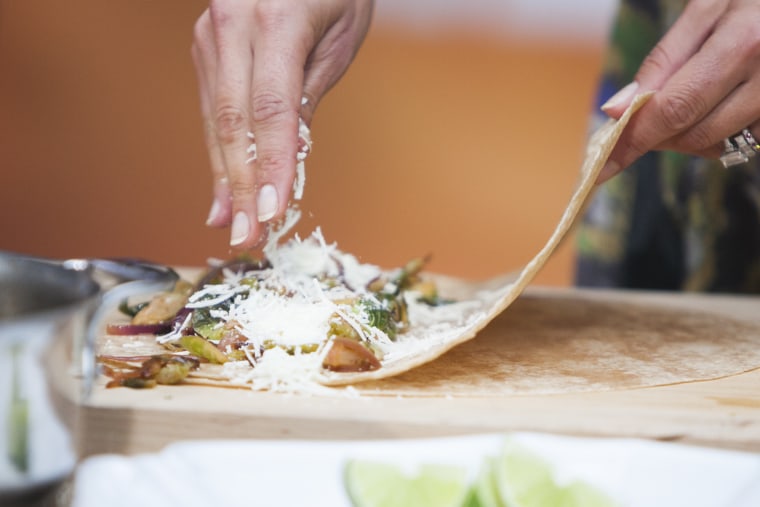 Quinoa tortillas
Yield: 4 tortillas

1/2 cup quinoa
1 tablespoon olive oil
1 heaping teaspoon fennel seeds
1 level teaspoon baking powder
Simply whiz all the ingredients in a blender until fine, shaking regularly to ensure everything mixes. Once you have a fairly fine flour, remove a couple of heaping tablespoons for dusting, then tip the rest into a bowl. Slowly add enough water to turn it into a firmer dough, knead for 1 minute, then divide equally into 4 balls. Use the reserved flour to generously dust a clean surface, then press out a piece of the dough with your hand. Dust the top with some of the reserved flour and gently roll out to the thickness of a coaster. This dough does not have gluten in it, so it won't be stretchy and may well crack, but you can easily pull a bit from the side to patch up any holes. Use an 8-inch cake pan, lid or plate to cut out each perfect round, then cook in a hot, dry frying pan for 1 minute on each side. Place on a clean kitchen towel and cover until needed.
Chicken satay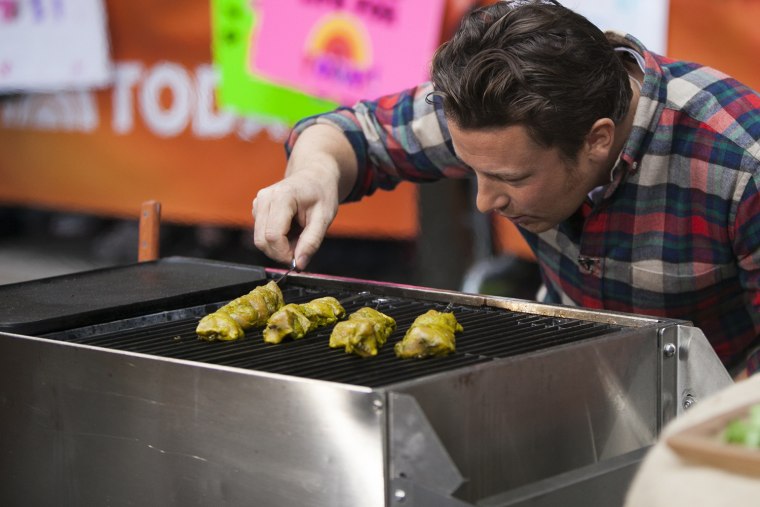 Satay is one of those incredible skewered meat dishes that really hits the spot. Lightly spiced, sweet and salty, it's all pulled together by that moreish peanut sauce. A fast, old-school street food, this dish, which brilliantly can embrace all meats, can be found all over Malaysia and Indonesia. As a starter, a main, part of a salad spread, or in a flatbread, it's always going to be good.
Yield: 4 servings
Cooking time: 40 minutes, plus marinating
Calories: 450 

1 level teaspoon medium curry powder
1/2 level teaspoon ground cumin
1 heaping teaspoon turmeric
3 – 4 fresh chiles
2 cloves of garli
1 thumb-size piece of fresh ginger root
1 bunch fresh cilantro 
6 tablespoons crunchy peanut butter
2 tablespoons reduced-sodium soy sauce
6 scallions
4 limes
8 skinless boneless chicken thighs
1 handful of shelled peanuts 
Peanut oil 
1/4 of a watermelon or 1 ripe pineapple
Gently heat the curry powder, cumin and turmeric for 1 minute in a dry frying pan on a medium heat. Seed 2 chiles and peel the garlic and ginger root. Place in a blender with the toasted spices and cilantro (reserving a few nice leaves in a bowl of cold water for later). Add the peanut butter, soy sauce, the green part of the scallions, the zest of 2 limes and the juice of 3. Mix until almost smooth, loosening with a few splashes of water if needed, then taste and season to perfection. Cut each chicken thigh into 4 pieces and toss with half the satay sauce. Divide and thread onto 4 skewers and marinate in the fridge for at least 2 hours, but preferably overnight.
If you're using a barbecue, get it going 1 hour before you want to cook. If you're using a grill pan, cut your wooden skewers to fit and preheat the pan.
Get a garnish plate together: drain the cilantro leaves, finely slice the whites of the scallions, finely slice the remaining chiles and cut the rest of the lime into wedges. Toast the peanuts in a dry frying pan until golden, then crush and add to the plate.
When you're ready to cook, oil and lightly season the chicken on both sides, then place on your medium-hot barbecue or grill pan.
Cook for around 15 minutes or until beautifully gnarly and golden, turning regularly. Serve on a platter with the rest of the satay sauce on the side. Sprinkle over the garnishes and slice up some nice wedges of ripe watermelon or pineapple to serve on the side — heavenly.
Big British meatballs

Many of us are meatball fans, but I wanted to create a super-British, extra-comforting version, so here we're talking about the ultimate meatballs: big in size, made with sweet onions, stuffed with great artisanal cheddar cheese that melts as they cook then oozes out of the middle. Plus a ridiculously tasty onion and ale gravy that'll keep you going back for more. There's not much more to say really — once you start, you just have to finish.

Yield: 8 meatballs
Time: 2 hours
Calories: 363 

2 large onions
2 sprigs of fresh rosemary
Olive oil
2 tablespoons Worcestershire sauce
1 pound ground pork
1 pound ground chuck steak
1 handful bread crumbs
3 ounces good-quality sharp Cheddar cheese
Gravy
7 ounces finely ground chuck steak
1 large onion
2 sprigs fresh rosemary
1 beef bouillon cube
¾ cup pale ale
2 heaping tablespoons all-purpose flour
1 tablespoon black currant jam
2 teaspoons English mustard
2 tablespoons malt vinegar
Peel the onions, pick the rosemary leaves, then finely chop them together or blend in a food processor. Put into a large frying pan on a medium heat with a lug of oil, the Worcestershire sauce and a good splash or two of water. Cook for about 20 minutes, or until the liquid has disappeared and the onions are sweet and lightly caramelized, stirring occasionally. Season to taste, leave aside to cool, then put into a bowl with the ground meat and bread crumbs. Using clean hands, mix it all together beautifully, scrunching for a minute to create a delicious texture. Divide equally into 16 balls, then wash your hands and cut the cheese into 16 cubes. Poke and push a piece of cheese into the center of each ball, then gently roll into perfect balls. Repeat until they're all done and place in the fridge.
For the gravy, put the ground meat in a large saucepan with a little oil and cook until golden, stirring regularly. While that cooks, peel the onion and finely chop with the rosemary leaves, then add to the ground meat and cook for another 5 minutes or until lightly golden. Crumble in the bouillon cube, then pour in the ale. Cook until the mixture is nice and dark, then stir in the flour, jam, mustard, vinegar and 3 cups of water. Simmer for about 30 minutes, or until rich and thick, then season to perfection. Preheat the oven 475 degrees and preheat a roasting pan that has high sides.
When you're ready to go, drizzle the preheated pan with oil and add the balls, leaving even gaps between them. Blast at the top of the oven for around 15 minutes, or until golden. Remove the pan, pour the gravy over the balls. Pop them back into the oven for about 5 more minutes to get everything cooking into each other — sometimes I even baste the balls with a little gravy to give them a lovely shine. Serve on mashed potatoes or smashed root veggies, with some lovely seasonal greens on the side.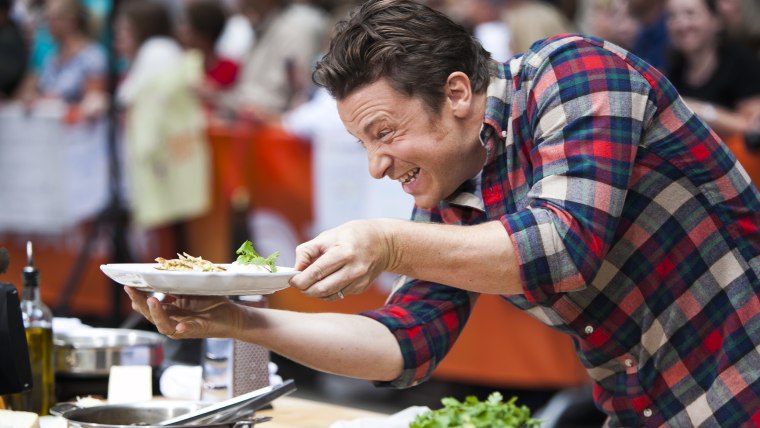 Tutti frutti pear tarte tatin

Having made tarte tatins for 20-odd years, I've always found them exciting, and everyone seems to just love the caramelized, almost burnt edges on the pastry. Here I've used vanilla, bay leaves and citrus to create the most unusually wonderful tutti frutti–style caramel that works with the beautiful, fresh pears.
Yield: 6–8 servings
Cooking time: 1 hour
Calories: 499 

3 firm pears, such as Conference or Bartlett
5 teaspoons amaretto
2/3 cup superfine sugar
1/4 cup unsalted butter
1 vanilla bean
2 fresh bay leaves
1 orange
1 handful of sliced almonds
13 ounces all-butter puff pastry 
All-purpose flour, for dusting
Preheat the oven to 400 degrees. Peel the pears, then cut some into halves and some into quarters, removing the stalks and any woody bits from the core. In a shallow bowl, drizzle them with the amaretto and leave aside.
Place a 10-inch, non-stick, ovenproof frying pan on a medium-low heat, then sprinkle the sugar in an even layer. Once lightly golden, chop and dot in the butter and carefully melt everything together, but don't stir it — just gently swirl the pan to combine. Let it melt for 5 minutes, and when it's a dark golden color, halve the vanilla bean lengthwise and scrape out the seeds, then add both bean and seeds to the pan along with the bay leaves. Use a vegetable peeler to strip in the zest from half the orange. Position the pears in the pan in a single layer, being careful not to touch the caramel, sprinkle over the sliced almonds, then turn up to medium-high and cook for 5 to 6 minutes to soften the pears. You want the juices to cook away so you're left with a thick caramel.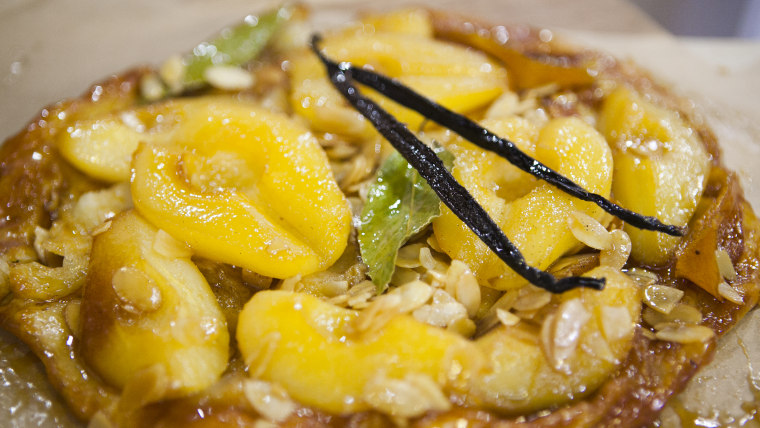 Roll out the pastry on a flour-dusted surface so it's about 1½ inches bigger than the pan all the way around and just under ½-inch thick. Carefully place over the pears, tucking in all the excess around them and under the edges, creating little waves. Bake for 20 to 25 minutes, or until the pastry is puffed up and golden and the edges are dark and caramelized (don't worry if they get really dark — it's all good).
When the time's up, carefully remove from the oven — remember the handle will be hot too! Place a large board, platter or plate on top of the pan, then, using a couple of kitchen towels to protect your hands, confidently, carefully and swiftly flip it over. If you let it cool down too much in the pan, it's more likely to stick, so it's best to get it out while it's hot. Drizzle any juices that escape back over the fruit, and serve with a drizzle of heavy cream, a nice scoop of ice cream or dollops of custard.