Beer geeks have a knack for making everything about their favorite beverage. Take Utah's "Pioneer Day," the annual celebration where Mormons commemorate the moment Brigham Young and his followers first set foot in the Salt Lake Valley on July 24th, 1847. It's an official state holiday full of fireworks, parades, rodeos, and concerts.
For some, it's also a day full of gluten, fat and carbohydrates, because beer-loving folks have re-dubbed it "Pie n' Beer Day," which is celebrated by pairing the world's greatest beverage with pizzas, fruit pies, and meaty treats wrapped in flaky crusts.
You don't need to be a Mormon or live in Utah to celebrate Pie 'n Beer Day – you just need to be looking for an excuse to enjoy some wonderful flavor combinations. It's a bonus that this year's celebration happens to be on a Thursday, considered by some to be the best night of the week to enjoy an adult beverage or two.
Pizza and beer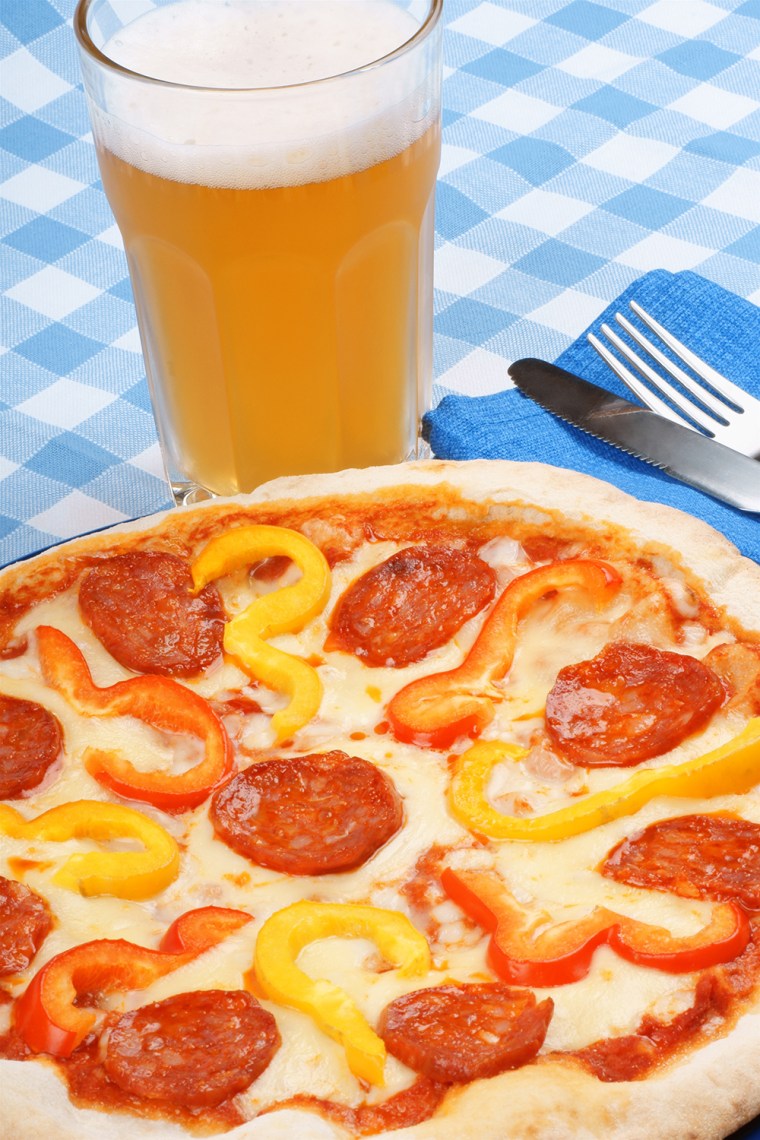 Like man and dog, pizza and beer have a long-standing symbiotic relationship, and with good reason – both are extremely popular, and they taste pretty great together.

If you want to celebrate Pie 'n Beer day with some straight forward tastes, you can't go wrong with a well-made American Pale Lager, say a Kona Longboard Island Lager or a Victory Lager, and a plain old margarita pizza. The bready malts of the beer blend wonderfully with the doughy crust, and the mild hop profile gives the pie's uncomplicated tastes of tomato, garlic, basil and oregano room to shine. These tastes are simple, but so are many of life's greatest pleasures.
If you're more into hopped up IPAs (and judging by recent sales figures, you are), then look for a pizza with enough punch to compete with the bitter blast of hoppy goodness delivered by this popular style of beer. My go-to combo is a citrusy West Coast IPA, like Firestone Walker Union Jack or a Ballast Point Sculpin IPA, with a buffalo chicken pizza. The heat from the peppery sauce mixes wonderfully with the bright and fruity tastes of hops, while the sweet malt backbone contrasts nicely with the pungent dribbles of bleu cheese dressing laced across the pie's surface. If you're not a fan of buffalo sauce, no worries – IPAs will pair well with all sorts of spicy toppings.
Of course if you're in a hurry, you can always grab a bottle on Mama Mia Pizza Beer, which blends traditional pizza ingredients right into the brew, making for a surprisingly tasty sipper.
Fruit pie and beer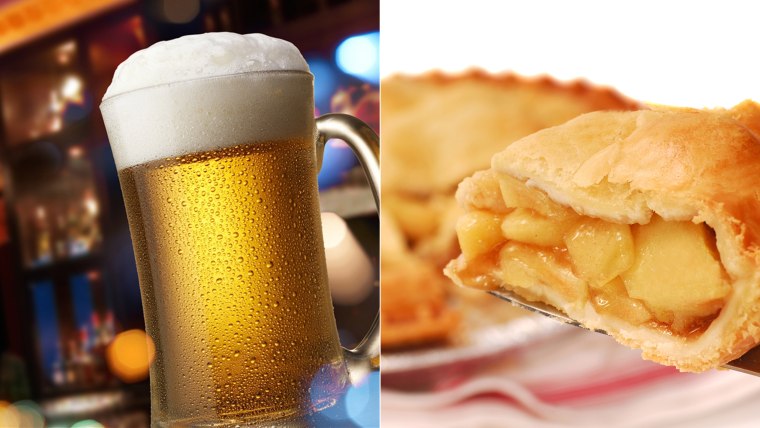 Americans love stuffing apples into flaky crusts (our nation's favorite, according to this "pie" chart). Any way you slice it, pairing a beer with apple pie comes down to finding a way to complement the pie's sweetness and tantalizing tartness. A farmhouse ale does well here, such as Saison Dupont or Straight Up Saison from Utah's own Epic Brewing, as their hints of citrus rinds, floral aromas and dry finishes all work to support the flavor of the pie, not compete with it.
If you're looking to go big, few things are as satisfying as boozy dark beer and a fat slice of chocolate pie. I recommend a chest-warmer here, something like Flying Dog's Gonzo Imperial Porter or Great Divide's Yeti Imperial Stout. Both of these big beauties have rich, deep chocolate notes, as well as hints of coffee and roasted malts that will that will blend artfully with the flavor of the pie.
Meat pie and beer
Meat pies might not be as popular as pizza or as celebrated as their fruity cousins, but they're a great choice for Pie n' Beer revelers. With its hearty blend of potatoes, lamb, peas and corn, a traditional shepherds pie is begging to be paired with a malty beer that's not too rich. Enter the Scotch Ale, such as Oskar Blues Old Chub or Founders Dirty Bastard, with their earthy notes of peat, caramel, and smoke. Perfection!
If you're more of a quiche lover, then look for something sweet and lively to cut through the egg pie's rich and cheesy essence. Founders Rübæus is brewed with fresh raspberries, providing a wonderful gush of natural fruit sweetness and just the right amount of tartness to brighten up every bite. There are also a whole host of fruit-infused Beligan Lambics that can complement the flavor of just about any quiche you can dream up.