If you think you've never had spumoni, you've probably come pretty close. It's basically the ancestor of Neapolitan ice cream: layers of pistachio, cherry and chocolate ice creams, mixed with nuts and bits of candied fruit. Intrigued? Well, August 21 happens to be National Spumoni Day, the perfect excuse to try this classic Italian dessert. Here's where to find the old-school version, some home-cook takes on it, and a chef's trendy new spin.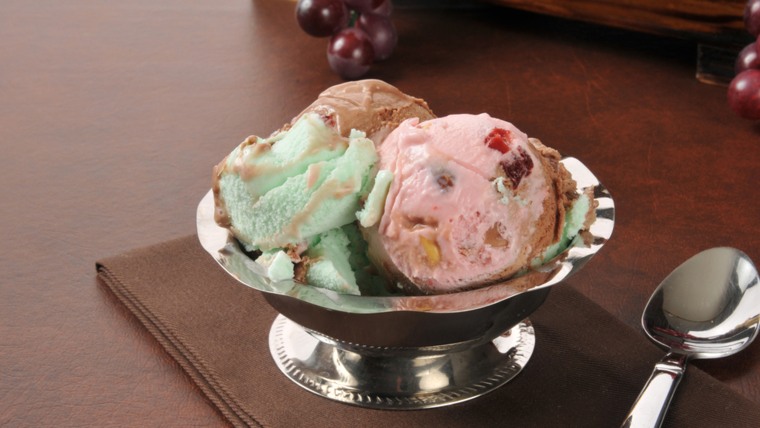 Immigrants from Naples brought spumoni to the U.S. during the 19th century, as legend goes. They slowly started to incorporate the popular flavors of the day—vanilla, strawberry and chocolate—and then dispensed with the costly fruits and nuts, giving rise to the Neapolitan ice cream we know so well today. If you want to try traditional spumoni, it makes sense to start your search at a legendary red-sauce joint like L&B Spumoni Gardens in Brooklyn, New York, which started selling spumoni out of horse-drawn carriages ages. But you don't have to live in Brooklyn to get great spumoni: Lots of mom-and-pop Italian food joints across the country have it on the menu.

Making spumoni is a little daunting for the home cook, but food writers and bloggers are coming up with inventive ways to create it without an ice cream maker. Tanya Schroeder, author of the blog Lemons for Lulu, uses an ingenious combo of boxed chocolate cake mixes and pistachio pudding to make spumoni cupcakes, topped off with maraschino cherries. Alaskan food writer Maya Evoy makes a surprisingly easy layered spumoni shortbread cookie. And Michelle Norris over at the Brown Eyed Baker blog offers up an all-out version with homemade pistachio, chocolate and cherry ice creams (though, pssst…you could also soften pints of store-bought ice cream, fold in nuts and fruit, and then layer in a loaf pan and freeze as she directs).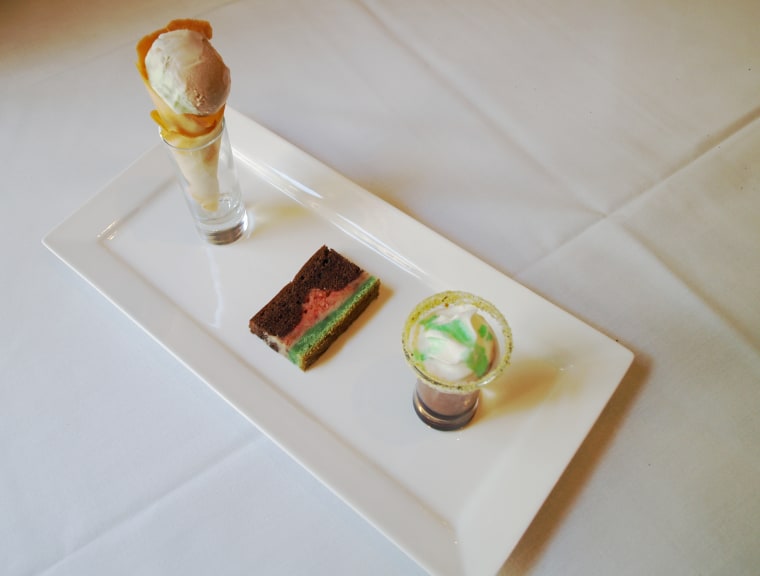 One Seattle chef is also bringing spumoni back on the restaurant scene—chef Walter Pisano grew up eating spumoni all the time as a kid in New York and New Jersey. Now at Seattle's Tulio Ristorante, Pisano includes a fancy spumoni trio on his menu: a scoop of spumoni in a handmade cone; a slice of spumoni cake (layers of chocolate, cherry and pistachio) and a spumoni cocktail (recipe below) from bartender Shari Kelly. "Now my own kids really like it so I thought it would be fun to take one of my favorites and make it more current," he says.

So will we see spumoni popping up on more menus, outside out of pizza joints? Pisano thinks there's good chance: "If it's done right, I think it can definitely be embraced. It's kind of like how classic cocktails, like Manhattans and Martinis, have seen a resurgence. People seem to really like how what's old is new again."
Spumoni cocktail
Courtesy Tulio Ristorante
Makes: 1 cocktail
10 pistachios, shelled

1 teaspoon super fine sugar

1 to 2 tablespoons Amarena cherry syrup (from canned cherries)

½ ounce vanilla brandy

1/8 ounce Meletti Ciocolati

Small dollop of vanilla whipped cream, plus more for garnish

1 Amarena cherry for garnish

1. Make a pistachio/sugar rim: In a blender or grinder, grind up pistachios then mix with super fine sugar. Wet the rim of a shot glass or cordial glass with the pulp of an orange or lemon wedge, then dip in the pistachio/sugar mixture. The citrus grips the sugar better than water.  
2. Spread the bottom of the glass with just enough Amarena cherry syrup to cover it.
3. In a shaker, build the cocktail by adding the vanilla brandy, Meletti Cioccolato and whipped cream. Shake and strain over the cherry syrup. Garnish with vanilla whipped cream and an Amarena cherry.