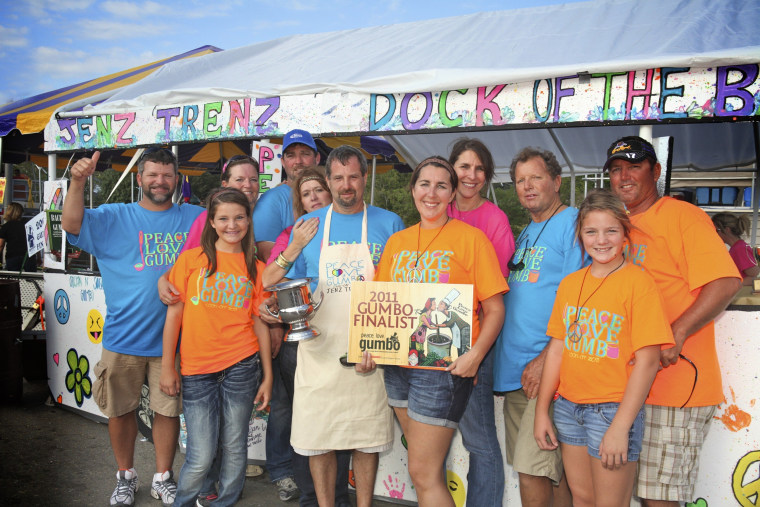 The temperature is dropping, and it's the time of year when Drew Brees is throwing touchdowns. For New Iberia, La., resident Alcee Bayard, this means one thing: "It's gumbo-cooking weather."
Bayard is one of the four amateur chefs on the team that won the 22nd Annual World Championship Gumbo Cook Off in the most popular category: chicken and sausage. In New Iberia, La., this past Sunday,  90 teams from five states submitted their take on the simmering Southern classic to impress a panel of 75 judges in the categories of appearance, aroma, taste and texture.
Bayard has entered the cook-off for each of the past seven years, but this is his first win in the category. The team of Bayard, Jennifer Pharr, Tony Douet and Darrell Cubley told TODAY.com that a change to their roux made all the difference. Like good cooks, they were hesitant to share their secret method, but they did emphasize finding the ideal consistency.
Flour and oil are the only two ingredients in roux, so making a roux isn't just about proportions and measurements; it becomes an exercise in artistic expression.
"A great gumbo is all in the roux," said Pharr, who, when she isn't being "The Roux Whisperer," owns a screen printing and monogram shop. "If you make it too dark or too light, it doesn't taste as good. And you can't sample it while you are stirring like you would spaghetti sauce, so all you can change is the consistency and its appearance before adding the other ingredients."
In the world of Louisiana gumbo, Cajun and Creole are the two major types. Simply put, the Cajun style is thicker, with more emphasis on the roux, while the Creole is soupier. Pharr said that her group is closely tied to their Cajun tradition and put that style of gumbo before the judges and hungry public.
For this challenge, contestants had to make everything from scratch on site and only had access to gas burners (electricity was not allowed) in an outdoor "kitchen." Teams could prep vegetables and meat, but judges ensure that there is no chef chicanery. They then have five and a half hours to make 60 quarts of gumbo for the judges and estimated 25,000 visitors.
Although technically an "amateur," Bayard said she's been cooking gumbo for almost 45 years.
"I started stirring roux on a stool so I could reach the stove in my mother's kitchen," Bayard recalled. "I don't think mine can ever compare to hers; it's still the best."
Even if Bayard feels his mother's flavors are unattainable, her gumbo comes pretty close. The winning dish was sold out several hours before the day ended. This was a point of pride for a team that wanted to highlight the local Cajun preferences.
"Gumbo is the flavor of the South." Pharr said. "It's something that makes you feel at home."
 The group shared their winning recipe with TODAY.com, so get your Cajun fix!
 Ingredients
1 cup vegetable oil
1 cup all-purpose white flour
2 large onions, chopped
2 large bell peppers, 1 red, 1 green, both chopped
1 cup celery
1 pound of smoked sausage, sliced ¼-inch thick
½ cup tasso (smoked ham)
Salt and pepper to taste
Red pepper to taste
Skinless, boneless chicken breast and thigh
Heat a black iron skillet over medium heat. When warm, add flour and oil. Keep stirring until dark golden brown. Turn heat off and keep stirring until cooled. Don't burn the roux!
Bring a large pot of water to boil. Add roux, onions, celery and bell peppers, cook for 1 hour, then add chicken, sausage and tasso. Cook for another hour, stirring occasionally. Then enjoy this great Cajun meal! 
Want more variations on gumbo? Try these recipes: