In this unique salad that's hearty enough to serve as a main course, cannellini beans become the base for a creamy—yet healthy—dressing. Since the rest of the salad is so inexpensive, buy the best tuna your budget allows.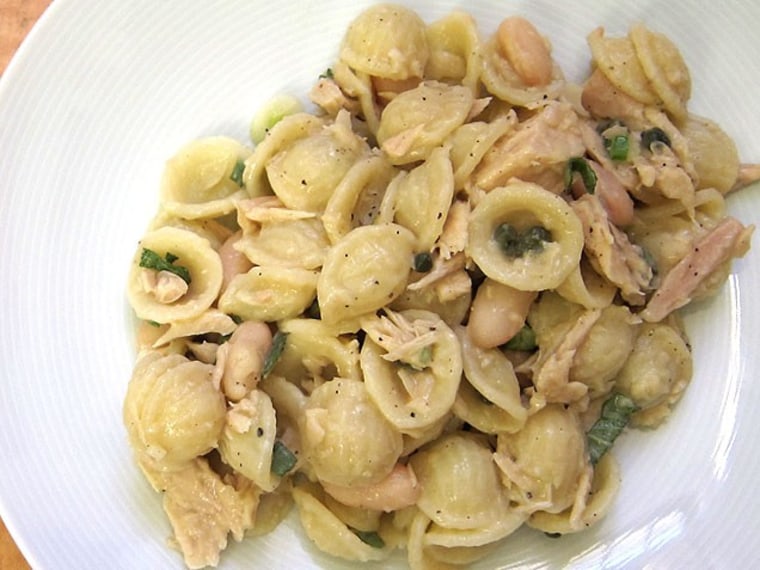 Ingredients:
8 ounces dried orecchiette or other small pasta

3 scallions, thinly sliced

2 tablespoons fresh sage, chopped

1 tablespoon drained capers

Salt and pepper to taste

3/4 teaspoon salt, for the dressing

7 ounces tuna, canned or jarred in olive oil, large chunks broken up

1/4 cup extra-virgin olive oil, for the dressing

15 ounces cannellini beans, rinsed and patted dry, divided, for the dressing

1 clove garlic, finely chopped, for the dressing

2 tablespoons freshly squeezed lemon juice, for the dressing

Yield: 4 Servings
Directions:
Bring a large pot of salted water to a boil. Cook the orecchiette according to package directions.

Drain and rinse with cold water. Pat dry with paper towels and transfer to a large bowl.

To make the dressing: In a medium bowl, mash half the cannellini beans with a fork until smooth. Whisk in the garlic, lemon juice and salt. Slowly pour in the olive oil, continuing to whisk until the dressing is smooth.

Add the remaining beans, scallions, sage, capers and tuna to the pasta. Toss gently. Add the dressing and stir until combined. Add plenty of pepper to taste. Taste for seasoning, adding salt and pepper if necessary.

If making ahead and storing in the refrigerator, remove the salad from the fridge at least 30 minutes before serving, if possible.

This recipe originally appeared on iVillage.