Verdicchio is one of those words that call to mind light, inoffensive Italian white wine — nothing wrong with it, but nothing particularly memorable about it, either. Many Americans might never have heard of verdicchio were it not for the ubiquitous Fazi Battaglia.
The brand used to be heavily advertised, and I can still hear the baritone voice on the commercial intoning the name — Fah-zi Bah-tahl-ya. Indeed, the wine was quite popular, gaining iconic status and becoming something of a symbol of inexpensive white Italian wine.
The commercials are long gone, and you don't hear much talk about the wine these days, but it's still around and, I'm sure, still has a loyal following. But there is verdicchio worth knowing about beyond Fazi Battaglia, from small, artisanal producers that craft anything but generic, mass-produced wines.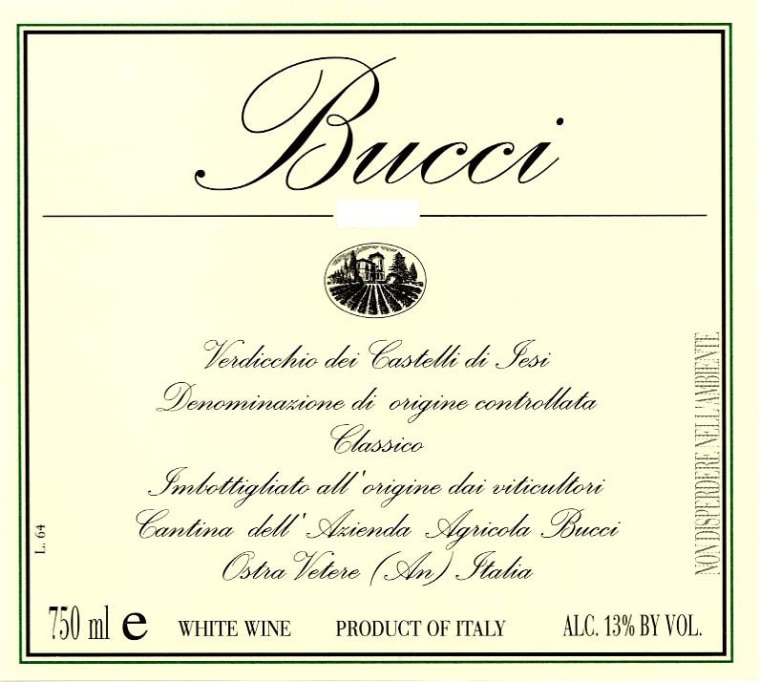 One of them is the Bucci family in the Castelli di Jesi zone of Marche, the province in central and eastern Italy where verdicchio (it's the name of the grape and the wine) is made. Villa Bucci's 2003 Verdicchio Classico, at between $15 and $20, depending on where you buy it, is distinctive.
The Buccis have made wine in Castelli di Jesi since the 1700s and have turned to organic farming methods in recent years. For them, it's all about the quality of the grapes over quantity. They achieve that by keeping the yield — the volume of grapes harvested per acre — relatively low, and are highly selective about the grapes that go into the wine.
The Verdicchio Classico receives four months of aging in oak barrels, which adds a subtle but significant layer that is reflected in aromas that suggest butterscotch, vanilla and nuts.
That's followed in the mouth by honey, citrus, hints of apple and strawberry and minerals that all combine in a complex and layered wine, at once rich and refreshing, lively and elegant. I think you'll like it on its own as a sipping wine — it's a great alternative to chardonnay — and it will also go well with most fish, shellfish and lighter meats.
The wine is a class act that reflects experience and care in every step of the process. It's a good example of the level of the whites you can find these days at reasonable prices from Italy.
This Week's Wine:
Name: Bucci 2003 Verdicchio ClassicoType: Dry whiteCountry: ItalyRegion: MarcheGrape: VerdicchioPrice: $15 or so
Edward Deitch's wine column appears Wednesdays. He welcomes comments from readers. Write to him at EdwardDeitch