As autumn approaches, my thoughts turn to more serious and substantial wines. Suddenly, the easy-to-drink rosés, the light and fruity reds, the uncomplicated and refreshing whites of summer start to recede in my mind to make way for wines like the delicious Bordeaux I had recently.
It is not every day (or week) that I am going to drink, much less write about, the venerable reds of Bordeaux, given their relatively high prices and, in many cases, their need to age for some years before their full and often glorious potential emerges.
But, after enjoying the 1997 Château Léoville Barton St.-Julien at dinner with friends not long ago, I decided to take a closer look at the wine. St.-Julien is one of the world's most famous parcels of wine real estate — a commune, or village, in the Médoc area of Bordeaux (others on this gravelly swath of land along the River Gironde include Pauillac, St.-Estèphe and Margaux).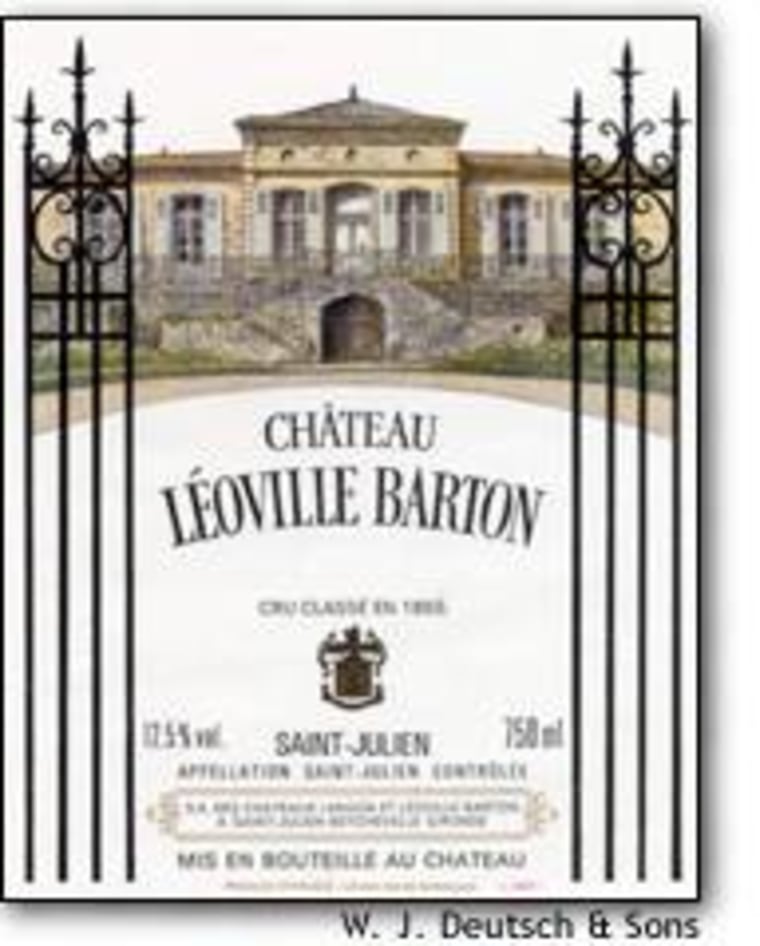 Cabernet Sauvignon is the main grape of the Médoc, and the '97 Léoville Barton is 72 percent Cabernet Sauvignon, 20 percent Merlot and 8 percent Cabernet Franc. Léoville Barton, run by Anthony Barton, whose family moved to Bordeaux from Ireland as merchants in the 18th century, is one of the so-called "classified growths" recognized back in 1855 as the best in Bordeaux (you can start to see why I call this a "serious" wine).
Now about the vintage. 1997 is not considered among the better recent years in Bordeaux, which leads me to a not-so-well-kept secret of experiencing wines from the greatest vineyards for a bit less money than those produced in top years (I emphasize a bit less).
I found the '97 Léoville Barton at the well-known Sherry-Lehman Wine & Spirits in New York and was pleased that it was presented to me at cellar temperature of around 55 degrees. I paid about $37. Expensive? Obviously. But a look at the store's Web site puts it in perspective. The '96 Léoville Barton is $60; the '98 is $46; '99 is back down to $40, while in the 2000 vintage, widely considered one of the best ever in Bordeaux, the wine shoots up to $145! Then, it's back down again for 2001 ($39) and 2002 ($32), which will arrive in the spring of 2004 and 2005, respectively (such is the demand for the best Bordeaux that you can buy them ahead of time.)
So, what about the '97? If you are unaccustomed to drinking top Bordeaux, you will find it like no other experience. First, I poured the wine into a decanter and let it sit for about an hour so that it would open up a bit with exposure to air. A first whiff suggested a muscular, complex and beautiful wine, the aromas dominated by cedar and a dried dark-berry fruit.
I swirled it all around my mouth (different tastes are identified in different parts of the mouth), and found deep, jammy, blueberry and blackberry notes set against a toasty backdrop from barrel aging. There was spice and pepper and a bit of tobacco. The noticeable tannins gave it an almost dry, slightly chalky quality, but overall the wine was accessible. The finish seemed to last forever. I saved a little and tasted it again over the next couple of days. The wine softened a bit but was still delicious. Even from a lesser vintage, it will clearly develop more in the bottle for quite a few years.
The essence of Bordeaux at this level, it seems to me, lies in the great detail of the wine — the chance it offers to experience so much from just a few ounces of liquid in a glass. There are few things in wine that come close.