On the Fourth of July, Ina Garten wants to make sure that home cooks can celebrate their independence ... from manning the hot grill all day!
The Barefoot Contessa, who certainly knows a thing or two about how to throw fabulous parties for a crowd, has an amazing tip for cooking fried chicken (which she posted on her blog last year) that will make it a hit at any summer soiree.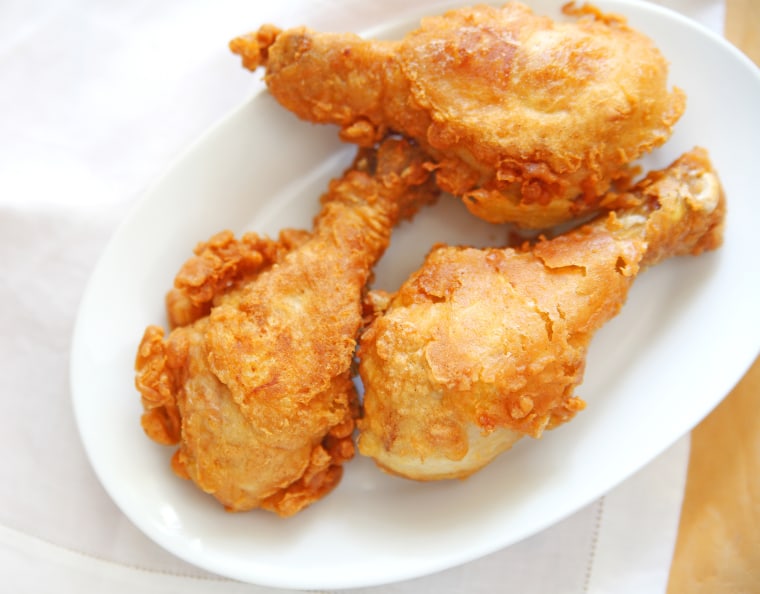 Of course, Garten has an arsenal of dishes that will work well for any upcoming July 4 festivities, but unlike a classic cookout, this recipe means that you'll be able to enjoy the party, instead of cooking up individual orders by a smoky grill.
Instead of ribs or burgers, serve her oven-fried chicken for the main meal (yes, it's a summer staple, too!) which packs in loads of crispiness and cuts down on the cleanup. Her big Barefoot secret? Fry the chicken pieces quickly first on the stove to get them crisp, then roast them in the oven to avoid extra greasy splatters.
She also marinates her chicken in buttermilk to keep it super moist throughout the cooking process.
As for sides, the possibilities are endless!
One of her go-to favorites is orzo with roasted vegetables as an "all-in-one side" that includes pasta, veggies, feta and pine nuts, all covered in a lemon vinaigrette. Bonus: This recipe also works great during the wintertime, paired with lamb.
Another summery favorite? Garten's fresh salad with avocado and tomato. It has only five ingredients and is everything a summer dish should be: crispy, juicy, refreshing and tangy. The salad's straightforward flavors highlight the soft, buttery flavor of creamy ripe avocados, too.
In the past, Garten has dazzled us with everything from chocolate ganache cupcakes to delightfully airy pavlovas for dessert. But on the Fourth, there's just one sweet treat that really fits the bill — her fruity flag cake, topped with fresh raspberries, blueberries and lots of white icing. This is a great way to get kids involved in the kitchen during meal prep.
If wanting to salute and eat your national flag is wrong, we don't want to be right on July 4!
Looking for more Fourth of July menu inspiration? Check out TODAY Food's favorite summertime desserts.
This article originally ran June 29, 2018.