Americans definitely share a healthy appetite for celebrity chef culture but it turns out that, across the country, people have very different tastes when it comes to picking a favorite.
Given the range of famous foodies on televisions nationwide, DirectTV decided to cook up a list of the most popular celebrity chefs in each state. With the help of Google Trends, DirectTV judged the popularity of each cook by the number of web searches for their name and then produced a colorful (and very insightful) infographic with the delicious data.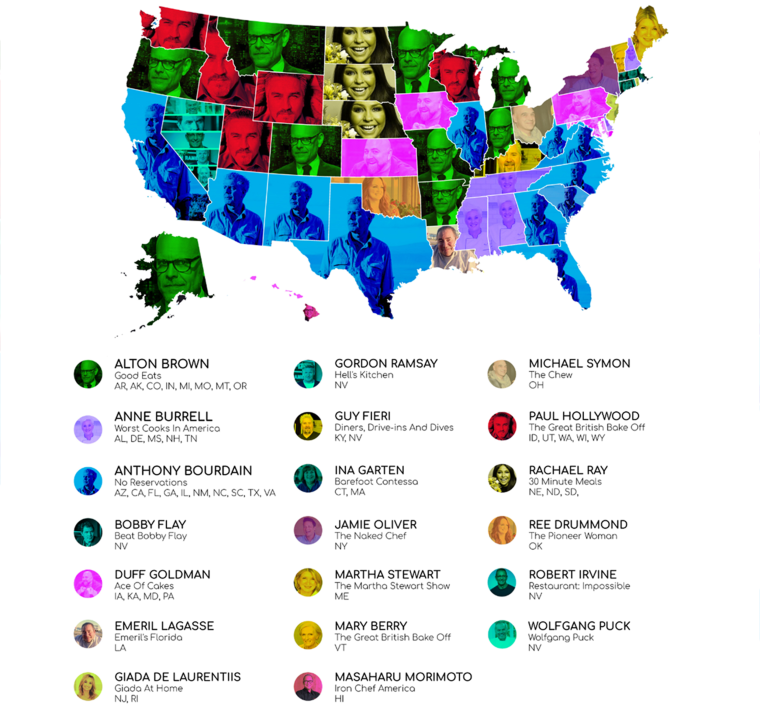 Celebrated TV host and storyteller Anthony Bourdain, who died by suicide in June, took the cake as most-loved celebrity chef, according to the survey results. Just as he brought the world together with his food-travel show "Parts Unknown," his face popped up as the most popular chef in 10 states, from California to West Virginia.
Coming in the No. 2 spot was the "Iron Chef America" star and science geek, Alton Brown, who came out on top in eight states including Alaska and Oregon. Guess they must really love "Good Eats"?
Guy Fieri came in as flaming hot favorite in Kentucky but fought knife and fork with other spicy personalities like Bobby Flay, Robert Irvine, Gordon Ramsay and Wolfgang Puck for the top spot in Nevada.
The Silver State, home to restaurants owned by Flay, Ramsay, Fieri and Puck, opted for a tasting plate of its favorite chefs. According to DirectTV, those results were too close to call.
Meanwhile, Rachael Ray smiled across the most televisions in both Dakotas and Nebraska.
"Worst Cooks in America" star Anne Burrell popped up across the map and "Ace of Cakes" baker Duff Goldman won out in Maryland, Pennsylvania, Iowa and Kansas.
The survey also found that many chefs shift in popularity, depending on the time of year.
Food fans search for Ina Garten and Julia Child's comfort food recipes around Thanksgiving. And Alton Brown reached peak popularity In November 2017 during his "Eat Your Science" American tour.
Other cooks won with a home-field advantage. Mainers stayed loyal to their own Martha Stewart (it's where she owns one of her many homes), Hawaii native Masaharu Morimoto won his state, and Ohioans named fellow Buckeye Michael Symon as their No. 1.
But even some overseas personalities, like Mary Berry and Paul Hollywood of "The Great British Baking Show" savored some American love on either side of the map, winning out in Vermont and Washington state.
And, if you look closely, you can find some of TODAY Food's frequent guests populating a few states. Giada De Laurentiis won in New Jersey and Rhode Island, while East Coaster Ina Garten won out in nearby Massachusetts and Connecticut.