Vodka ice luges probably remind you of bachelor party weekends or frat-house basements, but this drinking spectacle is back, showing up at pop-up dinners and events — and this time, it's more refined.
High-end, crystal-clear ice cubes — or spheres — are now ubiquitous in craft cocktail bars, and the renewed fascination with the ice luge has grown out of that trend, says Tony Gurdian, bar manager for Imperial restaurant and Portland Penny Diner in Portland, Ore.
"Ice sculptures kind of went dead — they were big in the '80s. But with this artisanal ice movement going on right now, they're seeing a comeback," he says.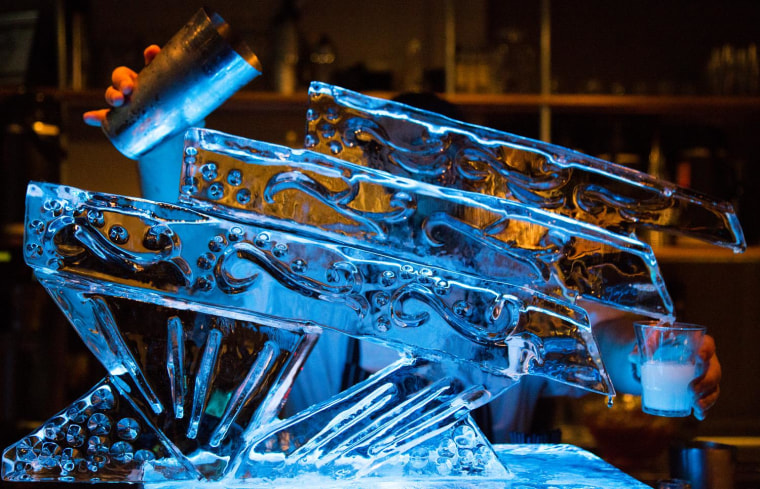 Gurdian himself oversees the making of the ice luge — and house-infused vodkas — for DaNet, a series of five-course Russian pop-up dinners and dance parties, dreamed up by James Beard Award–winning chef Vitaly Paley, who was born near Kiev in the former Soviet Union.
DaNet, held at Paley's Portland Penny Diner, is meant to have an authentic Russian feel, complete with Slavic music, tchotchkes and art from Paley's own collection, and of course, a bar program with Russian drinks.
"It's not just a pop-up dinner — we're providing an atmosphere," Gurdian says. Paley added the ice luge (pictured above) to bring an interactive element to the event and get people involved, he says.
And it's not just any old liquor flowing, but house-infused vodkas, in flavors like apple-ginger, beer-caraway, and pink peppercorn-radish.
A local company, PDX Ice, constructs the luges, using grinders, chisels and a food-safe chainsaw to break down the major parts, says company owner Charles Hartz, who is certified by the Department of Agriculture to ensure safe ice. "Luges have direct contact with a consumable beverage," he says, "so I went the extra steps to make sure I am producing the best and safest product around."
Hartz says he has noticed an uptick in luge orders, noting they've been popular for holiday parties, corporate events — even weddings.
The Icestravaganza, a winter event in downtown Davenport, Iowa, featured ice luge drinks for the first time this year, as part of an adult after-hours party.
Festival-goers could order any mixed drink or alcohol from the luge, including a locally produced artisanal vodka from Mississippi River Distilling Company. An award-winning visiting ice sculptor from New Orleans, Dawson List, carved the luge itself.
"People really liked it — most really hadn't seen one before. I got a fair number of people leading up to the event asking, 'What is this thing?'" says Jason Gilliland, director of events for the Quad Cities Chamber of Commerce. "It's not something you see everyday."
Aside from the artisanal spirits, another difference partygoers may notice is that, at these public events, the liquor empties out into cups at the bottom of the slide — not people's mouths, as they may recall happening in college.
As the theory goes, the alcohol melts off a thin layer of ice as it travels down the sculpture, effectively making the luge self-cleaning (and alcohol is sanitizing after all). But regardless, cups are most definitely used in public. "I personally prefer nobody's mouth to be on what I'm drinking," Gurdian says.