Who hid the cookies on the cookie shelf? If you ask Hydrox, Oreo did.
When it comes to cream-filled chocolate sandwich cookies, many consumers automatically think of Oreos. Since its inception in 1912, Oreo has come a long way, recently introducing wild new flavors like Cherry Cola and Kettle Corn. Last year, they even hosted a mystery flavor competition (spoiler alert: it was Fruity Pebbles).
But when it comes to sandwich cookies, Oreo actually does have some competition — and that company has accused Oreo of some serious foul play in the cookie aisle.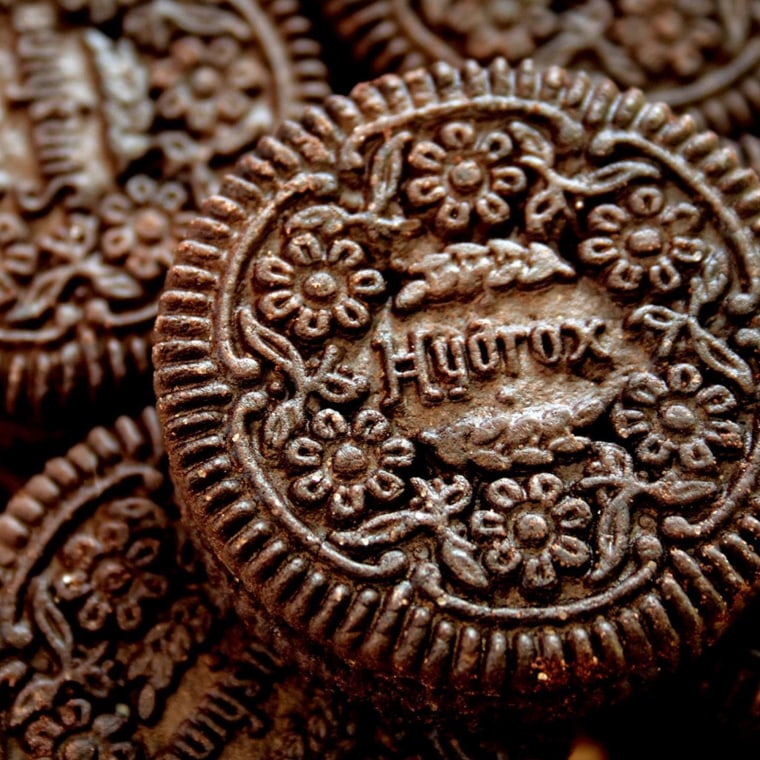 Hydrox's claim to fame is that it was the original Oreo because they first debuted in 1908. The brand's new tagline? "The original sandwich cookie is back, don't eat a knock off!"
But since the cookies' return to shelves in 2015 (according to its owner Leaf Brands, Hydrox was replaced by Keebler in 1999), there's been some speculation as to where exactly on shelves the cookies can be found.
On Aug. 6, Hydrox posted on Facebook: "We @Hydrox cookie have been very frustrated with the hiding of our cookies at major retailers by the folks @Oreo, so we finally filed an official complaint with the Federal Trade Commission last week."
The complaint against Mondelez, the global, Illinois-based snacking giant that owns Oreo, alleges that the company has "been trying to make it [Hydrox cookies] hard to find" in grocery stores nationwide "in hopes of lowering sales volume" and having Hydrox "discontinued."
"We believe in competition and choice but we firmly believe the folks @Mondelez (the owners of Oreo) have been undertaking a national program to damage our brand and stop us from competing," the post read. "Many of you over the last few years have been great at taking pictures when you see #hydrox cookies being moved or blocked from store shelves and we really appreciate your help."
One of these photos points out how Hydrox cookies appear to have been placed on the top shelf in place of SnackWell's, but that snack's logo remained in front of Hydrox packages.
"I personally work for Nabisco and have NEVER been instructed to move/hide your cookies ... " one person wrote in defense of Oreo. "This is a retail store issue and not a Mondolez [sic] issue."
Other Facebook users, however, disagreed.
"I can personally attest that Mondelez DOES in fact do this," one wrote. "I was a Retail Reset Merchandiser for SAS Retail Services (one of the 5 Walmart-approved vendors). In my territory of 5 Walmart stores, I regularly would see Mondelez Merchandisers and that company has them do some shady things."
Another Hydrox supporter said that when he couldn't find Hydrox at his local Ralph's, a store employee told him "the Oreo folks threatened to cut back on their deliveries if Hydrox wasn't dropped."
A Mondelez spokesperson told TODAY Food that the company had not yet been "contacted" about the claim but "are confident that this accusation has no merit."
The spokesperson continued, "Much of our shelf placement is due to the fact that Oreo is the #1 cookie in the U.S., and retailers typically align premium placement to the fastest selling products, based on consumer demand. We always operate with integrity, and we are proud to be America's favorite cookie."