Twenty years ago, it's fair to say most Americans could not pronounce the word "hummus."
Today, we can't get enough of this rich and creamy snackable spread, as the humble blend of chickpeas and sesame seed paste has begun to rival salsa and guacamole as one of America's favorite dips.
Charlie Sahadi has watched the hummus boom up close from his family's Middle Eastern grocery, Sahadi's, which has been hocking hummus in Brooklyn, New York, since 1948.
Sales at the shop have quadrupled over the past decade, and hummus is now the best-selling item at the deli counter.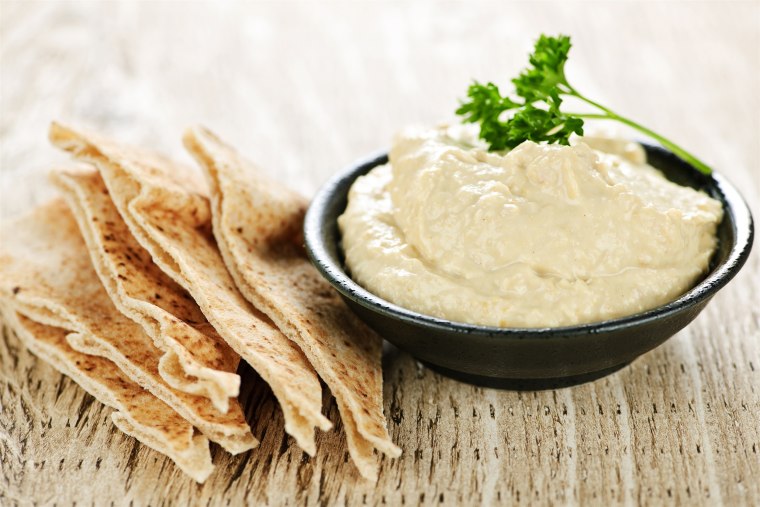 "It's almost peasant food in the Middle East because it's something everyone can afford and everyone likes," Sahadi told TODAY. "Now it has become a dynamite product in America."
So what sparked this once-obscure brownish dip's swift spread across America?
RELATED: Hummus is so popular, tobacco farmers switch to chickpeas
Food watchers like Michael Whiteman, president of international food trend analysts Baum+Whiteman, compared hummus' rise to another Mediterranean favorite that recently hit it big, Greek yogurt.
MORE: 43 foods we commonly mispronounce
One key, Whiteman says, has been giving Americans what they've always craved: a seemingly endless variety of flavors and styles to satisfy our "national need for snacks at any hour of the day."
"The hummus people have accommodated our flavor quest beyond all rational necessity," Whiteman told TODAY. "More flavors begets more shelf space, begets more purchases, begets more shelf space."
All this snacking adds up to big business — very big business, with U.S. grocery sales now topping $725 million annually, according to numbers cited by the USA Dry Pea & Lentil Council.
It's estimated that 25 percent of American homes now stock hummus in the fridge.
Just 20 years ago, hummus sales barely topped $5 million, according to the council.
TRY IT: This roasted duck hummus will have you re-thinking Jewish cuisine
Chickpeas, also known as garbanzo beans, have been cultivated in the Middle East for thousands of years. (The word "hummus" actually means "chickpea" in Arabic.)
Yet history is murky on which clever cook first thought to mash the pale yellow legumes and mix them with sesame seed paste, or tahini, to make hummus.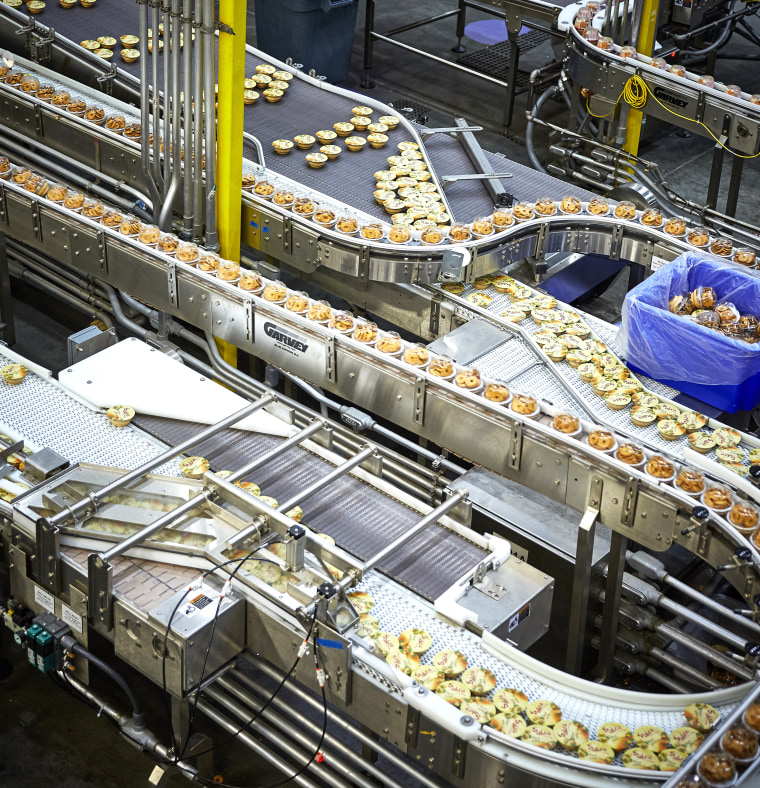 To keep pace with the boom, American farmers have quadrupled their production of chickpeas in recent years, churning out more than 100 million pounds last year, up from about 25 million pounds in 2009.
The United Nations has even declared 2016 the International Year of Pulses, which aims to promote "pulses" — another name for legumes like chickpeas and lentils — as sustainable and nutritious eats.
No hummus-maker has benefited more from the product's rise than Sabra, the dip behemoth (partly owned by Pepsi) known for its novel flavors like jalapeno or "Tuscan herb garden" and distinctive red lids.
RELATED: Kourtney Kardashian shares her 6 go-to healthy snacks
So far this year, the brand said it has accounted for 62% of all the hummus sold in U.S. grocery stores.
Sabra's even the "official dip of the NFL" and a favorite of Democratic presidential front-runner Hillary Clinton.
In a 2011 email recently released by the State Department, Clinton gushed to a friend, "I love Sabra hummus - whatever that means!"
RELATED: 14 craveable party dips
Sabra chief marketing officer Eugenio Perrier said Sabra's goal is to make hummus as ubiquitous as ketchup by "conquering one mouth at a time."
The push has included sending fleets of red hummus trucks prowling streets in smaller markets to give away free samples.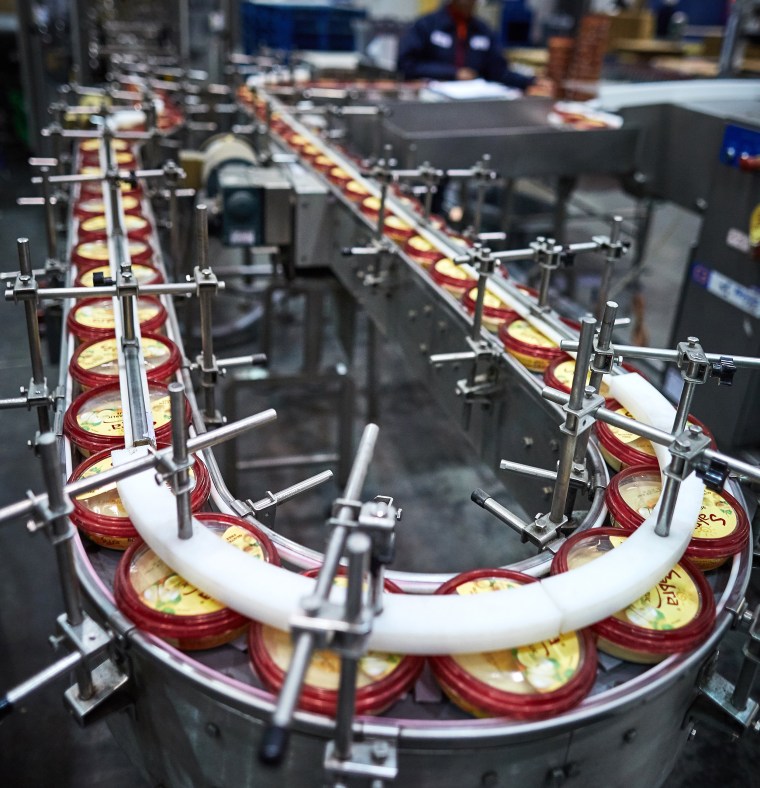 The company takes a lot of credit for the dip's booming popularity.
"Now it is difficult to find a store without Sabra or another hummus," Perrier said. "Obviously we think we have the best product, but it's great to see that in restaurants and bars and everywhere else you can now find hummus for sale."
Sabra's rise hasn't been without its stumbles.
Last April, 30,000 cases were recalled due to possible Listeria contamination. No illnesses were reported.
Still, its dominance has left other brands grasping for their pita-full of the market.
Among them is Holy Land, a family-owned company based in Minnesota.
Founder Wajdi Wadi said that hummus produced on a smaller scale is always going to be the superior product.
Big players like Sabra, Tribe and Athenos have flooded the market with red pepper or horseradish-flavored spreads that people in his native Kuwait wouldn't recognize, Wadi told TODAY.
"Our biggest struggle here in America is dealing with a consumer who does not know how hummus should taste," he said. "The consumer is marketing driven. They buy Sabra or Tribe not because it's the best hummus but because it's what they know."
"All those different varieties of hummus are an American invention," he sniffed. "In the Middle East, only hummus is hummus."
(Nevertheless, Holy Land's offerings include jalapeno and roasted red pepper flavors.)
And perhaps surprisingly, Sabra's Perrier agreed that keeping it simple can be the best way to go.
Some of the best hummus he ever tasted was a warmed-up plate for breakfast in Israel.
"That was an amazing experience," he said. "When you are eating hummus warm, it's a completely different experience. At home you can microwave hummus and then add oil. Try it. You might love it."