While many recipes call for the use of a Dutch oven, you may not know why it's essential for a specific recipe — or even what a Dutch oven is. Fun fact: Dutch ovens take their name from the Pennsylvania Dutch, who were using the pots as far back as 1700, according to The Food Lover's Companion. Large pots, usually made of cast iron and complete with a tight-fighting lid, Dutch ovens are known for their ability to retain heat and hold food at a steady temperature during and after cooking.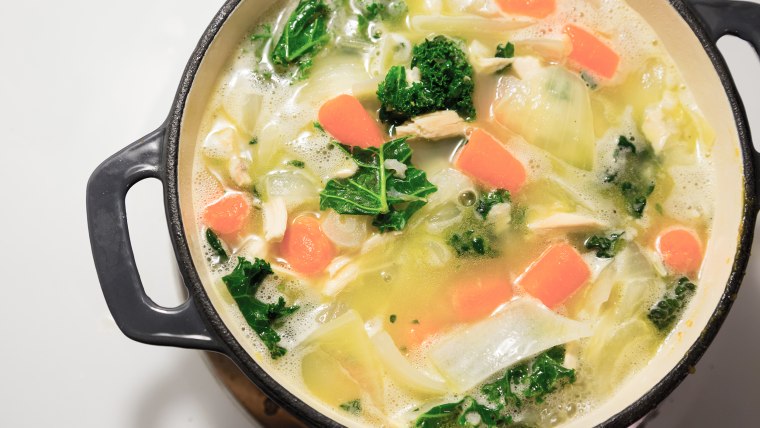 RELATED: Eric Ripert's hearty, one-pot beef goulash is pure comfort
While you might be familiar with the 100 percent cast iron Dutch ovens used for campfire cooking, when you see a recipe that calls for cooking in a Dutch oven, it's more likely referring to an enameled pot designed to simmer foods on the stovetop and in the oven. So now that you know what a Dutch oven is, here are a few tips and tricks to getting the most from your Dutch oven.
Soups, stews and braises, oh my!
Dutch ovens particularly excel at simmering and braising (a cooking technique in which meat and veggies are sautéed to a golden brown and then simmered with a liquid to finish cooking). This means that soups, stews and anything with "braised" in the title should be at the top of your Dutch oven recipe list. The durable cast-iron keeps the food at a consistent temperature for even cooking. Plus, when removed from the heat, the dish will stay piping hot for at least 30 minutes. Dutch oven-worthy recipes include Butternut Squash Soup, Cassoulet, Braised Soy-Honey-Garlic Chicken and Braised Chicken with Spinach and Garlic.
Better baking
As great as Dutch ovens are for soups and stews, there's no reason to limit yourself. A decade ago, the no-knead bread phenomenon began when professional baker Jim Lahey discovered that the perfect loaf of homemade bread could be created by cooking a yeasty, un-kneaded dough in Dutch oven. The Dutch oven creates a lovely round loaf and the steam from the covered pot gives it the perfect crinkly crust. But don't stop there. You can use a Dutch oven to give a fluffy texture (from the steam) and crisp bottom layer (from the pot's enameled surface) to other baked goods, including a giant chocolate chip cookie to feed a crowd, cornbread with fig jam, or even fruit cobbler.
Keep it chill
An enameled Dutch oven doesn't just keep hot food warm. Due to the cookware's best attribute—keeping an even temperature—it can also be used as a serving vessel to keep chilled food cold, according to America's Test Kitchen. Simply fill your Dutch oven with ice water and let it sit for five minutes. Pour out the water, dry the pot and add the food, such as potato salad or fruit salad.
Shorten cooking time
In Linda Carucci's Cooking School Secrets For Real-World Cooks, she notes that testers for a short rib recipe in the book finished the recipe as much as 30 minutes faster using Le Creuset Dutch ovens than they did when they used less sturdy pots. Why? The pot's even heating and superb heat retention abilities creates a a steady cooking temperature for optimal cooking.
Utilize the lid
To avoid an extra dirty dish or pan, you can use the lid of the enameled Dutch oven for a variety of purposes—for example, while browning meat in the Dutch oven, turn the lid upside down onto the knob to use the flat surface of the lid to hold the meat until it needs to be returned to the pot. America's Test Kitchen also has a tip for those times when the Dutch oven is hogging too much space in the oven: Turn the lid upside down on the pot and cover with foil, then top with anything needing roasting, such as potato slices or asparagus spears.
Trap that steam!
When braising meat, one of the keys to good results is trapping steam inside the cooking vessel. Take a cue from cooking legend James Beard to make sure none of that steam escapes. In his recipe for Chicken with Forty Cloves of Garlic, he recommends making a paste from flour and water to seal the lid. The paste is dabbed around the edges where the lid meets the pot — this ensures that not a wisp of steam escapes, resulting in surefire fork-tender meat.