Believe it or not, the world was once Twinkie-less. Although it's hard to imagine an era without them, the iconic yellow snack cakes were not produced for eight whole months in 2013. Thankfully, they made a sweet comeback with the help of TODAY's Al Roker.
Now, almost 1.1 million Twinkies are eaten around the world every day.
TODAY Food got a behind-the-scenes look at how Twinkies are made in the company's industrial bakery in Emporia, Kansas, and the inside scoop on loads of fun facts about the classic cakes.
How are Twinkies made?
Twinkies were invented in 1930 by a bakery manager named Jimmy Dewer at Continental Baking Co. in River Forest, Illinois. He named them after a "Twinkle Toe Shoes" billboard that he saw on the way to show off his idea, a Hostess Brand spokesperson told TODAY Food.
The company keeps things close to the chest about how the cake batter is mixed together, including what makes the cake so airy and the filling so fluffy, but it did share its Twinkie-making process.
First, the batter is mixed and poured into custom-made metal pans. Each batch of batter weighs a whopping 2,000 pounds.
Then the cakes are baked and cooled. At any given time, 35,000 Twinkies are cooling and 15,000 are in the oven.
Then comes the best part: the creamy vanilla filling. It gets injected through the bottoms of the Twinkies.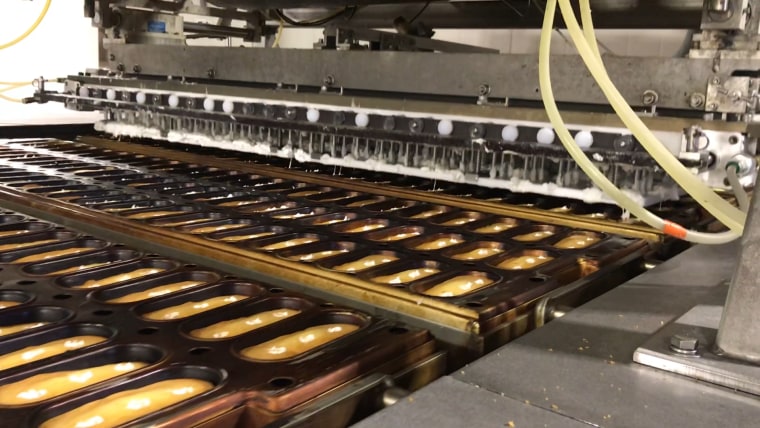 In a slightly tropical twist, the filling that's used today wasn't the original flavor used in the popular treat. The first Twinkies were filled with banana cream. The filling was changed to vanilla during WWII when bananas were rationed.
Once the treats are fully cooled, they're flipped over using a method that Hostess keeps secret.
The snack cakes are separated in rows and get wrapped in plastic before they're boxed up and shipped out — then they're ready to get devoured by legions of devoted fans!
About 1,123 Twinkies are produced every minute and these days they're available in chocolate and banana flavors year round. The iconic snack cakes also come in seasonal flavors, like pumpkin spice and peppermint, but the most indulgent ones are definitely the deep-fried Twinkies.