Entertaining expert Maureen Petrosky shares her quick, easy and creative tips to host an amazing eclipse party. Your guests will be mooning over the galactic décor, inventive crafts, stellar snacks and fun music.
Set the scene.
A black tablecloth is the perfect backdrop. Use galaxy inspired table scatter including shimmery purple or silver garland, star cut outs, shooting stars or glow-in-the-dark stars and iridescent pom poms (aka mini planets) to create your universe tablescape.
Make no-stress snacks.
Stick with the solar eclipse theme and create a clever candy bar by simply assembling store-bought snacks including Sun Chips, MoonPies, Eclipse and Orbitz chewing gum and Milky Way candy bars.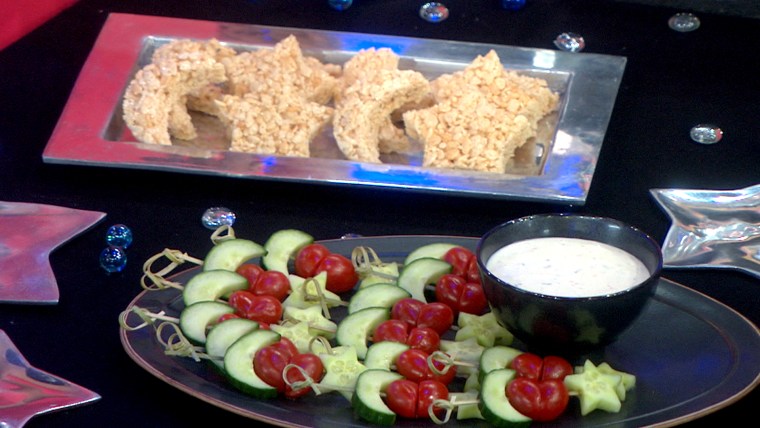 It's a midday party, so there's no need for heavy food items. Serve light bites like fruit rockets with yogurt dip and a moon and stars veggie platter with ranch. Simply use cookie cutters to create the shapes. You can also use those cookie cutters to create a sweet bite like the Rice Krispies star and moon treats.
Galaxy Bark: For a quick and easy sweet, you and the kids can create galaxy bark by simply swirling blue and purple candy melts into black candy melts and sprinkling with star sprinkles. Break and serve all of your candy in out-of-this-world orbs (repurposed foil to-go containers).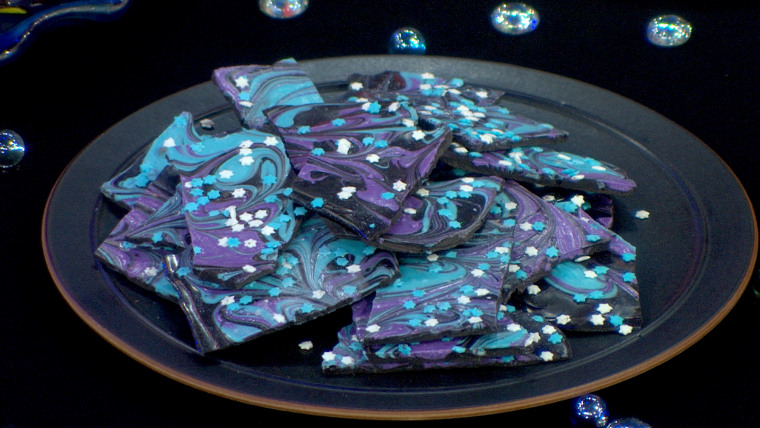 Ingredients:
2 pounds black candy melts
1/2 pound purple candy melts
1/2 pound blue candy melts
1/2 pound light blue candy melts
3/4 cups white star sprinkles
Preparation:
In a jelly roll pan or a rimmed half sheet pan, pour the melted black candy melts.
Melt the remaining colors separately and dollop and swirl on top of the black. Sprinkle with the stars and let cool completely.
Break into pieces and serve.
Set up fun and easy activities.
For young party-goers, this will be their first solar eclipse. A DIY phases of the moon station is the perfect primer. This is a great party favor because you learn something and get a treat.
Oreo Cookie Phases of the Moon: Put out a plate of Oreos for guest to DIY their own phases of the moon treats. Print out a phases of the moon instructional or make your own.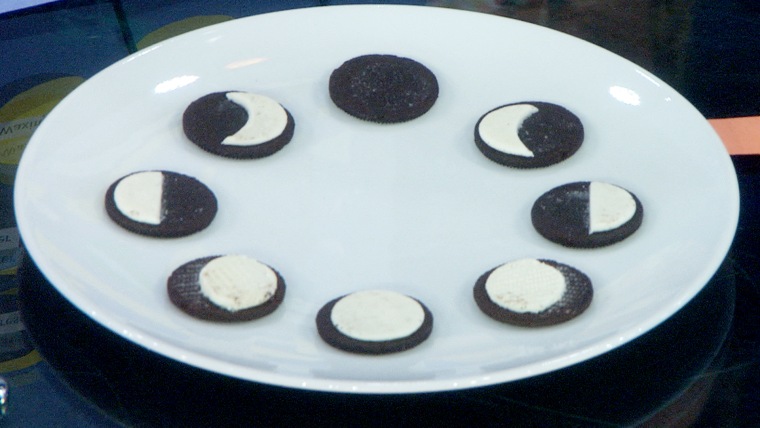 Simply twist the top cookie off of the Oreo off and using a knife scrape away the cream to create the phases of the moon. Put out a small bowl for excess cream filling. Then eat and enjoy. You can put out a plate of finished cookies as a guide and let guests make their own.
Simple Sun and Moon Phases: Kids can create crafty sun and moon phase demonstrations. You only need a few items from the office supply store. Kids will love making their own funny faces on them.
Materials:
Construction paper (black, yellow, grey, red and orange)
The ring of a large mouth Mason Jar lid
Pencil
Scissors
1/2-inch gold paper fasteners
Glue
Method:
Using the ring as your template, cut a yellow circle and a black circle. Glue a rectangular strip of grey construction paper to each. Attach strips of alternating orange and red to the yellow circle for the sun's rays. Let the kids draw faces on the yellow suns. Then place the black circle directly over the yellow and line up the grey handles. Secure with one gold fastener and let the kids swing the moon in front of the sun.
Glow-in-the-Dark Galaxy Shirts: It's always fun to dress for the occasion! So we made our own galaxy inspired shirts.
Materials:
Pre-washed black T-shirts
Sponges (cut into space-themed shapes)
Paper plates
Glow in the dark and solid colored fabric paint
Parchment paper
Method:
Place a piece of parchment paper between the shirts front and back to avoid the paint from seeping through. Set out the shirts on a flat surface.
Squirt the paints onto paper plates and use the sponges to stamp, swirl and create stars and planets. Encourage the kids to be creative and make their own galaxy couture.
Learn about the science and safety of the eclipse.
You need special viewing glasses to look right at the sun. They look like 3D movie glasses but they are not. Sunglasses will not be sufficient. If you do not have eclipse viewing glasses you can watch the live feed on NASA's website or you can use pinhole projectors.
Make a sunny playlist.
Cue up a songs like Total Eclipse of the Heart, Here Comes the Sun, Walking on Sunshine, Ain't No Sunshine and Don't Let the Sun Go Down on Me.