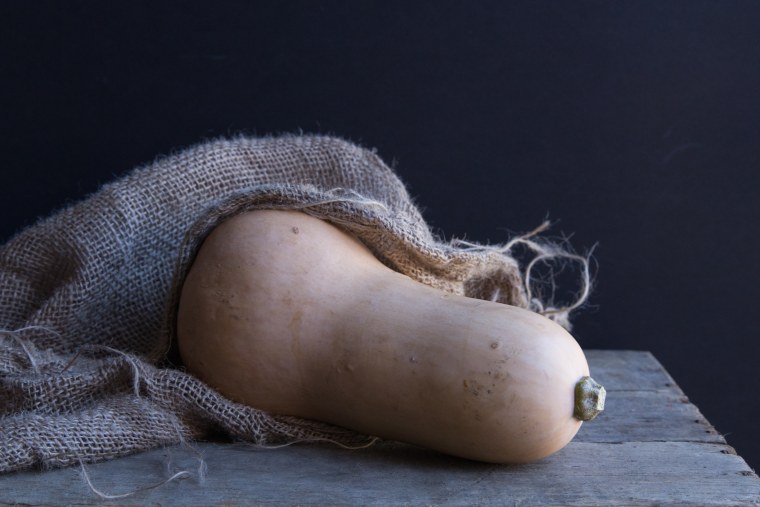 Butternut, acorn, spaghetti, delicata and kabocha squash all belong to the winter squash family though most start to pop up at grocery stores and farmers' markets in early fall. Edible pumpkins also belong to this group, along with less familiar squash varieties like hubbard, turban, sweet dumpling, banana and buttercup. While each squash has its own unique taste and texture, these are versatile vegetables. Most can be used interchangeably and they can be baked, roasted, steamed, sautéed or microwaved. For advice on shopping for, storing and prepping winter squash, read on.
Check our fall produce guide for everything you need to know for cooking in season!
How to shop for squash
Look for squash that's firm and free of soft spots or blemishes. Squash should feel heavy for its size.
Some grocery stores sell squash that's been peeled and cut up. It will likely be more expensive than whole squash, but can be a real timesaver.
When shopping for pumpkin, look for ones grown for eating rather than carving. These include sugar pumpkins, sweet pumpkins, cheese pumpkins and some heirloom varieties.
How to store squash
Store winter squash in the refrigerator or another cool dry place. Most will keep for several weeks or a month; some varieties will last even longer.
How to cook squash
Acorn and delicata squash have edible skin, but most winter squash does not. Butternut squash can be peeled with a vegetable peeler. Squash with harder skin should be cooked as is. The cooked flesh can be scooped out or the squash can be cut and served with its skin—just make sure whoever you're serving knows to leave the skin behind.
Any seeds should be scooped out before cooking and most are edible. Use your hands to remove any flesh from the seeds then rinse them under cold running water and pat them dry. Toss seeds with some olive oil and salt and bake at 300°F, stirring occasionally, until golden, about 20 minutes.
When spaghetti squash is cooked, its flesh turns into spaghetti-like strands. These can be scooped out and topped with sauce or vegetables like pasta, or used as a vegetarian taco filling.
Butternut squash recipes:
Roasted butternut squash with bacon
Roasted butternut squash soup with maple syrup, cinnamon and pumpkin seed whipped cream