Raise your hand if your kitchen knives are all sharpened right now.
Nope? That's what we thought.
So when we saw this handy little $6 knife sharpener on Amazon, we ordered it immediately. After poring over more than 9,000 overwhelmingly positive reviews, we had no choice but to see what all the hype was about.
KitchenIQ Edge Grip 2-Stage Knife Sharpener, $6, Amazon
Our verdict? It's awesome and definitely lives up to the hype.
It's only $6
You can easily spend a fortune maintaining your knives — most professional places charge $5 to sharpen just one knife. So this gadget pays for itself in about one use. Plus, it comes in multiple colors: bright green, red or black, so it will match any kitchen.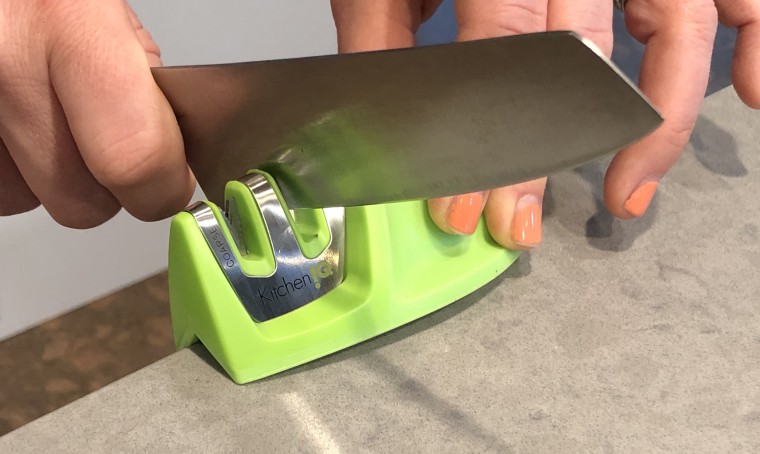 It's easy to use
Sharpening knives can be intimidating, but the little edge grip on this device makes it easy. You can use the 90-degree notch on the bottom to position it on the edge of a countertop — which secures the gadget in place and helps avoid scratching surfaces.
To start sharpening, pull your knife through the "coarse" slot (made of carbide steel) and then the "fine" slot (made of ceramic). Depending on how dull your knives are, it can work well in one swipe or require multiple passes. My knives were so dull, it took about 20 passes on each side. Also, make sure to use some pressure: At first, I was too light with my swipes, but as soon as I stepped it up — magic.
Remember to wash the knife after sharpening to remove any metal shavings.
It'll sharpen pretty much every knife
Since the device can be placed at a 45-degree angle on the counter, it accommodates long chef's knives and short paring knives. For sharpening serrated knives, use only the "fine" slot.
To test out the results, I used the paper test: Hold a piece of copy paper out in front of you with one hand, and then carefully draw a knife blade down through the paper with the other hand. If the knife is sharp enough, it'll slice right through.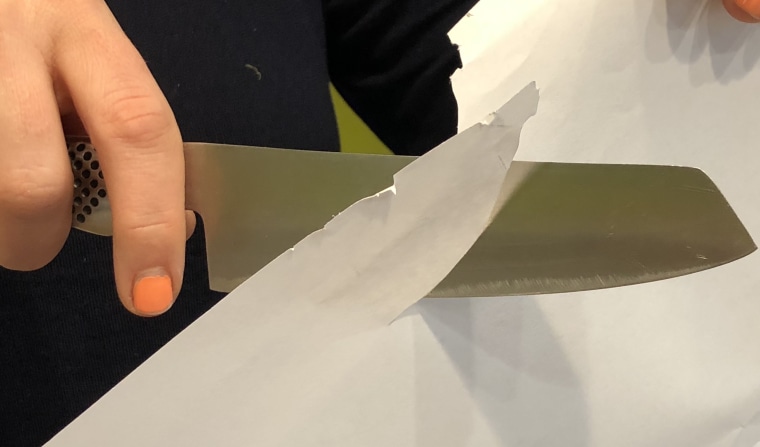 Before sharpening, my knives would hardly nick the side of the paper, but after sharpening, they glided through effortlessly. I then tested my newly sharpened knives on some basil. The herb usually bruises easily, but if a knife is sharp enough, it'll chop up quickly.
Voila! The fragile basil was no match for knives sharpened with the KitchenIQ.
If you're still wary (I get it), there are lots of how-to videos online by Edge Grip sharpener enthusiasts. As a novice sharpener myself, I found the moral support helpful.
Now I'm kind of addicted to knife sharpening. If you're anything like me, after trying the $6 Kitchen IQ knife sharpener, you won't be able to stand having a single dull knife in the kitchen ever again.
This story was originally published on May 2, 2018.
For more of our favorite kitchen products, check out:
To discover more deals, shopping tips and budget-friendly product recommendations, subscribe to our Stuff We Love newsletter!