Sure, you could pile some roast chicken and mashed potatoes on a plate and call it dinner. But maybe you want to up your game next time you have guests over, or just want to practice plating your weeknight meals like a pro. We asked chefs Thomas Keller, Rick Bayless, Todd English, Wylie Dufresne and seven other superstars how they arrange their plates. Turns out you don't need an advanced degree in art to turn your dinner into a gorgeous presentation. Pick and choose your favorite tips from these smart pointers: 
Arrange in odd numbers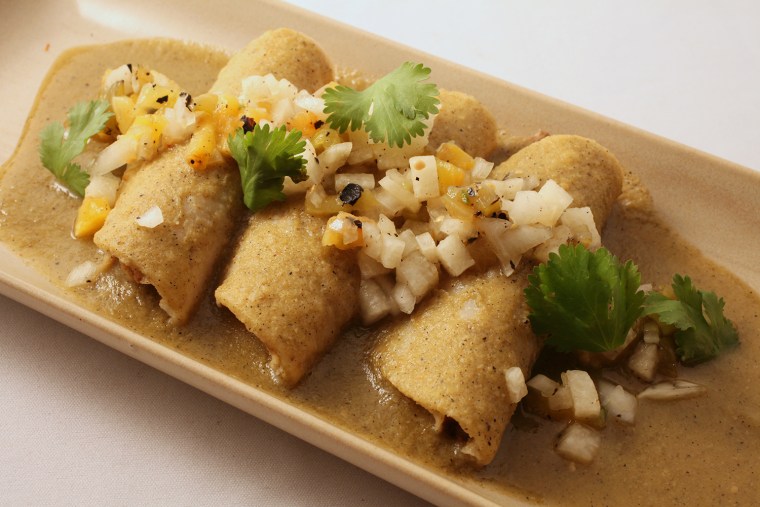 "The odder the better: Things in even numbers look strange on a plate. So whether you're putting scallops or dollops of sauce [on the plate], put three or five, not two or four."—Rick Bayless, chef and owner of Frontera Grill and Topolobampo, Chicago
Use a white backdrop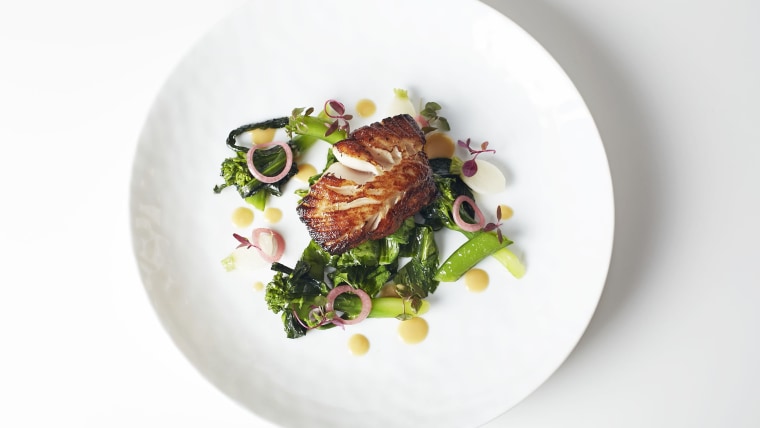 "Everything looks better using brilliant white china. When you use a bright white plate, the food really stands out, its colors seem more vibrant, and it makes the food more appealing. It seems simple, but it's true!"—Charlie Palmer, chef and owner of Aureole and the all-new Charlie Palmer Steak, New York City
Play to all the senses

"We must please our eyes, our sense of smell, texture, touch, and mouth-feel, all of which are factors that play into plating or creating our art. [But] one thing you do not want to do when plating is to add garnish just for color. For example, I see people putting red pepper in everything for a pop of red, and it does not always complement the taste of the dish. You must take into consideration the balance and texture of each ingredient and how it plays into the composition of the plate."—Todd English, founder of Todd English Enterprises and chef-owner of restaurants including Figs and Olives (multiple branches in U.S. and overseas) and Ca Va Brasserie, New York City
Channel your artistic side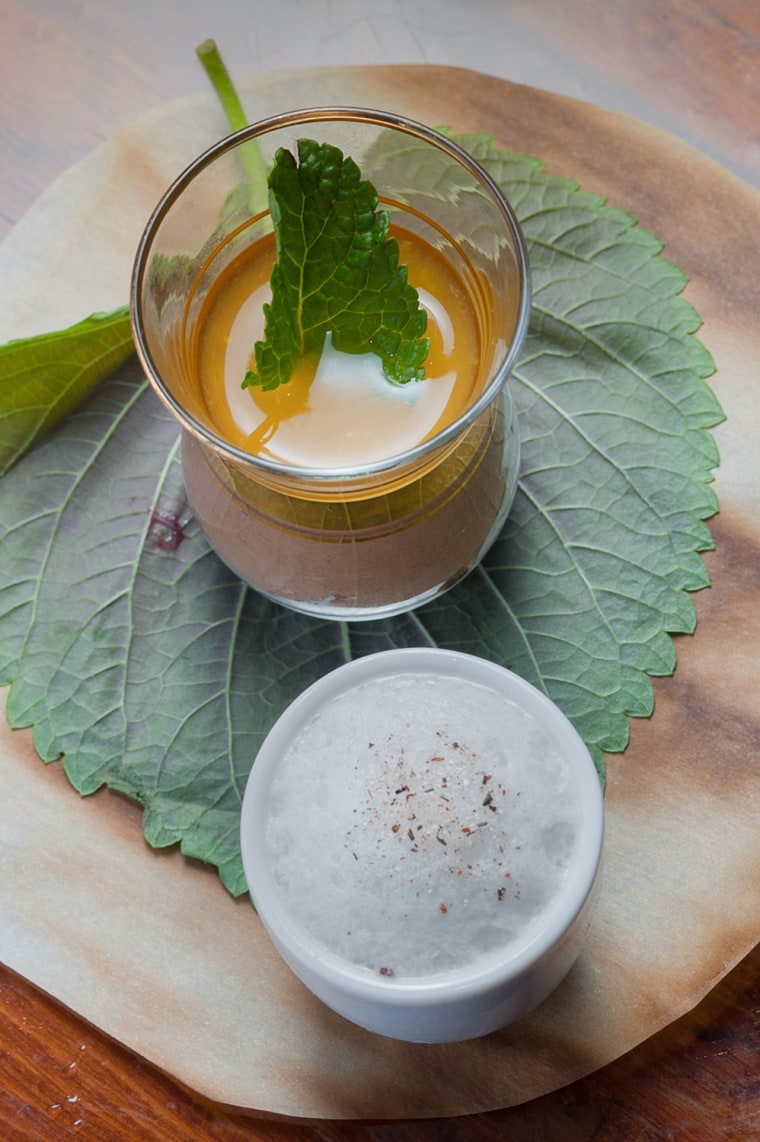 "Using the plate as a canvas is key in mastering the art of plating. I like using sauces, sprouts and other garnishes to frame the focal point. It's all about proportions and really following your instincts. Sometimes I need to take a few steps back to look at the plate like a work of art; sometimes you need a bit of distance. I like putting dishes on top of burnt parchment paper or large edible foliage such as perilla or maple leaves. To 'burn' the paper, heat up a dry frying pan and put your dry parchment paper in until it starts to brown. You can cut this into different shapes and use it as a presentation."—Susur Lee, chef-owner of Toronto's Lee, Bent and Luckee, Singapore's TungLok Heen, and the upcoming Lee Kitchen at Toronto's Pearson Airport
Change up your plateware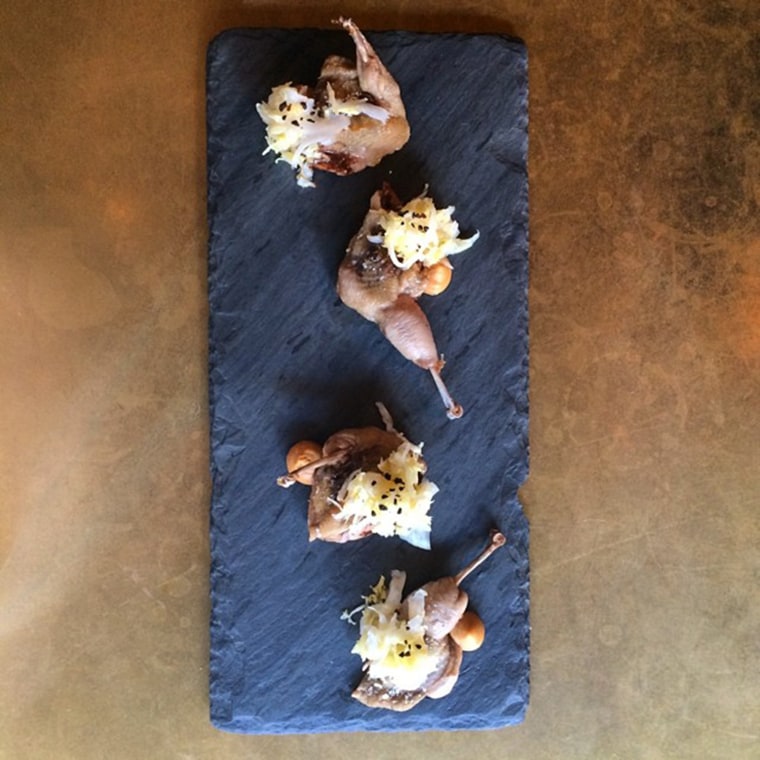 "A simple way to bring interest to your plating technique is to change the actual plate. Look beyond traditional vessels like plates and bowls and see what else you have available. For example, a slate board traditionally used as a cheese plate could become a new way to serve a first course. At Alder, we use those slate trays for dishes like roasted quail and even our tomato crostini."—Chef Wylie Dufresne, chef and owner of wd~50 and Alder in New York City
Keep it simple: Less is more
"Plating really depends on the occasion. How you'd plate for Thanksgiving would be different than plating for a birthday celebration. For everyday plating at home, it should be about simplicity: The less on the plate, the better. If you're aiming for refinement, just put the protein on the plate and place the vegetables in small side bowls. The protein then becomes more of a focal point. Simplicity is always beautiful. One thing to keep in mind, though, is that your primary focus should be the quality of your ingredients and execution of your technique used in cooking."—Thomas Keller, chef and owner of the Thomas Keller Restaurant Group, which includes the French Laundry in Yountville, California, and Per Se in New York City.
Add height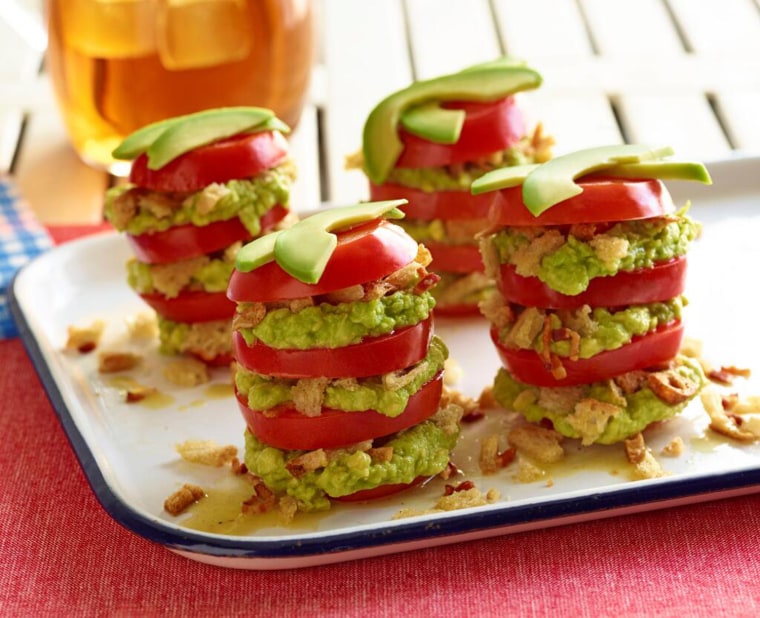 "Use the outside rim of the plate as a border, like a picture frame. Typically I like to stay inside that frame. Another tip is, sometimes adding height can make a plate look more interesting. By layering or stacking ingredients you can give the dish more depth."—Susan Feniger, co-chef and co-owner of Border Grill and Mud Hen Tavern Restaurants in Southern California and Las Vegas
Build flavor-filled bites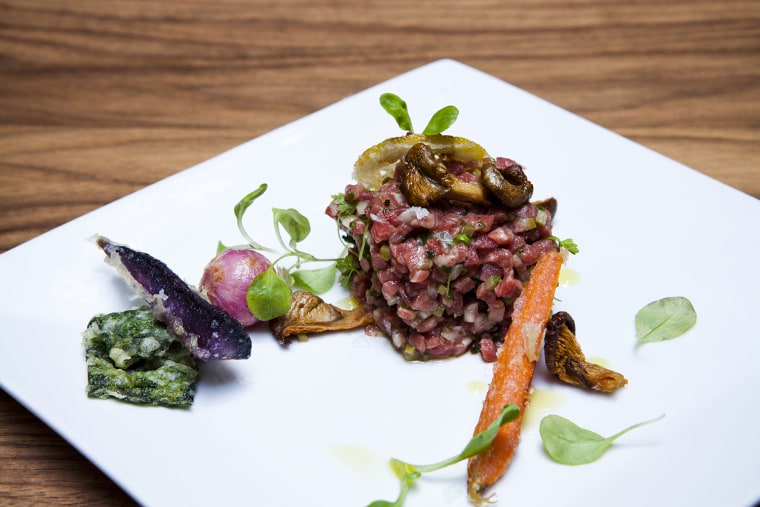 "I like to build a plate by layering all of the components on top of one another. It traps the eater into getting all of the flavors in every bite!"—Alex Guarnaschelli, Iron Chef, author of "Old-School Comfort Food," and chef, Butter Restaurant, New York City
Take cues from nature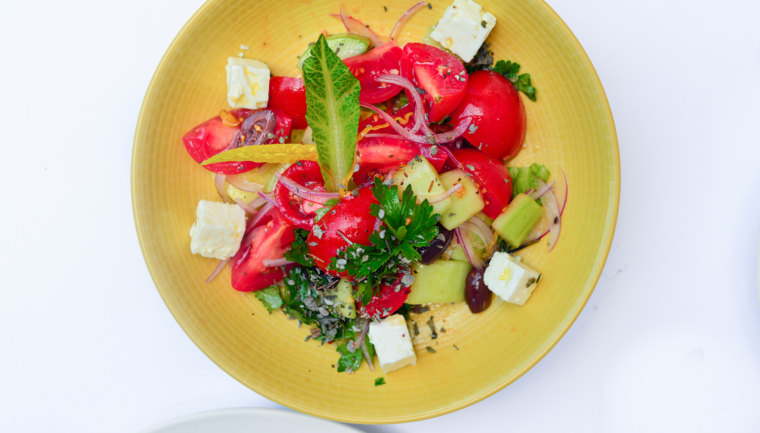 "Food should be created with passion, thought and technique, but plated with a light hand, with direction from nature. Colors should reflect the seasons, with contrasting light and dark shades that evoke emotion. In the end, keep it simple and let the ingredients be the stars."—Travis Swikard, chef, Boulud Sud, New York City
Make sure garnishes harmonize with the dish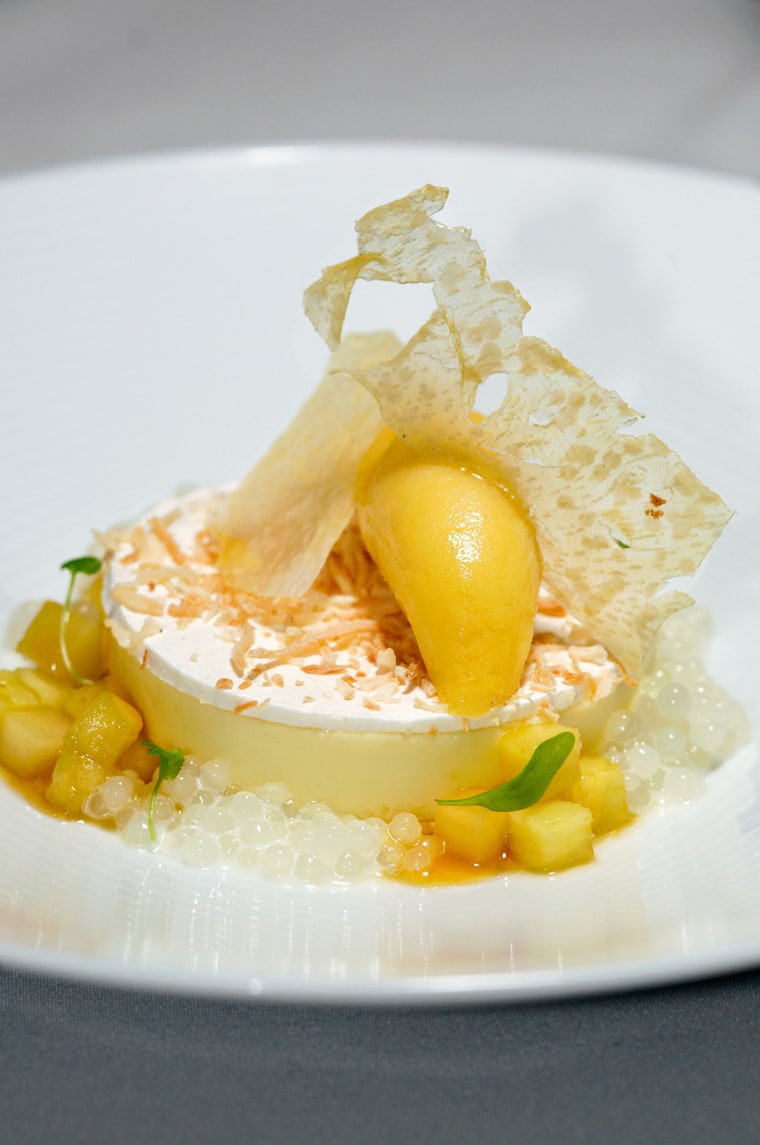 "For fancier plated desserts, I like an understated wow factor, which is usually composed of multiple garnishes, all of which totally make sense with the dish. For example, if you have strawberry as a focus in the dessert, then incorporating a strawberry chip, strawberry-infused tuile, sauce, powder or small dice is something we might do at Hatfield's. Garnishes should be something that add another layer of texture and excitement but are in total harmony with the other ingredients. They should also be easy to eat. If someone lifts off a garnish and puts it off to the side, it's overbearing."—Karen Hatfield, pastry chef and owner of Hatfield's, The Sycamore Kitchen and Odys and Penelope (opening December 2014), Los Angeles
Use contrasting colors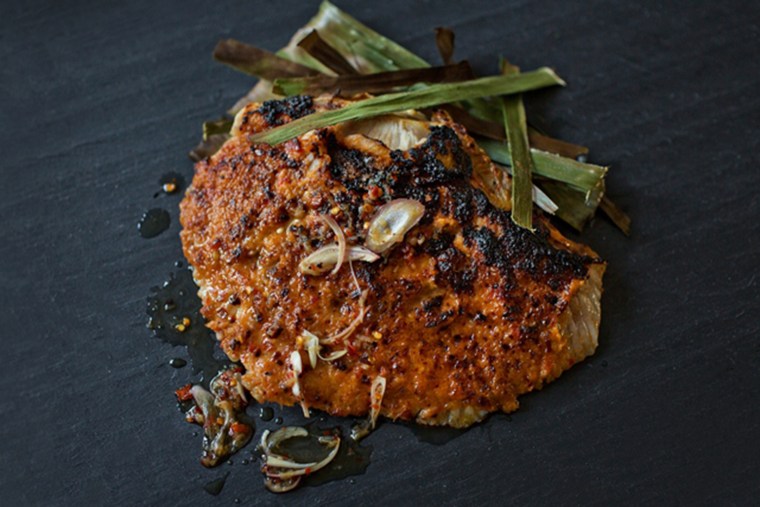 "Aside from taste, we eat food visually. The first thing I think about is coloring: You want to have a nice balance of color on the plate. For example, we serve a skate wing at Hinoki & the Bird that is served with bright orange sambal sauce on top and plated on top of a banana leaf. The skate wing doesn't need a banana leaf on the bottom, but it's nice to have a contrast of color—chili sauce is orange and green sets it off. It brings the plate to life."—Kuniko Yagi, chef, Hinoki & the Bird, Los Angeles