If you've ever been frustrated by dishes that need to bake much longer than the recipe indicates, or if you've walked away from a batch of cookies for just one minute to discover they're burnt beyond saving, guess what? It's probably not your fault—it's your oven's fault.
As technologically advanced as our kitchen appliances can be, they're not perfect and they're certainly not foolproof. Setting the oven to 350 degrees and assuming it's the temperature your oven's actually serving up? That's a leap of faith that not even a top-notch cook should take—ovens can vary widely in temperature no matter what the display says. Luckily, there's a really cheap, really effective way to make sure you're baking at the temperature you should be: an oven thermometer.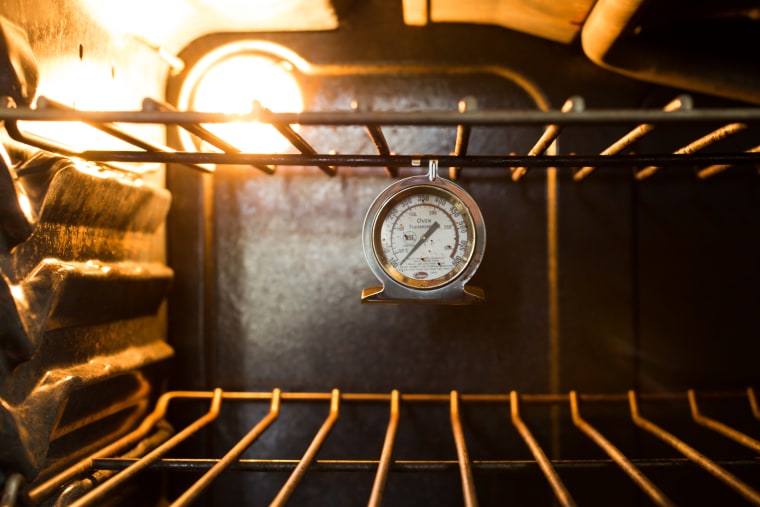 Unlike the probe and stick thermometers that measure the temperature inside your food, this little gadget measures the ambient temperature inside your oven. It's designed to hang from a rack and can be moved around inside the oven to make sure your oven heats evenly.
Story: 11 slow cooker tips and tricks every home cook needs to know
Test your oven's accuracy by heating it to 350 degrees. Place the thermometer on the left and right sides of the oven as well as the front and back of your oven to see if you have any hot or cold spots. Let the thermometer rest in each location for 10 minutes before moving it to check for temperature changes, and use oven mitts when moving the thermometer.
Once you know if your oven is running hot or cold, or if it miraculously heats accurately, you can adjust the temperature for which you're programming it accordingly. If your oven runs hot by 25 degrees, set it for 25 degrees lower than the recipe calls for, and so on and so forth.
Oh, and don't take your oven at its word—or ding, as the case may be—that it's fully preheated. While 10 minutes' worth of preheating time has long been the industry standard, many ovens actually take 15 minutes or more to get up to the programmed temperature. A quick glance at the oven thermometer will let you know when everything's really good to go.