Ah, grocery shopping. It's the one task that most of us do week-to-week yet, somehow, it can still be a little chaotic.
Between reusable bags taking over the coat closet, grocery lists going missing in-store, and egg cartons falling over in the trunk, something always seems to go a little wrong.
We set out on a mission to find the best supermarket hacks and organizational gadgets to make your next grocery run a little more fun.
1. Organize the grocery cart like a pantry.
Lotus Trolley Bags, $34 for 4, including cooler, Amazon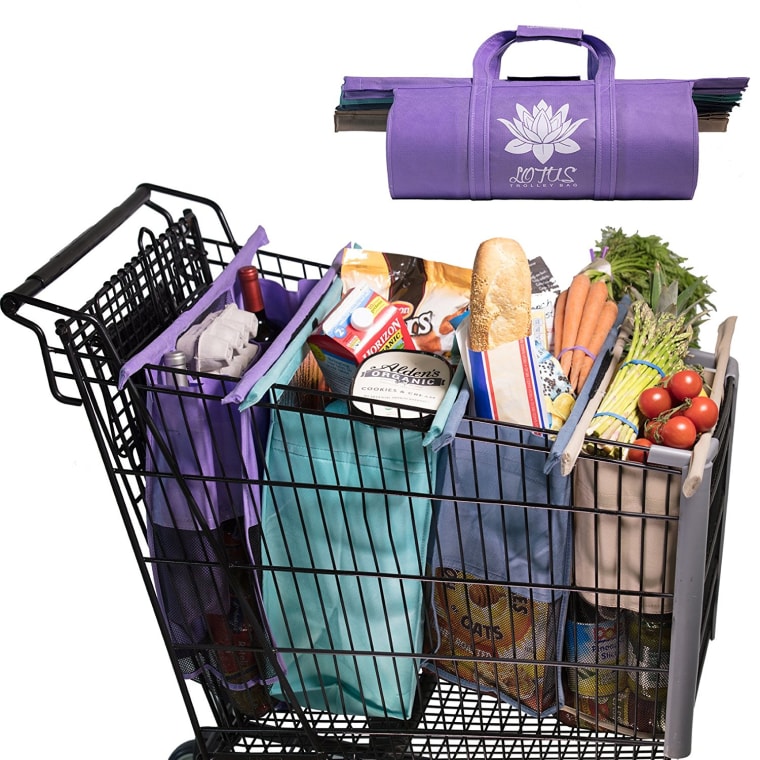 One hack that's trending right now among super-organized grocery shoppers is the use of trolley bags: reusable bags with removable poles that can be used to keep the bags upright in the cart. They allow customers to sort through items while shopping, according to how you want to put them away at home. A cooler bag is included, and this one even has pockets in it for egg cartons and wine bottles.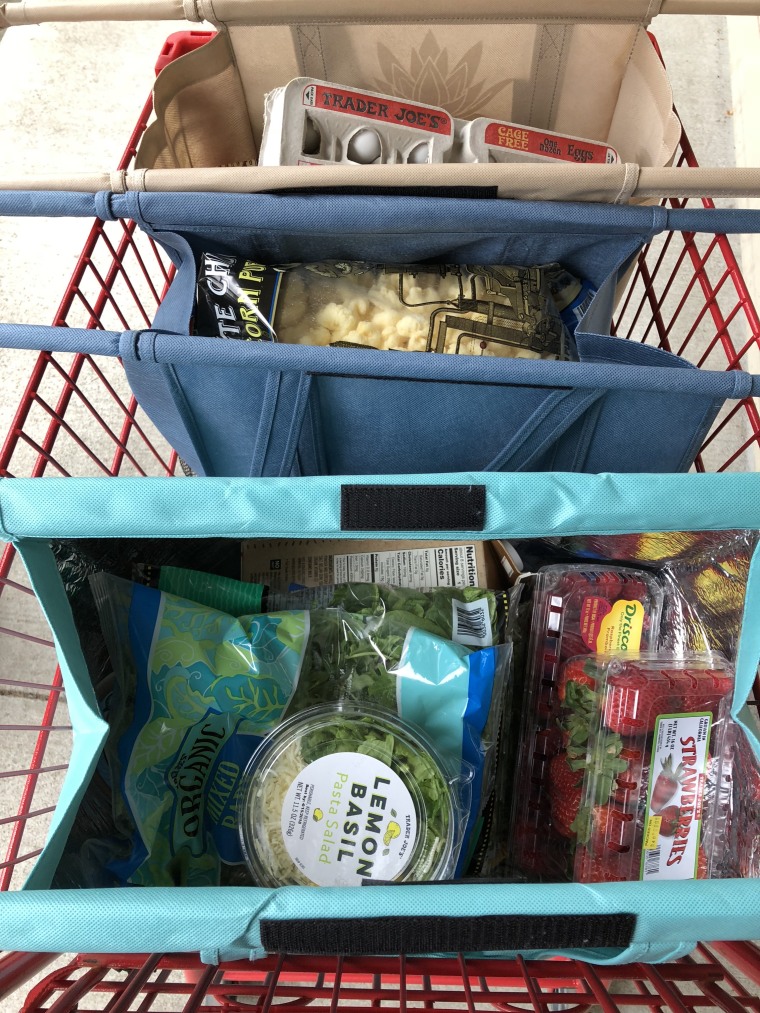 I brought them to Trader Joe's and at first felt self-conscious bringing in this long bundle that kind of looked like a yoga mat ... but no one stared. (Though when I got to the checkout, the woman said, "Whoa! What are these contraptions?") A couple of times, the poles did make maneuvering in crowded aisles tricky, but overall they didn't get in the way.
Strangely enough, being able to sort my groceries like that did bring a sense of calm and organization — I realized, usually, I was frantically trying to organize my items as they came off the scanner, but with the trolley bags, the items were rung up in pre-sorted groups and then bagged back together. The cooler bag is also super roomy. In the end, they even won over the skeptical checkout person.
2. Organize produce with clear, reusable bags.
Eco Green Reusable Produce Bags, $12 for 5, Amazon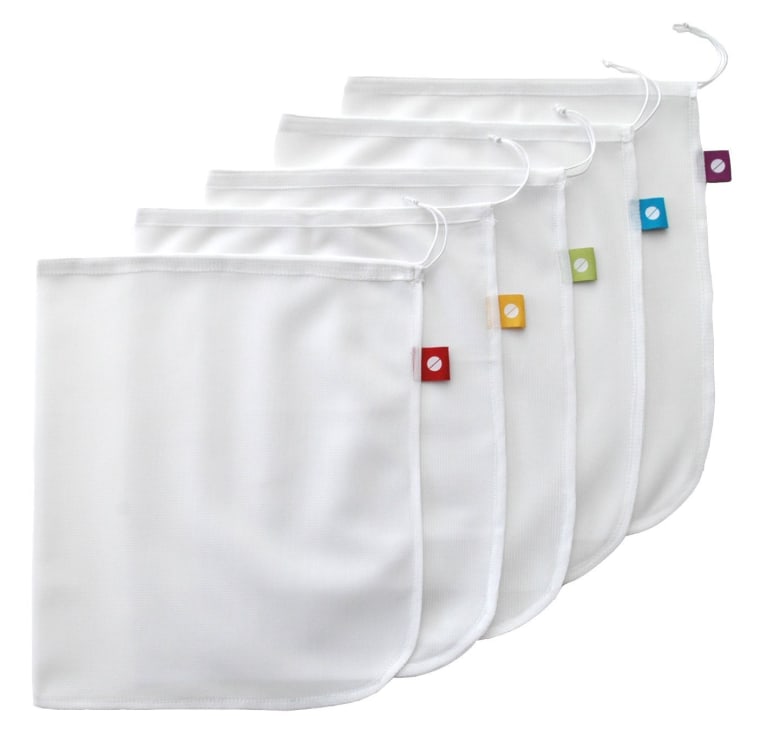 Lots of us have been using reusable shopping bags for years, but produce bags? Not so much. Aside from the whole earth-saving part, I quickly found out that reusable produce bags have so many benefits over their plastic counterparts, though. A built-in drawstring allows you to close the bags, so your apples don't go rolling all over your cart. Plus, at home, the mesh makes it much easier to see your fruits and veggies, instead of just seeing a mess of plastic when you glance into the crisper drawer.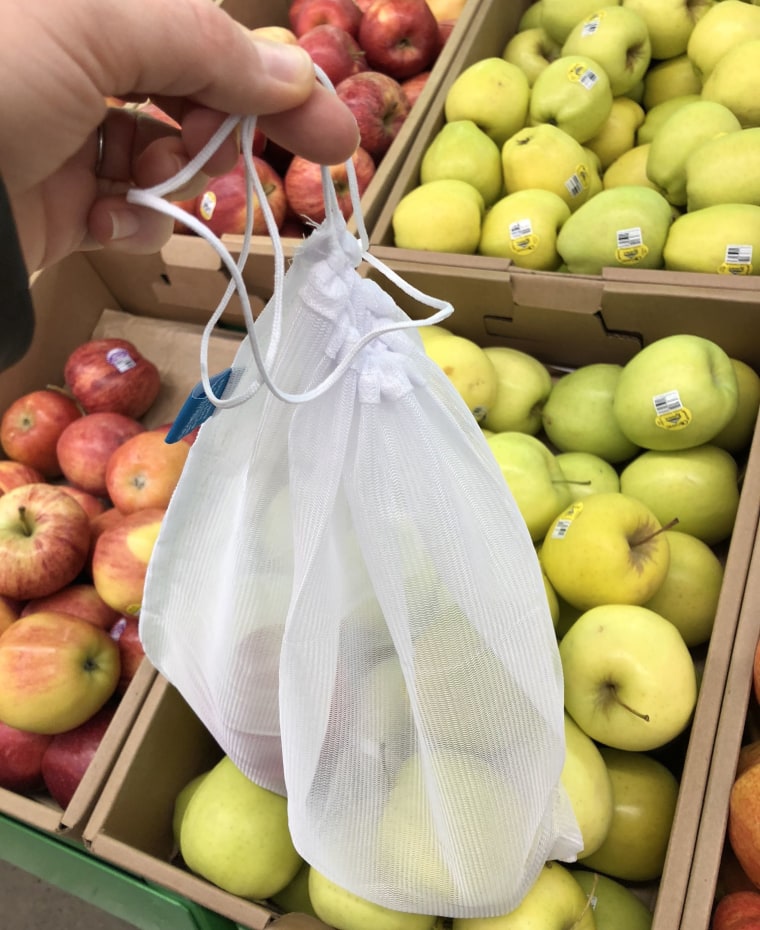 They're roomy — they can accommodate at least a dozen apples, or unwieldy stems of Swiss chard—and super lightweight, breathable and — most importantly! — machine washable. Plus they're durable: One of the more than 1,200 glowing reviews on Amazon said the bags have been going strong for three years and counting.
3. Clip a grocery list to your cart.
GalShopper All-in-One Organizer, $25, Amazon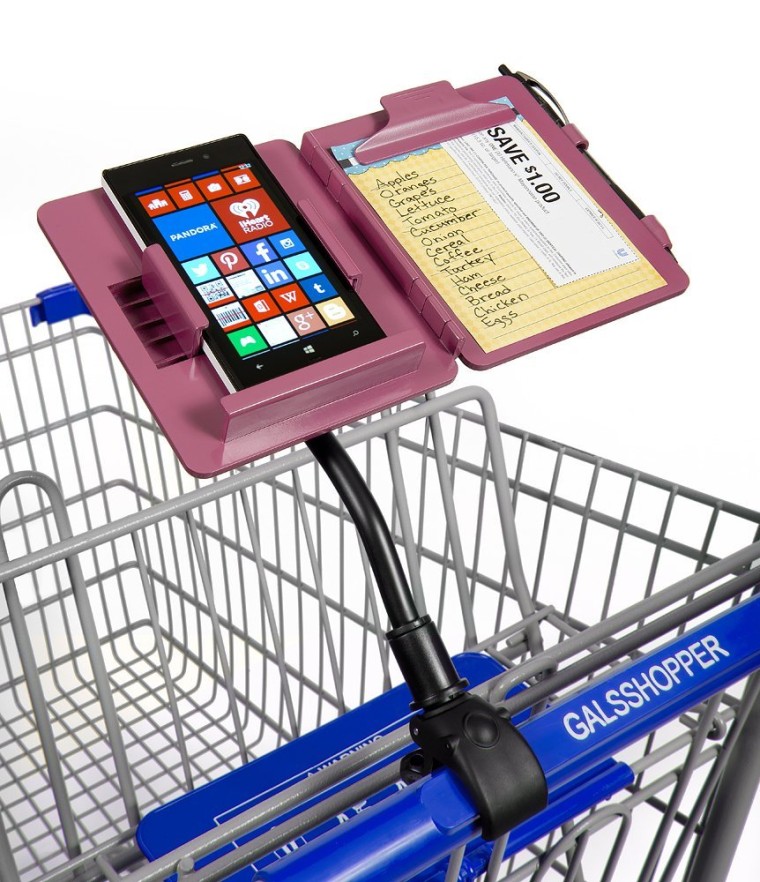 Raise your hand if you painstakingly write out a grocery list, only to have it unknowingly drop it in aisle 11, never to be seen again? Or you use your phone for your list, and have to keep taking it in and out of your pocket to see what you need next? This all-in-one organizer clips onto your handlebar (of course, keep a close watch on your cart if you do that), and lets you keep everything at your fingertips. There's even a clip for coupons or a paper list, and a pen holder so that you can cross things off.
4. Clip a phone to your cart.
Shopping Cart Phone Holder with Secure Clip, $8, Amazon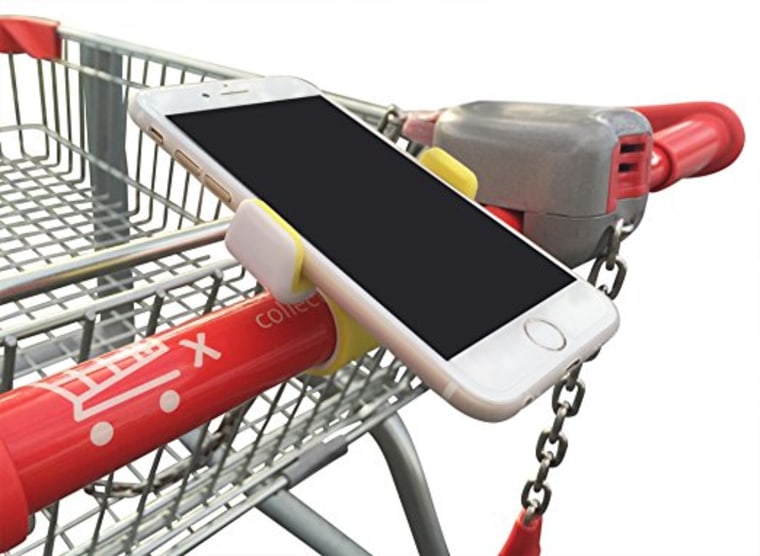 If you're strictly an app-grocery list person, check out this clip, which fits all size smartphones and comes with a chained fastener for added security when attaching it to the shopping cart handle. "Brilliant and exactly what I was looking for," raves one reviewer. Others credit it with saving them from fumbling with and dropping phones in-store.
5. Organize your trunk, so groceries don't go flying.
Untimate Car-Trunk Organizer, $29, Amazon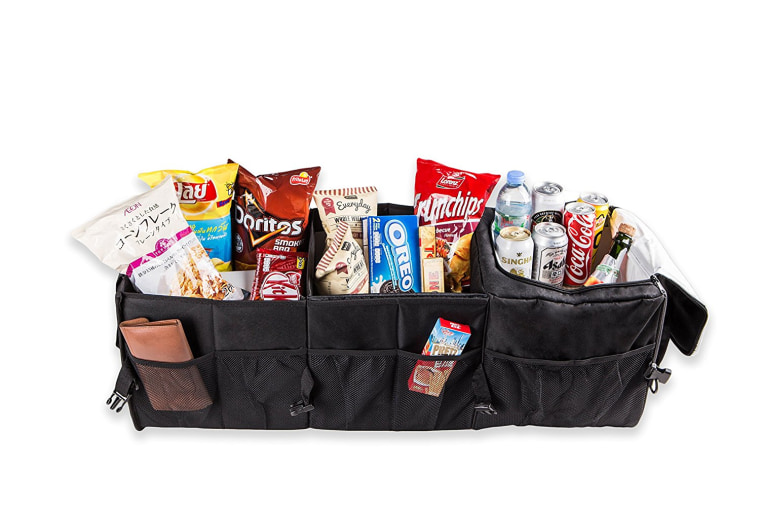 If your carefully packed, delicate eggs, breads and crackers tend to go flying and get crushed by the time you get home, check out this car-trunk organizer, which has 4.5 stars on Amazon. The adjustable dividers accommodate grocery bags, and there's a built-in cooler compartment, which is great if you're making multiple stops and need to keep adding cold items to it. Two hooks also help keep the whole thing in place, plus there's a wine-bottle holder and pockets galore.
6. Store plastic grocery bags in a designated spot.
BagPodz, $25 for 5, Amazon
We know all about the creeping pile of bags in your closet that's taking over space like The Blob. Fix that problem with these scrunchable, reusable bags that can all quickly go back into the drawstring bag. Some scrunchable bags aren't great for groceries, but these are rectangle-shaped on the bottom (brilliant!) and have a hook so they can hang from your handlebar — taking up no cart space. They won't get gross, either: just machine wash, line dry. It's no wonder they have a near-perfect rating, with more than 500 reviews.
7. Keep cold items in cold bags.
Earthwise Insulated Reusable Grocery Bag, $21 for 2, Amazon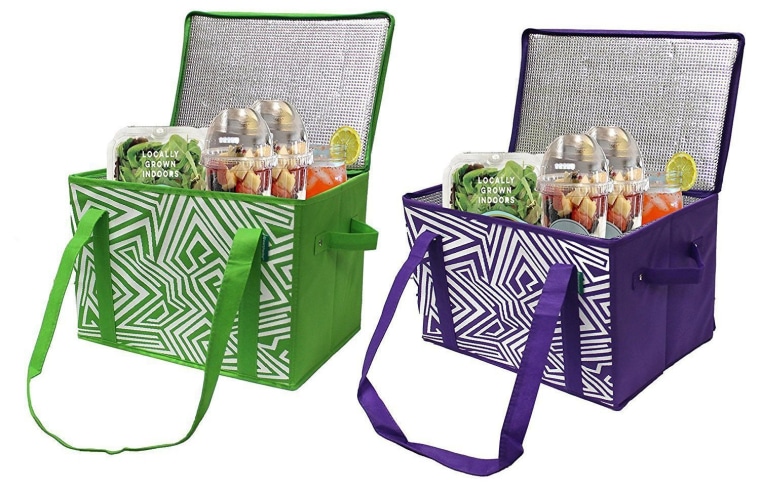 One cold bag just never seems to do it. Brilliantly, these cold bags come in a set of two, for when you're doing a major haul. The rectangle-box shape, as opposed to more of a tote shape, is also super efficient for packing items.
8. Free up your hands
Large Multi-Purpose Hooks, $11 for 2, Amazon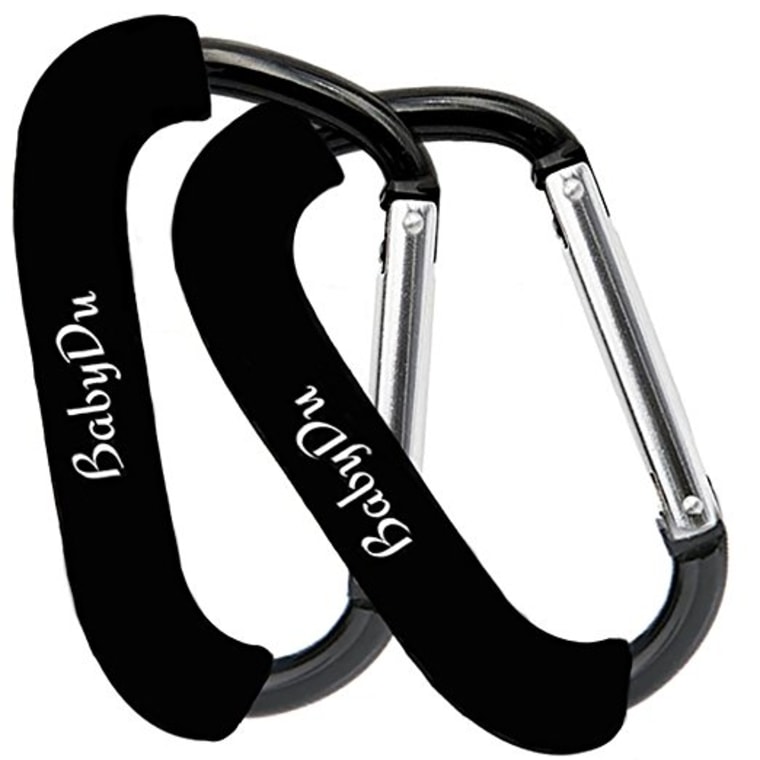 One can never have enough extra hands when food shopping, and these multi-tasking hooks are large enough to attach a few grocery bags to a stroller (just make sure your stroller can balance out the weight, of course) or to attach your carry-all bag to a grocery-store cart while shopping, giving your shoulder a break.
9. Keep a running list of staple kitchen items
Knock Knock All Out of Note Pad, $8, Amazon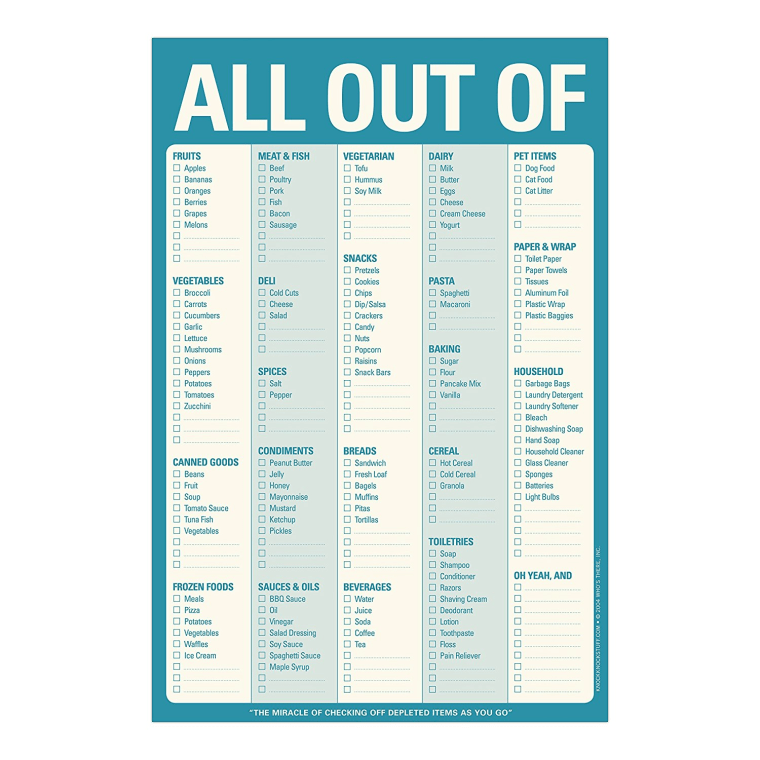 Oh, those fleeting thoughts during busy meal-prep times: We're out of cream cheese! Or soy sauce! Those staples you take for granted are easy to forget to add your "main" list. Enter the "All Out of" list: Post it on the fridge, or somewhere prominent in the kitchen, and everyone can check off any finished ingredients ... instead of neglecting to tell the primary shopper.
10. Prevent coffee spills.
Shopping Cart Cup Holder, $18 for 4, Amazon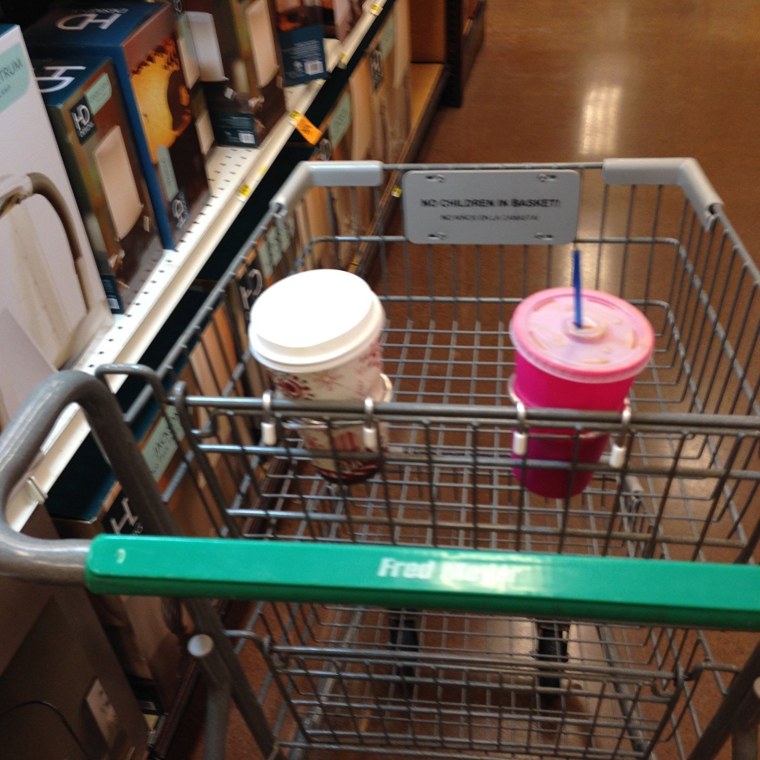 Occasionally, you'll luck out and find a store with built-in cup holders on their carts, but toss one of these in your bag, and you'll never be without a place to stash your coffee or water bottle again. Just don't forget it when you leave, OK?!