Whether it's bathed in luxurious red sauce or creamy white sauce, crowned with cheese, meat or veggies, lasagna is the queen of all baked pastas — and it's universally adored by kids both big and small. Although the layered Italian casserole may appear to take a lot of work to create, it's actually pretty easy to learn how to make lasagna.
"The secret to a perfect lasagna is to always use equal parts of lasagna noodles, sauce and whatever other filling you want to use," Sabrina Sexton, culinary arts program director at the Institute of Culinary Education in New York City, told TODAY Food.
Also key? It's important to begin and end the lasagna with a little bit of sauce (to prevent sticking) and to remember the order that each food should be layered into the dish.
"The filling should always go straight on top of of the noodle because it is easier to spread," Sexton said. "If you put put sauce on the noodle first, the filling will be very difficult to spread."
If all else fails, remember the lasagna mantra: "sauce, noodle, filling, repeat."
How to make lasagna
1. Make a delicious sauce
In Italy, lasagnas made with white sauces like béchamel sauce and alfredo sauce are just as common as those made with red sauces.
For traditional lasagna, go with classic tomato sauce or Bolognese sauce made with ground meat or crumbled sausage. Other meats work well too, like short ribs — a favorite of Food Network star Giada De Laurentiis.
Sexton likes to add vegetables to tomato sauce like shredded zucchini, carrots and mushrooms. If using store-bought sauce, pick one that does not have salt or sugar listed in the first five ingredients on the label, she said.
For something different, Sexton suggested adding a layer of pesto sauce or using a puree of butternut squash or carrots to add some sweetness and texture.
2. Prepare the baking dish
To prevent homemade lasagna from sticking to the dish, start by adding a drizzle of olive oil and a little bit of sauce — note, this is not a full layer of sauce — on the bottom. Spread it all around evenly. This will prevent the next layer from sticking.
3. Layer the lasagna noodles
After setting down a base, it's time to add the noodles.
"No-bake noodles are excellent and are a big noodle innovation," said Sexton. "They makes life a little bit easier because they don't need to be boiled ahead of time. They taste as good as regular noodles and there's no reason not use them. Why not save yourself one step of having to boil all of those noodles?"
Sexton recommended using no-bake noodles with curly edges to add more texture to the lasagna, but straight sheets of no-bake noodles work well too.
If using fresh pasta, boil the lasagna noodles in salted water until they are soft, about 10 seconds. Place the softened noodles in a bowl of ice water to keep them from overcooking. To keep the cooled noodles from sticking together, place them on a sheet tray and separate them with layers of paper towels.
For slow-cooker or Crock-Pot lasagna, use uncooked regular lasagna noodles, which will hold their shape well and won't become a mushy mess.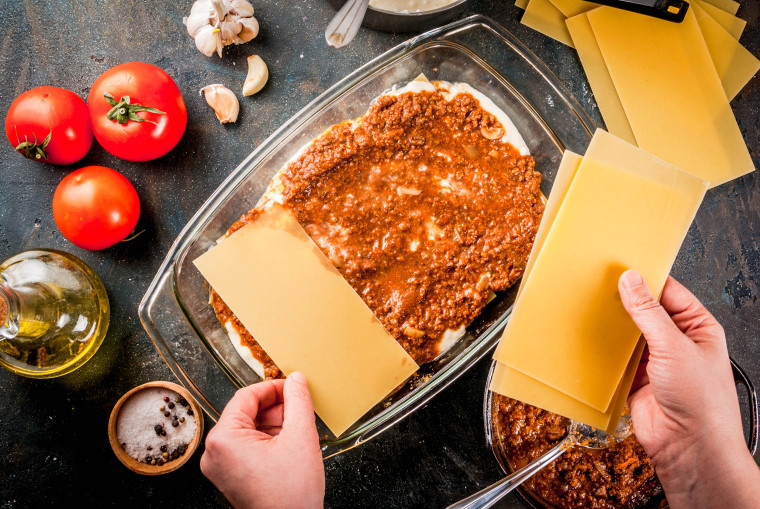 4. Spread on cheese, if desired
There are several ways to incorporate a creamy or cheesy layer in a lasagna. One way is to use a white sauce like a béchamel sauce or Alfredo sauce, which is basically a béchamel sauce with cheese.
For a classic cheese filling for a standard 9-by-13-inch lasagna, combine 4 cups of ricotta, 1 cup of grated Parmesan, 2 eggs, 1 clove of minced garlic and 1/4 cup of freshly chopped herbs like basil, oregano and parsley.
For something even simpler, Sexton suggested adding a layer of mascarpone cheese. "It's a little richer, so you don't need to really add anything else to it because it's so satisfying," she said.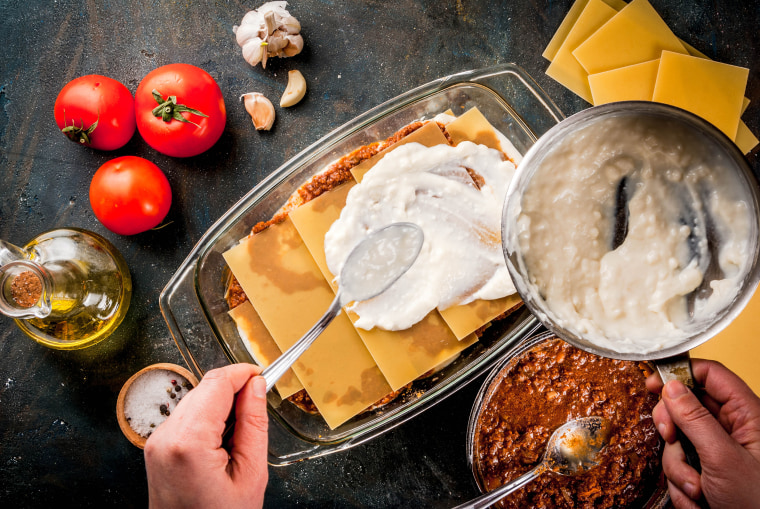 5. Add vegetables, if desired
Any vegetable that is included in a lasagna should be sauteed, roasted or grilled first.
"If the vegetables are not cooked ahead of time, they will not be tender and there will be a lot of excess water in the lasagna," Sexton said.
Vegetables can be added to a tomato sauce, pureed into a sauce or added as a layer on their own.
"Lasagnas are also a great way to use up leftover vegetables," Sexton added.
6. Keep going with those lasagna layers
Remember the lasagna mantra? The order should be sauce, noodle, filling ... for about four layers.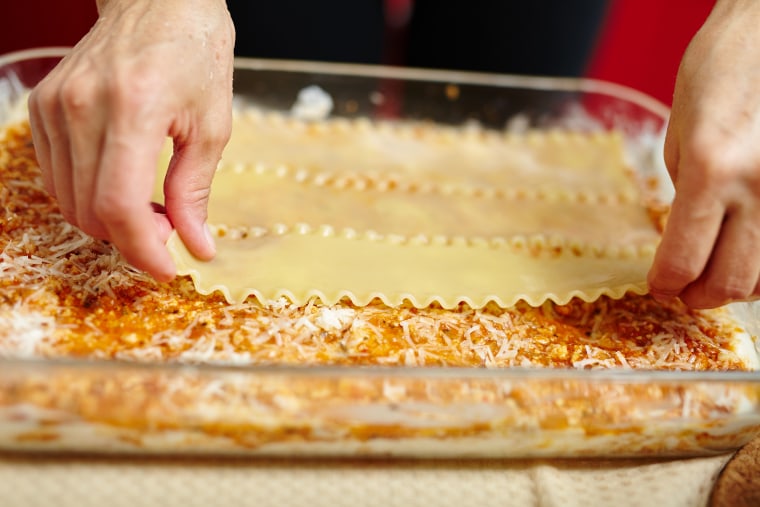 7. Top off the lasagna
Finish the lasagna with one more layer of sauce — just enough to moisten the noodles — and then put a lot of cheese on top to keep it from burning. This will also form a wonderfully crispy top.
There are many options when it comes to the perfecting the final creamy and cheesy layer of a lasagna. A classic topping is a mix of shredded fresh mozzarella and grated Parmesan, pecorino or asiago cheeses. Sexton also suggested trying crumbled ricotta or sliced provolone which melts well.
For an extra creamy finish, try a mix of fontina and mascarpone or a thick layer of béchamel sauce.
"You can also top it with a béchamel sauce mixed with a blend of your favorite cheeses — even blue cheese," she said.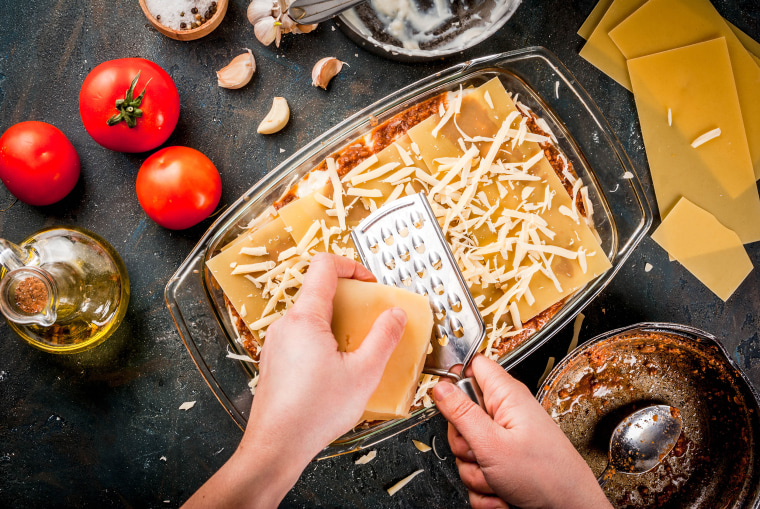 8. Bake the lasagna
Baking temperatures vary by recipe and usually range from 350 degrees to 400 degrees. The average baking time for a lasagna is about 35 to 40 minutes. If the top appears to be browning too quickly, tent the lasagna with foil and wait for the lasagna to heat all the way through before removing from the oven.
"You'll know it's done when there is a lot of bubbling around the edges and the cheese is melted and browned on the top," Sexton said. "If you're not sure if it's done, stick a knife or metal utensil into the center. The lasagna is done when you can pierce everything all the way through and the metal item feels hot when it is removed.
Now that we've noodled around the basics of making lasagna, try making homemade lasagna with these recipes.
Lasagna Recipes
TODAY's own Al Roker adds sauteed diced zucchini, yellow squash, onions and red peppers to the sauce for his vegetarian lasagna, which is bubbling with gooey cheese. It's a delicious way to sneak lots of vegetable servings into dinner. Bonus: It only takes 20 minutes to prep.
This eggplant lasagna recipe swaps half of the pasta noodles for strips of zucchini and eggplant "noodles." Looking for ways to lighten up the baked pasta dish? This may be the best lasagna recipe out there.
"Cooking pasta in the slow cooker can be tricky — you can end up with mushy noodles or a dried-out mess," cookbook author Maggie Shi told TODAY Food. "But this spinach lasagna recipe works wonderfully. Start with uncooked regular lasagna noodles, which will hold their shape well, and cook on low for less than 4 hours to prevent overcooking. Adding a little water to the marinara helps prevent the sauce from drying out, and plenty of spinach and fresh basil cut through the rich cheese. Plus, it's simple and fun to assemble, too."
Cookbook author Grace Parisi created the best lasagna recipe for mushroom lovers. With four cheeses, a creamy white sauce and loads of roasted wild mushrooms, this lasagna is pure umami decadence.
For her lasagna roll ups, Cooking Channel star Katie Lee layers a mixture of ricotta and other cheeses on top of lasagna noodles and then rolls each one into a cute little package. The rolls are placed in a baking pan, topped with sauce and cheese and then baked until bubbling.