Ice cream artisan Jeni Britton Bauer of Jeni's Splendid Ice Creams scoops out some of the best ice cream in the country at her 10 shops throughout the U.S.
She's also one of those humble experts who doesn't mind sharing all of her secrets — she's written two books about how to make ice cream with insanely delicious recipes. Here, she shared her step-by-step guide for how to make any ice cream flavor.
How to make ice cream
1. Get the right equipment and prepare ingredients.
You'll need an ice cream machine, a heavy bottomed saucepan, three metal bowls (small, medium and large), a whisk, measuring cups and spoons, a heatproof spatula, a heavy-duty, 1-gallon zip-top freezer bag, parchment paper, an ice cream scoop and a freezer.
Some ice creams will call for ingredients that must be made in advance. Have components like roasted nuts, sauces, candies and cakes chilled and ready to go before beginning the process.
Also, 24 hours before you want to make ice cream, wash the ice cream maker's canister, dry it well, and place it in the coldest part of the freezer. Do not remove it until you are ready to pour the chilled cream into it.
For a full list of ingredients needed, check out the recipe here.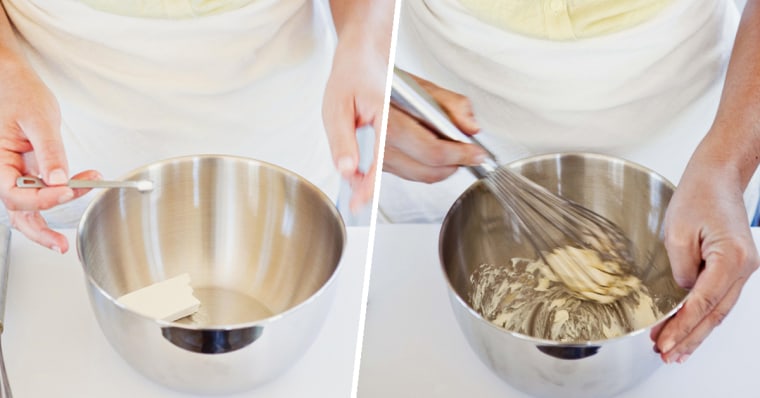 In a small bowl, mix about 2 tablespoons of whole milk with 1 tablespoon and 2 teaspoons of cornstarch to make a slurry. In a medium bowl, add 1/8 teaspoon of fine sea salt and 4 tablespoons of room-temperature cream cheese and whip all the bumps out. In a large bowl, make an ice bath (heavy on the ice) and set aside.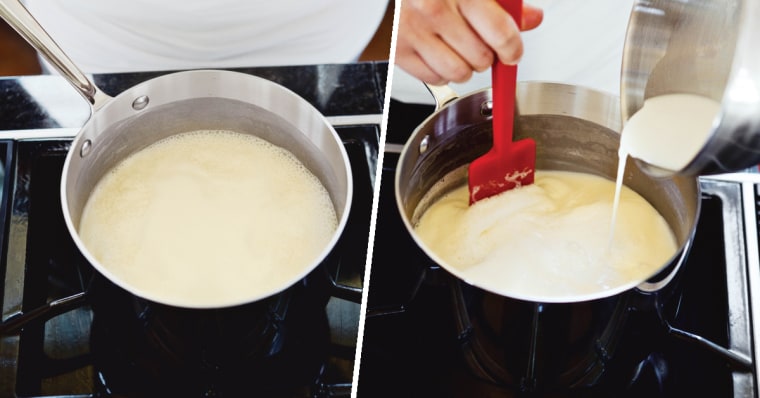 3. Cook the ice cream base.
Pour 2½ cups of milk, 1½ cups of cream, 3/4 cup of sugar and 1/4 cup of light corn syrup into a 4-quart saucepan. At this point, you'll add any spices or flavorings. For example, for vanilla ice cream, split 1 vanilla bean, scrape out its seeds and add both the seeds and the bean to the pot.
Bring the contents to a boil and set a timer for precisely 4 minutes — the timing is critical here! Turn off the heat and whisk in the cornstarch slurry. Return the mixture to a boil to slightly thicken it.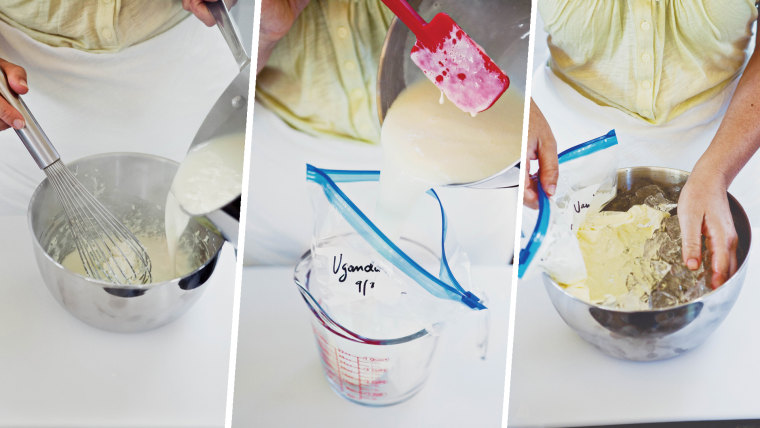 4. Chill the ice cream base.
Whisk the hot milk mixture into the cream cheese. Do this a little bit at a time so that you can whip out any lumps of cream cheese. Pour the hot ice cream base into a zip-top bag and seal. Submerge in the ice bath until very cold.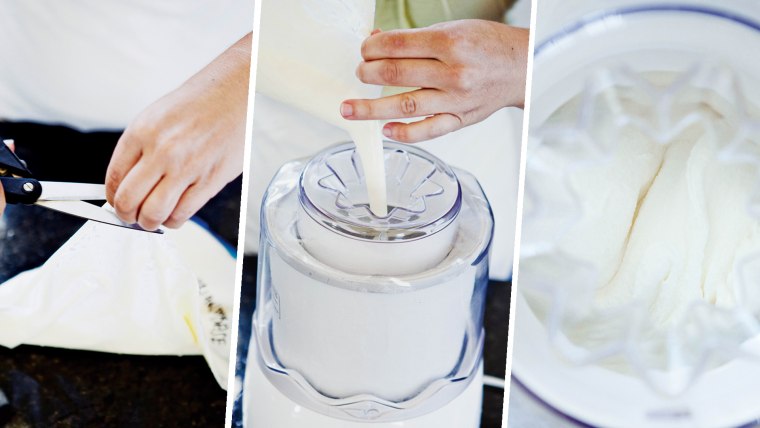 Cut the corner off the bag, pour the chilled base into the ice cream machine, and turn on the machine. The ice cream is finished at the exact moment when the machine isn't freezing the ice cream anymore; the ice cream will begin to pull away from the sides (this process takes about 25 minutes).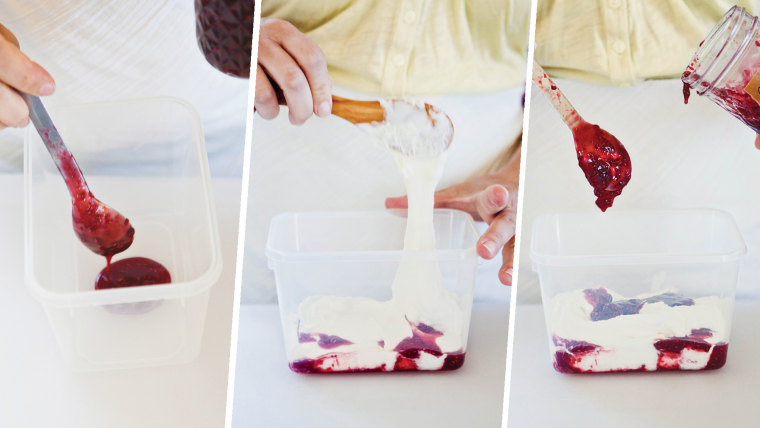 6. Swirl a sauce into the ice cream, if desired.
If you are packing the ice cream with a sauce, alternate layers, creating pockets with the sauce. Be sure to put a bit on the bottom of the container and reserve some to put on the top of the ice cream. If you are adding chunks, layer them in evenly as you go.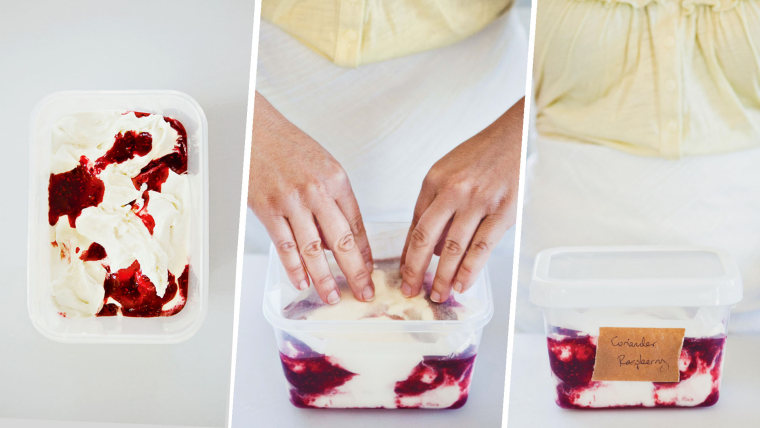 7. Store and freeze the ice cream.
Working quickly, pack the chilled ice cream into a storage container, cover with parchment paper or wax paper to seal out air and let the flavors bloom while it hardens in your freezer for at least 4 hours.
When you remove the ice cream from the freezer, let it sit for about 5 to 10 minutes before you scoop and serve it so it won't be rock hard — it doesn't need to melt, but it does need to thaw slightly. Ideally, serve and eat it while it's quite firm but pliable and you are able to easily roll it into a ball. Once you've scooped it, return any remaining ice cream to the freezer right away. If the ice cream has melted too much at room temperature, refreezing it will result in an ice cream that is too icy.
Excerpted from "Jeni's Splendid Ice Creams at Home" by Jeni Britton Bauer (Artisan Books). Copyright © 2011.