There's nothing more frustrating than finding a heap of sad, unpopped kernels at the bottom of a popcorn bowl. Such wasted potential! Often the culprit is a microwave's pre-set popcorn setting — mine just doesn't have the oomph to thoroughly pop every last kernel. I recently decided to take matters into my own hands, and in the process, accidentally discovered the most addictive homemade popcorn of all time. No recipe required!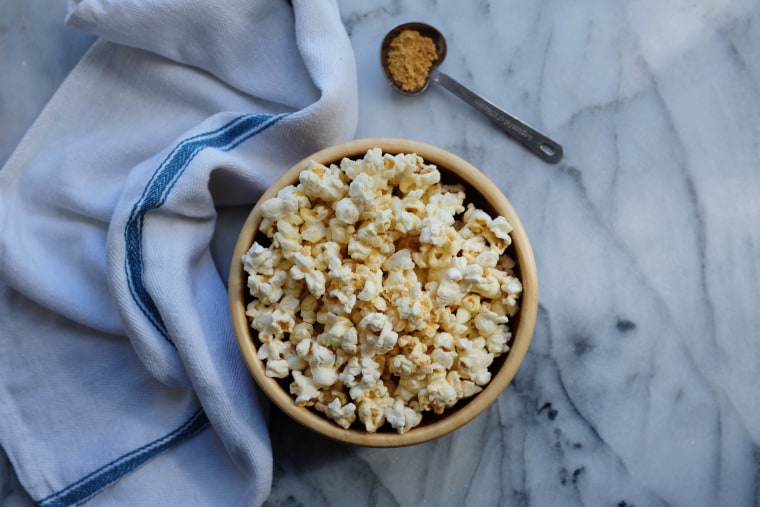 How to properly pop the corn
I start with a bag of unpopped, unbuttered popcorn. (Usually I reach for Newman's Own "Natural Flavor Microwave Popcorn," but any low-salt, unbuttered variety will do.) My microwave's popcorn setting calls for zapping the kernels for one minute and 45 seconds, but I ignore this and program the machine for two minutes and 30 seconds on high.
You likely won't need all this time. About a minute in, the kernels begin exploding like crazy and keep going at it for awhile. Listen carefully to the pops and keep your hand on the handle of the microwave door, ready to spring into action. Once you can count two seconds between pops — and not a moment longer, or else you'll end up with charred dreck — yank the door open, carefully snatch the popcorn bag, and tear it open over a large bowl so that the steam within escapes. How long it takes depends on the strength of your microwave, which can vary from machine to machine.
RELATED: Spice up your popcorn! Gail Simmons' favorite flavors
Look closely: Barely any unpopped kernels! That means more popcorn to eat, which means a happier you.
Season the popcorn
I'm nuts for kettle corn, so I like to sprinkle my popcorn with two tablespoons of sugar and one teaspoon of salt. Now here's where things get interesting: My secret ingredient is one and a half teaspoons of ground ginger. Trust me, it's incredible — sweet, salty, and just a little spicy. You'll never reach for butter-slathered theater-style popcorn again.
Feel free to play around with the measurements. Some people like more sugar and salt, some less. Others will want to amp up the spiciness with more ginger. Whatever your preference, be sure to toss everything well to season the popcorn evenly. Then dig in while it's still hot!