Meringue fans, we've found your favorite new breakfast: Cloud Eggs, aka, Eggs in a Cloud.
Made by separating the yolk from the white, which is then whipped, baked, and then baked for a few more minutes with the yolk on top, Cloud Eggs are currently sweeping Instagram.
Funny enough, though, home cooks have made them forever, says Kate Morgan Jackson, publisher of the site Framed Cooks.
"It's an old classic that has been around for ages and ages. I remember having them as a little girl," she told TODAY Food. "It's always interesting to see what old faves all of the sudden are new again."
On her site, Morgan Jackson was one of the first food writers to bring the classic dish back in recent memory, posting a photo of it a few years ago. People instantly went crazy for it, asking for her recipe.
Get the full details here, but basically, how it works is, you separate the eggs and egg whites; whip the egg whites, and arrange them into "cloud" shapes on a silicone- or parchment-lined baking sheet. Bake for a couple of minutes, slip the yolks onto each, then bake for a few more minutes. It's as easy as that!
We tried her simple version, and have to say it's pretty spectacular — she adds a 1/4 cup of Parmesan to the egg whites before baking.
Others, though, have added different kinds of cheese, chives or even bits of bacon, so the dish is totally customizable.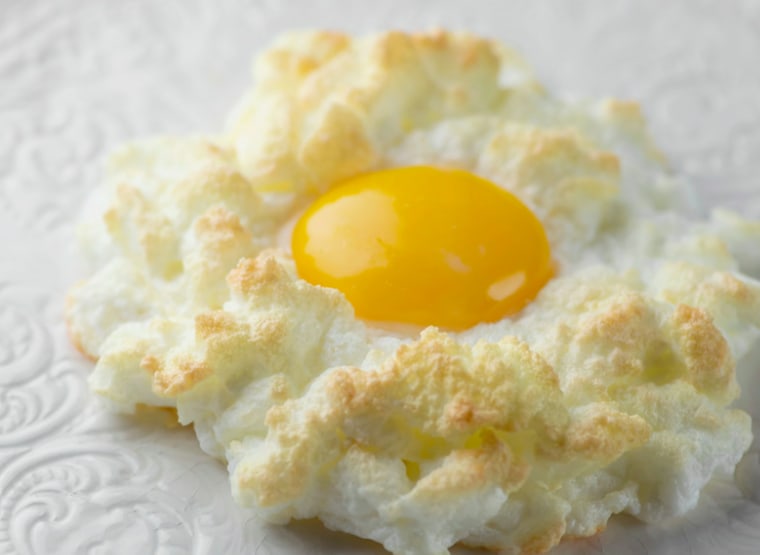 And since a single egg is only 70 to 80 calories, and you're not adding any oil or butter (or other ingredients unless you want to), you can eat two for 160 calories for a pretty filling breakfast. (Adding 1/4 cup of Parmesan to the four-egg recipe that we made only adds 27 calories per "cloud").
TODAY's Kathie Lee Gifford and Hoda Kotb tried the trending dish on the show this morning, to big raves.
"It kind of tastes like there's bread there, even though there's not," Hoda said.
A stand-in for the texture of bread that's pure protein? We can get behind that. And after making it and taste-testing it myself in my home kitchen, I wholeheartedly agree with Hoda's review: with the fluffy egg-white texture, you don't miss the bread at all!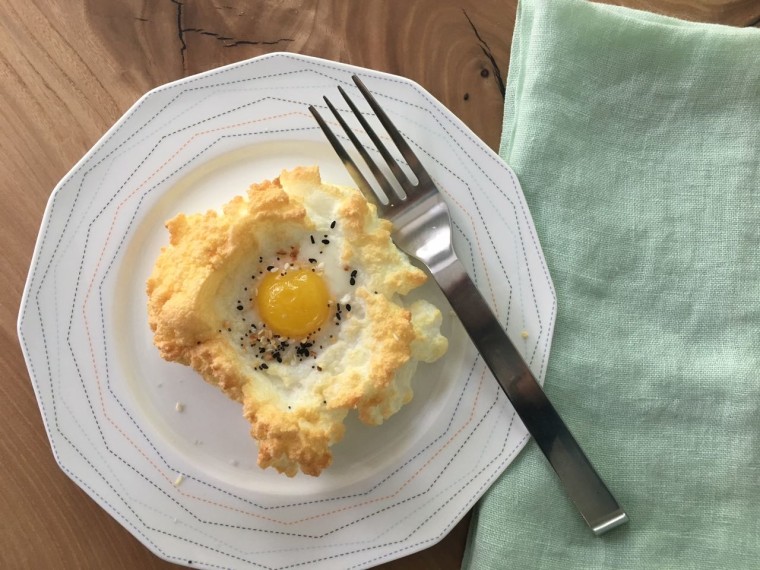 Taking a cute from Instagram fans, I sprinkled Trader Joe's Everything Bagel seasoning on top of the egg, which was pretty incredible. It was like getting your everything-bagel egg sandwich fix — minus the carbs.
OK, Instagram, you win — thanks for reacquainting us with this old fave.
RELATED
• Rise and shine! Try these 33 delicious egg breakfast recipes
• How to peel hard-boiled eggs