If you love Old Fashioned cocktails made with whiskey, I suggest you consider trying bourbon for a change. Now is the perfect time to celebrate America's native spirit and clink with all the fabulous drinks concocted from this smooth, oak-y pour.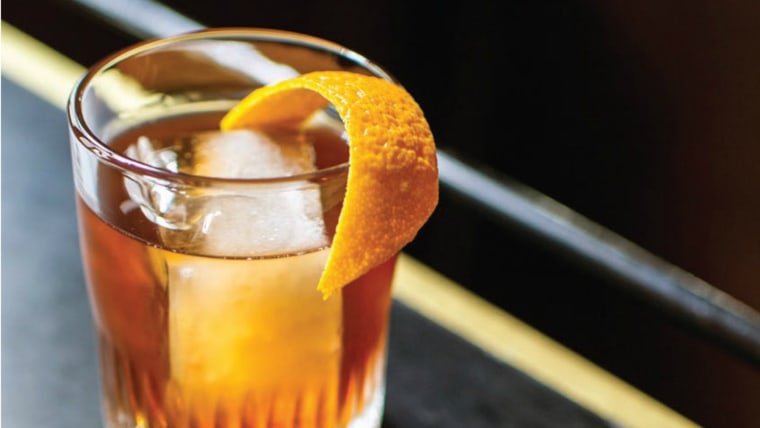 Like the martini, this drink is rich in history, has undergone multiple makeovers and even has its very own glass. Formerly called the whiskey cocktail, the original bourbon or rye old fashioned was as close to the definition of the word cocktail as you could get: a drink composed simply of a spirit, sugar, water and bitters. But these days you'd hardly recognize it. If you walk into a bar today and order an old fashioned, you'll likely get a fruit cocktail, sometimes with seltzer or 7UP, usually with bottom shelf whiskey and more often than not, a drink you wouldn't order twice. Any bourbon lover can attest this is so wrong.
Robert Simonson, author of The Old-Fashioned, The Story of the World's First Classic Cocktail With Recipes & Lore says "Even though mixologists and craft cocktail bars have helped bring the pre-Prohibition old fashioned back, in all its spartan beauty, in 95 percent of the bars across America, you're still going to get the fruited version. It's been the norm for 75 years and it's hard to pull back all that ivy from the wall in one go."
So how do you get that classic bourbon old fashioned cocktail you crave? Simonson says the best way is to politely ask your bartender how they make their version. He says, "If you don't like what you hear, simply request no fruit and no soda with a smile." I'd also suggest you request your favorite bourbon or rye to ensure that the final glass is as close to perfect as possible. Or better yet, make it at home with this TODAY Happy Hour recipe.