Creamy and luscious are rarely how people describe dairy-free cheese, but all that's about to change thanks to chef Chloe Coscarelli. With the success of her vegan restaurant empire by CHLOE, she's a major face of the country's meatless movement and she gave TODAY Food the scoop on how to make her absolutely delicious vegan cheeses at home.
Whether you're lactose intolerant, vegan or just want to check out this white hot food trend, Chloe is the perfect person to introduce you to the world of nut cheese. Yes, that's non-dairy "cheese" made from nuts. Like veggie burgers, they get a bad rap because there's a dearth of good ones available on supermarket shelves.
RELATED: It's easy! Make cashew milk, coconut milk and more dairy-free drinks at home
But Chloe says you can make a variety of spreadable, sprinkle-able, even melt-able cheeses made from nuts that you'll enjoy on pasta, salads, crackers — everywhere you'd use traditional cheese — even if you eat dairy.
Here are her three favorite varieties and how to whip 'em up:
Cashew "cheese"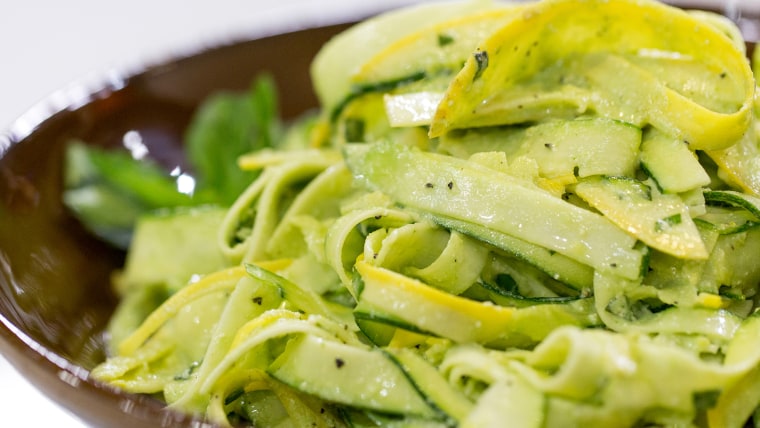 "Cashews are probably the easiest nut because you don't have to take it out of a shell or take the skin off," she tells TODAY Food. "And it's really creamy; there's a high fat content — good fat — so it makes the perfect cheese sauce."
It's very versatile, too. "You can blend, pulse it, or grind them so it just depends if you're looking for a soft cheese, a cheese sauce or something ground-up and crumbly."
Cashew cheese is the best for saucy cheeses, she says — like mozzarella sauce or macaroni-and-cheese sauce — which you can easily make by blitzing cashews with water in a high-powered blender and then adding your flavors on top. If you don't have a high-powered blender, soak the cashews overnight in water to soften.
"And yes, cashew cheese can definitely be melty," she assures us. "Especially if you heat it up a little bit — and then you can put it on pizza, pasta, anywhere."
Recipe to try: Summer Squash Tagliatelle with Creamy Raw Alfredo Pesto
Almond "cheese"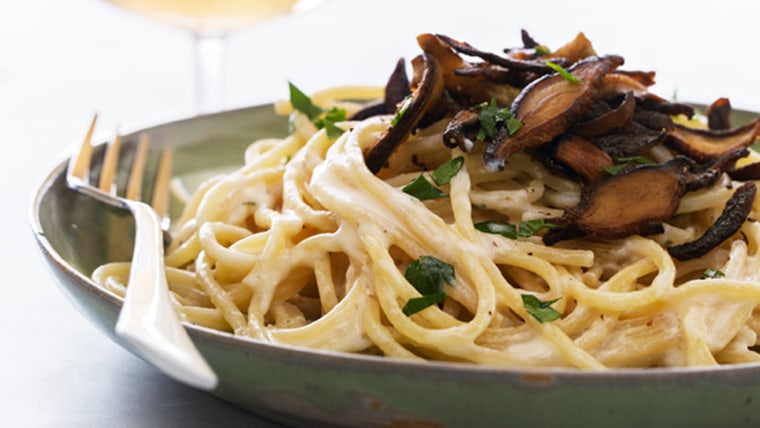 "Almonds make the best crumbly cheeses, like a Parmesan-type topping," says Chloe. "Walnuts and pecans are great too."
To make her almond cheese, she pulses the nuts in a food processor until its ground into a crumbly texture then mixes it with nutritional yeast, sea salt, and olive oil (no water)."I like to put it on popcorn and pasta," she says.
Recipe to try: Pasta Carbonara with Shiitake Bacon
Tofu "cheese"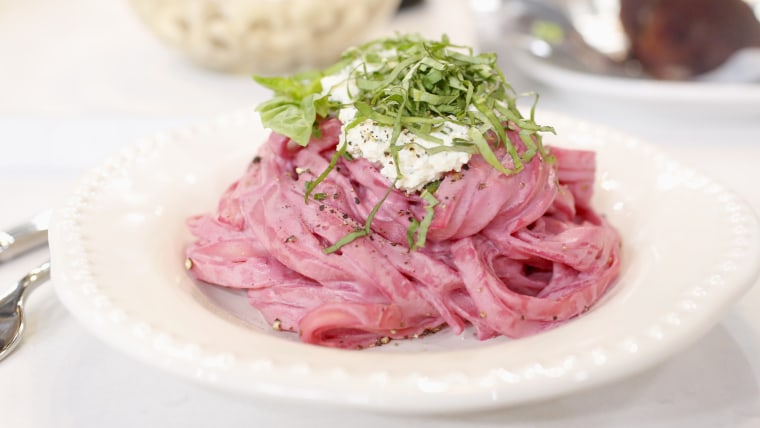 "I use tofu to make a soft, ricotta-type cheese," she says. "First, I like to mush it with my hands or in a food processor and then I add basil and caramelized onions to add a little bit of sweetness. Dollop it on pasta or pizza—it's delicious."
Recipe to try: Beet Fettuccine Alfredo