When you're a kid, you don't want to eat the lunch your parents packed for you, and when you're an adult, it seems so much easier to grab an overpriced deli sandwich or struggle through whatever's left in the fridge than to sit down to a balanced meal. You can't win. Or can you?
RELATED: Tips and products to pack school lunch without breaking a sweat
Bento box-style lunches have been all the rage on Instagram and Pinterest for a while now, though they often seem like too much work for us mere mortals. But with one hour of advance planning per week, you too can turn your refrigerator into your own personal takeout case—a saving grace for families of any size.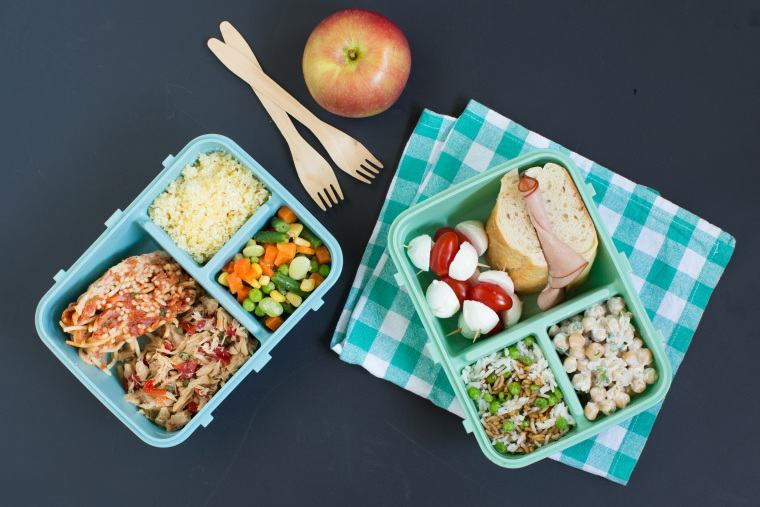 The key is to get a week's worth of lunches MOSTLY packed in one fell swoop by filling the bento boxes with foods that can keep in the fridge for a few days without spoiling or losing quality. By packing crunchy salads that can marinate in dressing, sturdy starches and grains, and power-packed proteins that aren't necessarily sliced turkey breast or chicken, you can build an arsenal of lunch options that can be mixed and matched to satisfy everyone.
This is how I keep my sanity when trying to reconcile my husband's picky eating tendencies with my own more adventurous eating style. He loves cheesy couscous and simple vegetables; I want tuna salad and Thai peanut noodles. By building our own bentos, we can grab our own personalized combination of foods as we each dash out the door. Use these tips to get started.
It's a small investment, but the bento box-style containers with compartments (whether in one piece or removable) really do work best for two reasons: They are designed specifically to keep foods separate from one another and they take up less space in a lunch bag or tote bag than a disparate collection of containers. But if you're not ready to commit to buying new equipment, make sure the containers you're pulling from the cupboard have no-leak lids.
Assemble a well-balanced meal by packing each box with an item from each of the categories below. Add in fresh fruit or other spoil-prone foods the night before or the morning of, and throw in a few shelf-stable treats and desserts like Goldfish crackers or chocolate-covered pretzels for fun.
Got a bigger appetite? Supplement with fresh-made extras (like half a sandwich) or last night's leftovers (like a slab of spaghetti pie) to complete the meal, though each box will function just fine on its own if you're in a rush.
RELATED: Skip the bottle! Make salad dressing so good you'll want to drink it
Now get packing and get stacking!
Proteins
Hardboiled eggs sliced and sprinkled with your favorite seasoning like taco seasoning, lemon pepper, Old Bay, or Cajun seasoning
Cottage cheese topped with a spoonful of your favorite jam
Edamame tossed with sesame oil, salt, and scallions
Tuna salad: oil-packed tuna tossed with chopped roasted red peppers and capers
Falafel salad: chickpeas tossed with cumin, coriander, parsley, salt, pepper, and Greek yogurt
Fruits and vegetables
Frozen succotash or other vegetable medley splashed with your favorite vinaigrette and left to defrost in the fridge
Frozen peaches, raspberries, blueberries, or mango cubes drizzled with honey and left to defrost in the fridge
"Pickled" cucumbers: cubes or slices tossed with rice vinegar and sesame seeds
Toothpick-skewered cherry tomatoes and mini mozzarella balls
Starches and sides
Roasted or boiled baby potatoes tossed with olive oil and herbs
Leftover rice mixed with frozen peas and a splash of soy sauce
Couscous mixed with olive oil and Parmesan, salt, and pepper
Pasta or noodles tossed with sauces like pesto, curry, or peanut sauce