Popular cooking gadgets like slow cookers may have inspired millions of home cooks to take their culinary game to the next level. But one California woman's weight loss journey has shown that these trendy tools can also be used to embrace a healthier lifestyle.
Brittany Williams, a mother of three, blogger and self-proclaimed lover of food, decided to make a big change in her diet by removing processed snacks, takeout and high-calorie meals from her family's menus. And she replaced those foods with healthier meals she could make in her Instant Pot.
She's since lost 125 pounds.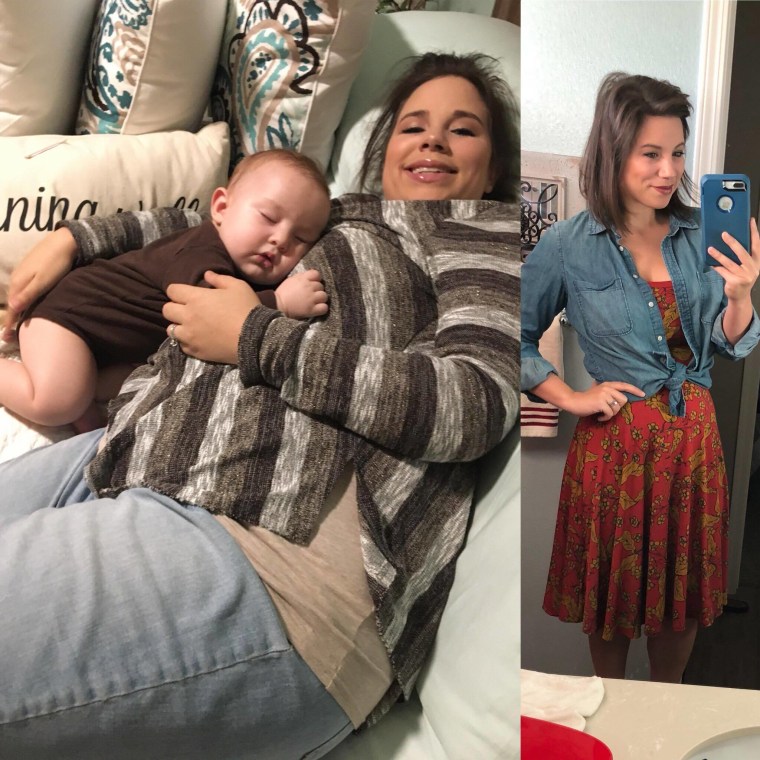 "My husband bought me an Instant Pot four years ago because I asked for a stove top pressure cooker so I could begin making my own homemade refried beans," Williams told TODAY Food. "My Instant Pot quickly became one of my best kitchen companions."
The Instant Pot is a jack-of-all-trades appliance that works as both a slow cooker and pressure cooker. The electronic pot, which has been on the market since 2010, has been praised by both professional chefs and novice cooks because it comes equipped with preprogrammed settings, including soup, poultry, rice and stews, making it hard to make a mistake — it's even a TODAY Food favorite.
Instant Pot 6 Quart model, $99, Amazon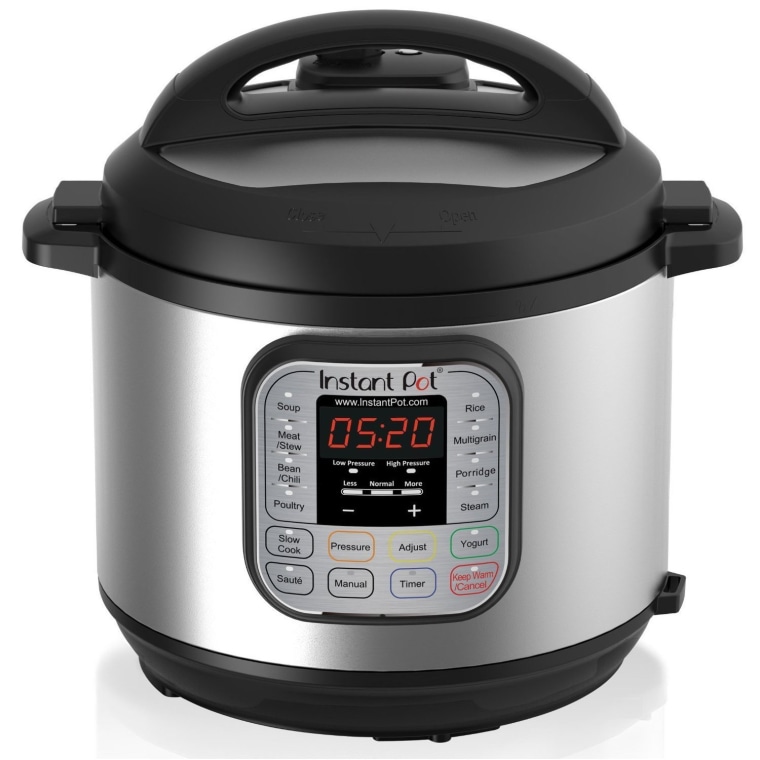 Before Williams began using the Instant Pot, however, she said she relied heavily on frozen meals and fast food takeout to feed herself and her family. And when she did cook, her food landed in the realm of comfort dishes. "I loved to cook but my dishes were usually full of starchy pastas, cheesy breads, and lots and lots of butter," said Williams.
The all-in-one device makes cooking all types of foods, including unhealthy ones, easy. When she was first gifted the Instant Pot, Williams said she used it to prepare dishes like macaroni and cheese.
That changed in January 2016 when Williams' daughter was diagnosed with rheumatoid arthritis. Williams says she too has struggled with an autoimmune disease and didn't want her family to face the same health struggles. At her heaviest, Williams said she weighed 260 pounds.
"I took medication on and off for 10 years. During healthy eating stints I'd notice my hands would begin to shake which was a sign of over medicating," Williams said, who told TODAY that over the years, and after multiple pregnancies, her weight has fluctuated significantly.
"I would stop taking my medication for a time and while I was eating clean my thyroid would regulate on it's own. As soon as I began to add processed foods back into my diet, I would have to go back on medication. It was a bit of trial and error!" she shared.
"To help alleviate symptoms of autoimmune illnesses, if you're overweight, weight loss alone could help reduce joint pain," Bonnie Taub-Dix, RDN, creator of Better Than Dieting and author of "Read It Before You Eat It" told TODAY Food. "Moreover, if your weight loss comes from a diet that is well-balanced, including foods that decrease inflammation — fish, fruits and veggies — you can curtail uncomfortable symptoms throughout your life."
A healthier lifestyle seemed much better to Williams than having to take medication for the rest of her life, so in January she began a more restrictive diet regimen, cutting out processed foods, grains, dairy and refined sugars to follow an Autoimmune Protocol (AIP) diet.
"By the end of April [2017], after I lost about 50 pounds, I posted a photo and a little blurb to encourage others in the Instant Pot community [on Facebook] that eating well with the pressure cookers was convenient and possible. The post blew up. I was shocked!" Williams said. "I was inundated with private messages and friend requests. Everyone wanted to know what recipes I was using and how I did it."
Williams admitted that one of the biggest hurdles to trying to eat healthier in previous years was the time it took to make meals from scratch. That's where the Instant Pot has come in: "It eliminated one of my biggest obstacles. [It] allows me to have dinner from start to finish on the table in less than 30 minutes," said Williams, who added that she generally spends about 15 minutes preparing meals.
When people are trying lose weight or lead healthier lifestyles, nutritionists credit the ability to make things faster as a key to success. "You can buy a pre-made barbecue chicken, frozen veggies and just boil up some pasta to round out the dish," said Taub Dix.
Since switching to her self-titled Instant Pot diet, both Williams and her daughter are off all medications and she says she has not experienced any autoimmune flare-ups. While Williams' plan is working for her, it's not necessary to give up entire food groups to create healthier meals for your family. Taub-Dix cautions others to be careful about not falling prey to diets that eliminate entire food groups or plans that axe healthy fats (like avocados or nuts) and whole grains without consulting a medical professional.
After Williams' first Facebook post in April, she said she spent two days trying to respond to the thousands of people who commented, asking her how she had achieved her weight loss. The post's success triggered the idea for the blog Instant Loss.
"I had absolutely no idea what I was doing," Williams told TODAY. "In my first day, my site had 52,000 views. I realized that I could really help a lot of people with this. The messages haven't stopped since then."
In addition to answering questions about what she buys at the grocery store and chronicling her dramatic weight loss through photos, Williams posts tons of original recipes. Some of her favorites include Instant Pot Skinny Enchiladas, Taco Soup and Spanish Goulash. Williams said she has found that foods that have worked best in the Instant Pot are soups or stews, rice and beans. She added that, "Meats that take hours to cook in the oven take under an hour, in most cases, in the Instant Pot."
And in case you're wondering, Williams, who now weighs under 140 pounds, is not a paid spokeswoman for Instant Pot and says the company has never contacted her.
When it comes to weight loss, it's not only about what you're eating that counts, but what you're not eating also matters. "In this case, the wholesome foods she [Williams] added to her Instant Pot replaced other foods that had less healthy ingredients like fats, salt, and additives," said Taub-Dix. "There's also a sense of pride and empowerment in creating healthy habits that produce benefits you can actually feel and see."
Williams just released her first cookbook and said she hopes to encourage others to make easy changes that will make a big difference — "even if you're a busy working mom with a bunch of little guys!"